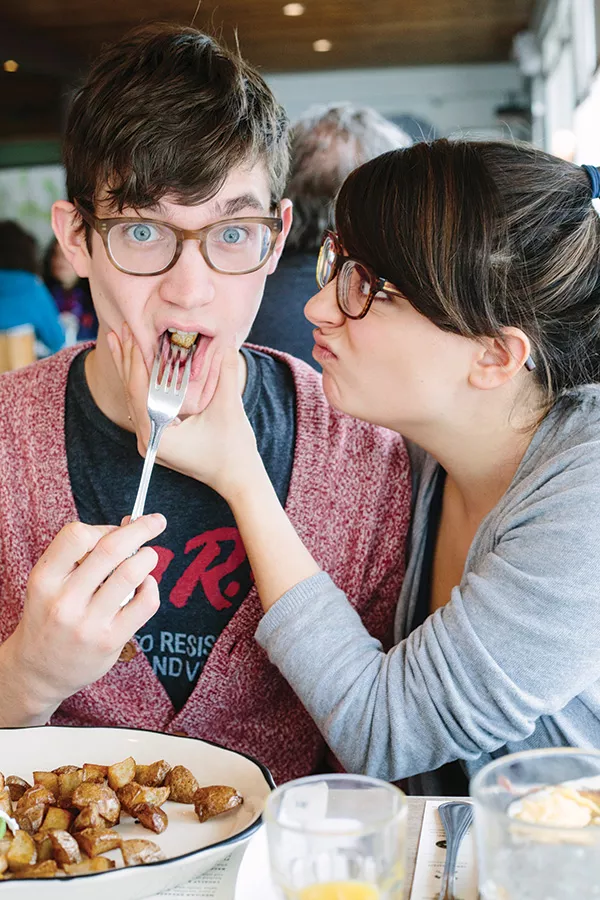 Thomas Smith
Sunday Brunch. Photograph. 2014.
Tom Smith originally created Diner Porn as an homage to the importance of diners in his own life. As a child, his parents took him to Park West Diner in Little Falls, New Jersey. He fell in love at 7th Avenue Diner & Donuts in Brooklyn. When he was kicked out of his New York apartment, he spent the night sitting at the counter of the Washington Square Diner on West 4th Street. In a way, diners are home to Smith, and he has tried to capture that through his photographs.
After he began sharing his work, he realized that he was not alone in his love of 24-hour greasy spoons—nearly 40,000 people follow the blog, and it's been featured on Huffington Post, Thrillist, and a variety of other food-focused websites. But it's not strictly a food blog. Diner Porn highlights the best parts of the diner experience—the vintage decor, the chrome buildings, and most importantly, the people and the communities. Through photo essays and editorial vignettes, written in collaboration with his partner Alecia Eberhardt, Smith maintains a focus on the stories of diners and the people that patronize them. (The photo featured on the cover is of the couple during a recent visit to the Phoenicia Diner.)
Smith and Eberhardt are headquartered in Saugerties, and have recently featured diners all over the Hudson Valley and Catskills region. To date, they've covered over 25 diners in New York and New Jersey—as well as one in Iceland on a trip there last year—but the project is constantly expanding and evolving. Several new contributors have joined the team and the site has begun taking submissions from readers who want to share their own "diner porn." The next step for Smith and Eberhardt is a road trip this fall to capture diners across the country; they plan to collect their experiences in a book of photos and narratives.
The establishments captured by Diner Porn are classic representations of American culture, where anyone and everyone is welcome inside and invited to share their story. Like a train station or a bar, diners are a crossroads, a space of genuine human connection, fueled by coffee and all-day breakfast, and to Smith, preserving this culture is essential in a world run by corporate chains. Diners have given Tom Smith a home in the way that they have for thousands of others across America, and that's perhaps why this project has struck a chord with so many people—in every cup of coffee, stack of pancakes, or ice cream sundae, readers can find a bit of themselves.
You can follow all of Smith and Eberhardt's exploits at dinerporn.com.