Woman with Earbuds, Amy Hill, Oil on wood, 2013
Inspired by Renaissance masters of old, New York City-based painter Amy Hill employs techniques that blend classical inspiration with contemporary style. Copying the orientation of the face of the Duchess of Urbino in Piero della Francesca's Battista Sforza, Hill updates the original with contemporary touches in Woman with Earbuds. The Renaissance sleeve becomes a tattoo. An elaborate choker is changed into a scarf. What's old is made new.
She notes that the Duchess of Urbino in the della Francesca painting is depicted in profile rather than the usual three-quarter Renaissance view. "As you can't see her eyes, she is hiding any kind of emotion, creating mystery about her true feelings, allowing the viewer to impose their own emotions onto her," Hill says.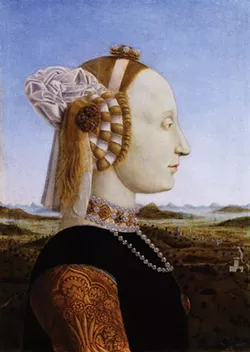 Battista Sforza, Piero della Francesca, oil on wood, 1473-1475
Despite being one of the more challenging subjects to paint, Hill says she's always felt drawn to portraiture, "ever since I learned how to draw Archie, Veronica, and Jughead and did my first self-portrait in oils in high school a la Joni Mitchell's self-portrait on the cover of her first album."
With no formal training, and to avoid going back to school, Hill looked to Renaissance painters to guide and teach her, and perhaps as a way to keep her company. "Though I don't speak aloud to them, I'm communicating with them in some way," she says.
Portraiture is also an exercise in self-discovery for Hill. "I'm trying to paint myself, to put my own psyche on the canvas in order to better see and understand it," she says.
Hill tries to balance inspiration, homage, and the development of her own visual vernacular. "I'm constantly fighting against developing a style that paints me into a corner," she says. "Brushstrokes are like fingerprints. I'm striving to make art that's universal and not just quirky."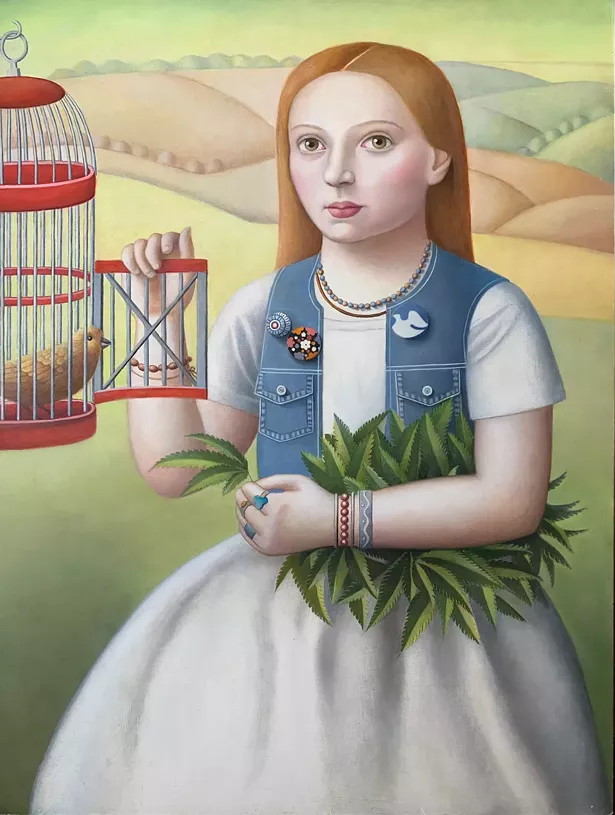 Lately, she's been looking at early American folk art and is inspired by the looseness that lends itself to the accuracy of Renaissance art. She strives to be representational but conceptual. "I enjoy making social commentary sometimes by being funny. I did a series of paintings of my own version of the seven deadly sins based on a painting by the Renaissance painter Hans Memling and depicted my own sins such as Distraction, Deprivation, and Workaholism," she says.
Hill's work is included in the group show "Winter Wonderland," which is on view at Front Room Gallery in Hudson through January 15.