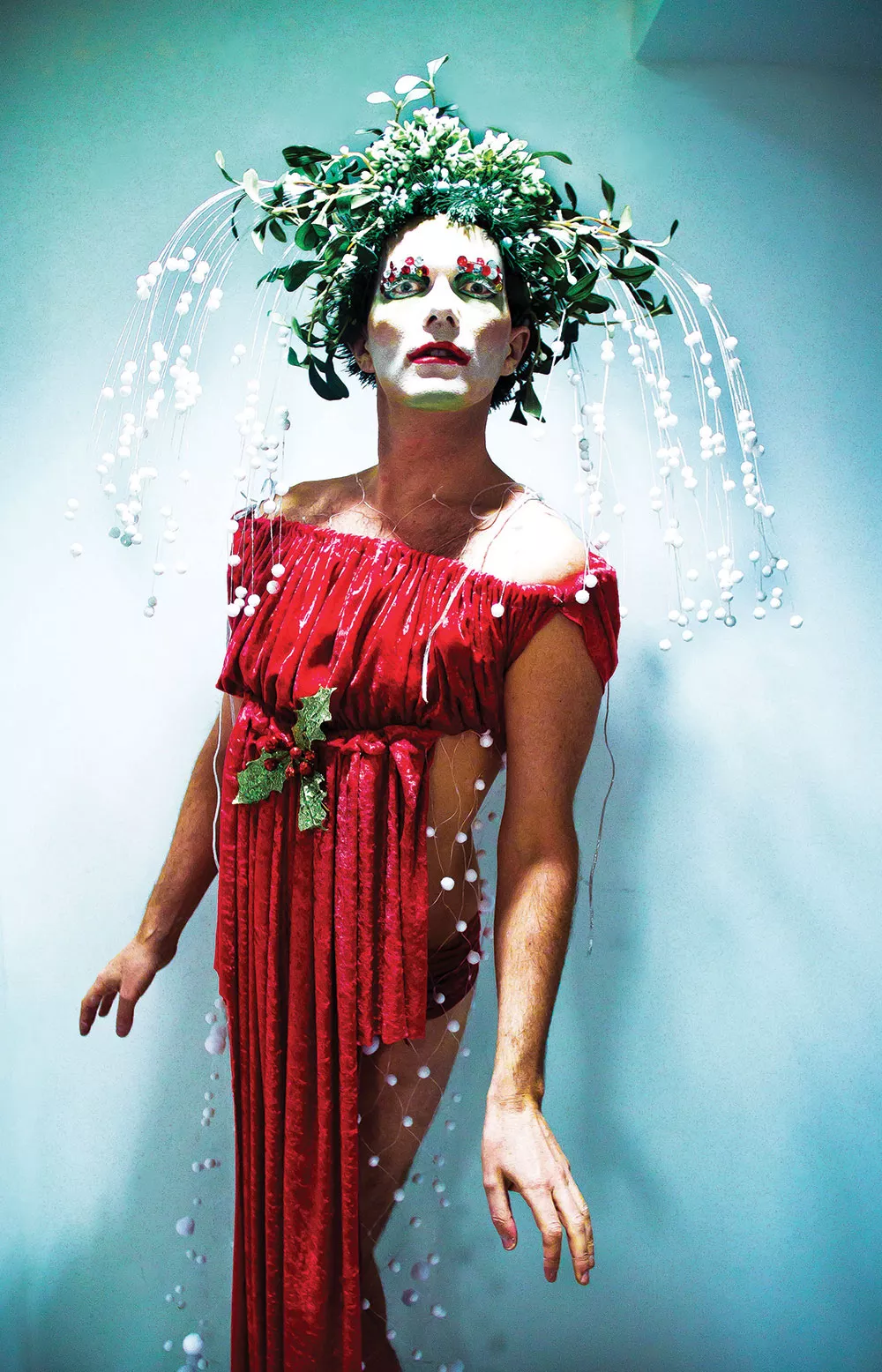 Ves Pitts
Taylor Mac
Taylor Mac is a glitter-drenched drag queen who created their own gender pronoun: judy.
"You can call me, he, she, it, shit, girl, boy, her, him, they," Mac says. "Call me whatever you feel like but my preference is judy and it makes me happy."
Mac's gender fluidity is equal parts messy and fabulous. Judy often sports a beard and a full face of makeup. Sometimes Mac looks inhuman, like an extraterrestrial goddess with floral locks of hair with sequin gills for cheeks. "My gender is performer," judy says.
Mac is arranging a 24-hour performance of judy's experimental project "24 Decades of Popular Music." The entire show will cover popular music from the past 240 years of American history. Each decade will be an hour-long experience. Each act is three hours, or three decades in length.
The entire eight-act performance is composed of over 246 songs, which Mac will sing in drag. Judy captures the essence of each decade through costume makeup and androgynously outlandish yet historically correct outfits. Tragedy is the underlying theme that links the disparate music together— specifically how destruction brings communities together to rebuild. "Content dictates the form," judy says.
Mac chooses songs that help the audience understand the issues of a particular decade. The AIDS epidemic takes metaphorical form in Mac's "24 Decades of Popular Music." Judy recounts their first AIDS walk, where the 15-year-old Mac first saw thousands of out-homosexuals gathering to support the community. The beauty of the queer community uniting inspired judy to come out.
Throughout the show, Mac explores other marginalized groups (such as African Americans, Native Americans, and women) have faced adversity in the US. Throughout each act, judy sings, interacts with the audience, and speaks of historical issues like women's suffrage, racial segregation, and internment camps.
Mac frames history in a way people don't usually look at it. What judy calls the "queering" of American history. "It's not a history project," judy says. "If you are coming to experience American history from a textbook point of view—you are coming to the wrong show, girl."
So far, judy has only performed 3-hour and 6-hour segments of "24 Decades of Popular Music."
On Saturday, July 30, Mac will perform the first 12-hour live performance as a part of the Powerhouse Theater season. at Vassar College at 12pm. This work-in-progress performance will cover popular music from the middle 12 decades of American history (1836-1956.) Judy will sing classics like "Home On The Range," "Coming Round The Mountain," "Take Me Out To The Ball Game," and other popular songs during the abolitionist movement, the Oklahoma land rush, World War I, and the Harlem Renaissance. There will additional work-in-progress performances on July 22 and 23 at 8pm. (845) 437-5907