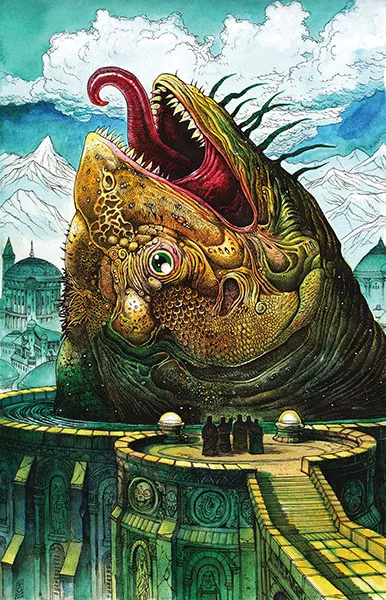 "Temple of the Great Fish" | Sean Andrew Murray | pen, ink, watercolor | 2010
Sean Andrew Murray is in the business of building worlds. As a concept artist, he creates illustrations that lay the groundwork for films, video games, comic books, and other media. His drawings have wrought universes and sagas; they've come to life as collectible figurines and 3-D suits for green screen animation.
Though Murray has dabbled in film (with big name directors like Guillermo Del Toro), the majority of his projects have been in the video game industry. He has worked for EA Games and Lego and collaborated on online games such as Dungeons & Dragons and The Lord of the Rings.
Murray has a line-oriented aesthetic—pen and ink with color added after. His biggest influences are other linework-heavy artists like French cartoonist Moebius, animator Hayao Miyazaki, and gothic powerhouse Ian Miller. Murray himself works almost entirely with a 3mm mechanical pencil, sketching intricate scenes then scanning them and painting them in Photoshop on a Cintiq art tablet.
He is nonprescriptive about his creative method. "I tend to just start drawing and find what it is my imagination is showing me," he says. "Then I'll start to move the drawing in that direction. I like to go into it as an adventure." The illustration Temple of the Great Fish started as a simple bell shape in Murray's sketchbook, which reminded him of a fish pointing its head straight up. He asked himself where this fish was and why it would be in this position. Playing with scale and setting, he reached Fish Temple—a skyline sanctuary built around an ancient oracle. The full story of this character can be read in Murray's Gateway: The Book of Wizards.
The world of Gateway is Murray's passion project—a sprawling city built by magic, set in a steampunk-y, prohibition era, where a kleptocratic ruling class has outlawed the common use of magic, prompting an underground resistance. Gateway: Uprising, a card/board game hybrid, is set to launch this summer.
This fantastical world is a reflection of Murray's lifetime of imagery and interests: magic, steam engines, urban architecture, sci-fi. "I love The Lord of the Rings and Dungeons & Dragons, but fantasy has all the same stuff in it—vast villages with castles. I wanted a fantasy world that was more of an urban setting. Gateway is as big or bigger than the cities in our own world, a place where amazing different creatures from far off lands converge—like a real city. There are so many stories you can tell with that."
"When I teach world building, I encourage people to look inward and see what their own influences and unique world view are, and ask, 'What is that place that is only going to come to me and that only I can do how I imagine?'"
A hand-embellished print of Temple of the Great Fish will be auctioned off at the Third Annual Art Auction to Benefit the O+ Festival, on June 6, from 6 to 9pm, at Boitson's in Kingston.