Photo by Franco Vogt
The photo of Milton Glaser on the cover was taken by Franco Vogt, a frequent Chronogram contributor, in 2012 for a short-lived magazine called "Generations." Franco says of the shoot: I met Milton at his studio in New York City for what was to be one of my briefest shoots. He was congenial enough but suffered no fools. After maybe 12 frames, he issued that we were ready to move on to the next set up. I spent maybe 10 minutes with him total and wasfairly intimidated the entire time."
"I met Milton Glaser in June 1998," says Kate McGloughlin, artist and printmaking instructor at the Woodstock School of Art. "Milton and Shirley had signed up for my monotype workshop. Finding out that Milton Glaser was in my class was a little intimidating. But he put me at ease so quickly it was unbelievable. He said, 'I don't know anything. Teach me everything you have."
A Gentile's Guide to Jewish Food, July 22, 1968 issue of New York magazine.
McGloughlin became good friends with the Glasers and helped Milton set up a press in his studio at their Woodstock home. Two years later, Glaser would publish a series of painted monotypes set alongside the text of Dante Alligheri's Purgatorio for an Italian publisher. "Learning monotype really added a dimension to his work," McGloughlin says. The illustrations are surreal, colorful, and instantly identifiable as the work of Milton Glaser, jack of all design trades, master of all.
The preeminent graphic designer of the past 75 years died recently on June 26, his 91st birthday. "He felt like this really wise old uncle," says McGloughlin. "He laughed easily, took his work very seriously, but himself not so much—he put everyone else at ease when he was in the shop. You kind of forgot he was a big shot—he was just another guy you were trying to help find his way through a print."
Dylan, 1966, cover of GraphicDesign by Milton Glaser.
Creator of the I ♥ NY logo, cofounder of New York magazine, there was little that Glaser didn't design—book and album covers (over a thousand), magazines (he redesigned nearly every major national and international title), tableware, restaurants, cutting boards, posters, lighting fixtures, and the list goes on. Glaser changed the visual vocabulary of graphic design, rescuing it from the modernist severity prevalent mid-20th century and reinvigorating it with wit, organic forms, classical references, as well as the technical ability and creative mindset of the artist. (And one who could work on a tight deadline: During New York magazine's first year, if there wasn't a cover 24 hours before going to press, Glaser would draw one. He also co-wrote a food column for The Underground Gourmet, which was the first time cheap restaurants were reviewed in a mainstream magazine.)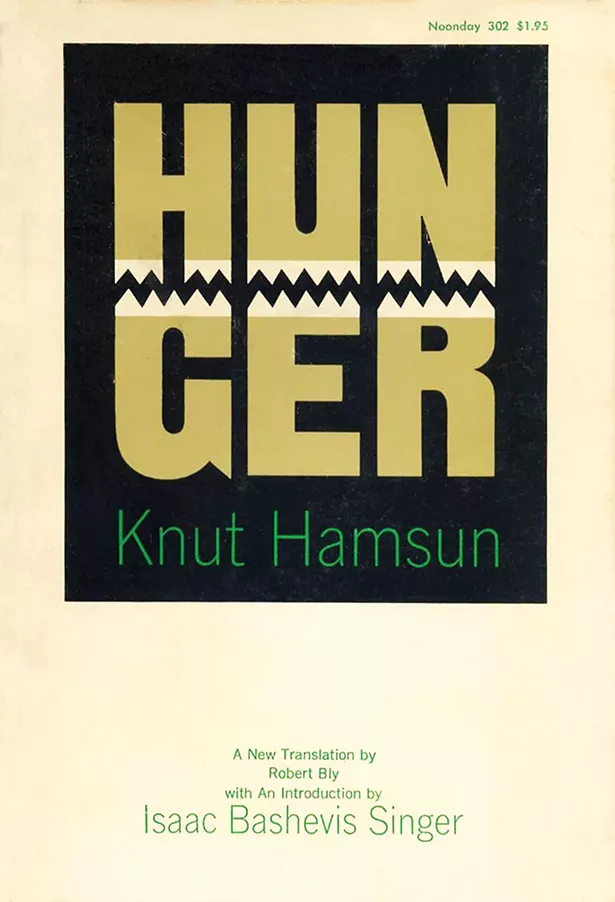 Hunger by Knut Hamsun, book cover, 1970, Noonday Press.
In Woodstock, however, the Glasers were locals. Milton and Shirley started coming up to the area to retreat from Manhattan. As Glaser told Barney Hoskyns, author of the Woodstock-in-the-'60s chronicle Small Town Talk (2016): "It was just like any other poor town in the Catskills. We started going there in the mid to late 50s because it was a cheap place to go, but it hadn't coalesced into anything discernible." When it did coalesce into something, Glaser was involved. In addition to designing the iconic psychedelic Dylan poster for his fellow Woodstock resident, Glaser created the Bearsville Records logo for Dylan's manager, Albert Grossman, as well as designing the menu and helping pick out the furniture for The Bear restaurant.
"Milton loved Woodstock," says Sylvia Leonard Wolf, a longtime friend of the Glasers and vice president of the board of the Woodstock Byrdcliffe Guild, which Glaser served on for almost a decade. (Glaser designed design posters, T shirts, and a new logo and typeface for the organization*.) "He was enormously generous with his design, his ideas, and his heart. This man had such a huge heart—he embraced life and he embraced what he did," says Wolf. "Did he have to be involved with [the Woodstock Byrdcliffe] Guild? No. But he wanted to be part of continuing Woodstock's living artistic legacy."
Love New York Catskills, 1985, one of the many iterations of cat and Catskills produced for the New York Board of Tourism.
McGloughlin echoes that sentiment: "The Glasers loved it here and were interested in supporting different institutions in town. They were here and a part of Woodstock's heyday and Milton just being here was a foothold in the arts for Woodstock."
*An earlier version of this piece misidentified Milton Glaser as the designer of the wooden awning on the front the Kleinert/James Center for the Arts. The awning was designed by Frances Halsband of Kliment Halsband Architects.