Photographer Peter Brandt can't help but look up when he's walking the streets of a major city. The abstract views of the buildings shout out at him, needing to be photographed. "What I'm really trying to do is highlight the genius of the architectural design. Architects don't get enough credit for their art. Every building should have a plaque at the bottom giving the architect credit, like a signature on a painting," says Brandt.
The German-born, Montreal-raised photographer began taking photos when his father gave him a Kodak twin-lens box camera. From there, Brandt shot for his high school yearbook and established his own studio at 23. He started shooting for big corporate accounts like Avon and then became the official Canadian
Playboy
photographer for four years. Brandt then worked in the advertising and fashion industries. In 2008, after 45 years as a commercial photographer, Brandt decided to retire, pursuing his idea of abstract art through architectural photography.
Many architectural photographers shoot the sectional views of buildings, focusing on different angular designs. Brandt decided to abstract his shots one step further: to paint over his photographs. Using Photoshop, he splashes color into the windows, outlines of the building, or wherever he wants to emphasize the architecture.
The cover photo,
Valentine
, is part of Brandt's "Mirrored" series. "Some buildings have really strong, graphic lines. What if I were to double, quadruple that?" he says. He took a photo of a sectional view of the Gateway Building in Secaucus, NJ, added pink to the concrete, and then mirrored it. Hoping the architect would buy a print, Brandt sent the photo to him right around Valentine's Day, slipping it into a card. Instead, the architect called and asked Brandt to take commercial photos of the building. Brandt declined. "This was a moment when I was expressing my own artistic desires. I could have gotten a job out of it, but that's not what I was after," he says.
Brant lived in Manhattan for 27 years and has shot architecture in Miami, London, Las Vegas, and Montreal. He moved to Bearsville in 2008 after building a house from scratch that he's been designing since 1991.
"Mirrored," an exhibition of photographs by Peter Brandt, will be on display through August 31 at the Carnegie Hill branch of the New York Public Library in Manhattan. Portfolio:
www.peterbrandt.com
.
A short film by Stephen Blauweiss and Amy Loewenhaar. Produced by
Artistdvd.com
.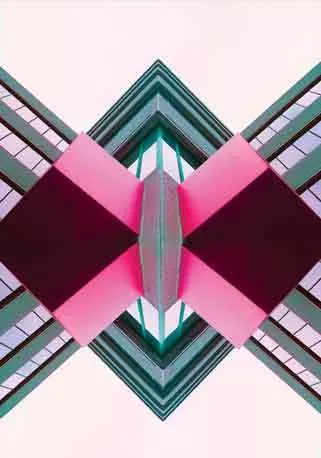 ValentinePeter Brandt | Archival Matte Heavyweight Inkjet Print | 1999