Untitled
nadja petrov | gouache and ink | 9 x 12 inches| 2009
Nadja Petrov laughs about going through phases of painting landscapes and still lifes like she's remembering dressing goth in middle school. The daughter of well-known Dada and Surrealist painter Dimitri Petrov says casually, "That's my story, I grew up in an artist's household, I've always been drawing and painting."
Petrov recalls moving around a lot as a childhood, living with her parents and five siblings in "big, derelict houses out in the country, always out in the middle of nowhere." She received no formal art education but she describes the houses she lived in as filled with artwork and "things for easy access and experimentation." Petrov looked to her father to learn the more "technical stuff." She explains, "I pretty much did what I did and then if I had some questions I would ask." Bright color, says Petrov, is what "set me off, that's what got me going."
Color is still one of Petrov's main creative catalysts. When something strikes her and she begins to work, "everything that happens is a reaction to something that happened before." Movement, emotion, and action evolve with each detail on the page or canvas. Her untitled painting featured on the cover is much more sparse than her other work. The scratches, clusters of lines, rights angles, and long, narrow boxes in many of her pieces almost look like encrypted messages or seismic wavelengths. Her blocks of color give the effect of an exposed floor after the carpet wears thin.
Petrov calls Ernest Frazier her mentor and a key figure in her development as an artist. Frazier went from a high profile art career in Manhattan in the early 1970s, featured in many exhibitions at the Whitney Museum to a quieter life in a restored, red brick foundry building in Saugerties. Petrov met Frazier after moving to Woodstock in 1978.
After such a transient life as a child, Petrov is now in the business of planting seeds and growing roots. She says working as a gardener, "frees me up to keep my artwork separate from my day job. I don't like to work in the art field, it just screws me up, I get too picky about what I'm doing and I'm not poetic enough." Besides being a painter and a gardener, Petrov is also a mother. Considering the "art gene" in her family, she remarks thoughtfully, "My niece's handwriting is exactly like my brother's, my daughter's handwriting is exactly like my sister's. There's no way that doesn't come out in artwork."
Nadja Petrov will be exhibiting her paintings in a two-person show with photographer Fionn Reilly from June 5 through June 30. An opening reception will be held on June 5 from 5 to 9pm, at the 11 Cross Street Gallery in Saugerties. (845) 399-9751;
www.11crossgallery.com
. Portfolio:
www.shokan.net/petrov
.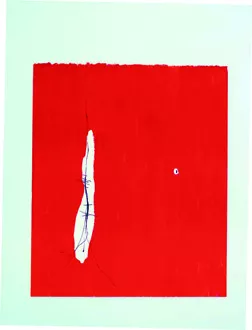 "Untitled" by Nadja Petrov.