Meowcifur, Monik Geisel, oil on canvas, 3' x 3', 2021
Cats—for some they arouse fear, for others, tenderness. With hackles raised and fangs bared, Monik Geisel's painting Meowcifur portrays a frightful feline. It's an arresting image sure to provoke viewer reaction. What was going through Geisel's mind when she painted it?
"My feelings about it have changed over the last month, but it definitely reflects frustration and fear. It might take time to figure out. Everything starts out as a little beginning. Lines start flowing, like starting a song with a sound; you just go from there," she says.
A self-taught multimedia artist, Geisel primarily works in photography but has dabbled in writing, coding, cabinet building, sculpting, drawing, digital illustration, and painting as well. She enjoys working in whatever medium strikes her fancy.
"Meowcifur was really a challenge. I'd gotten new equipment and materials and was excited to complete something in such detail. It was a personal achievement, and I succeeded in what I set out to do," she adds.
In addition to being a working artist, Geisel and her partner Daniel run Stuff Hudson Valley, which specializes in mid-century furniture and home furnishings. Together they spend time combing the country for hidden gems to sell online and at their shop in Uptown Kingston.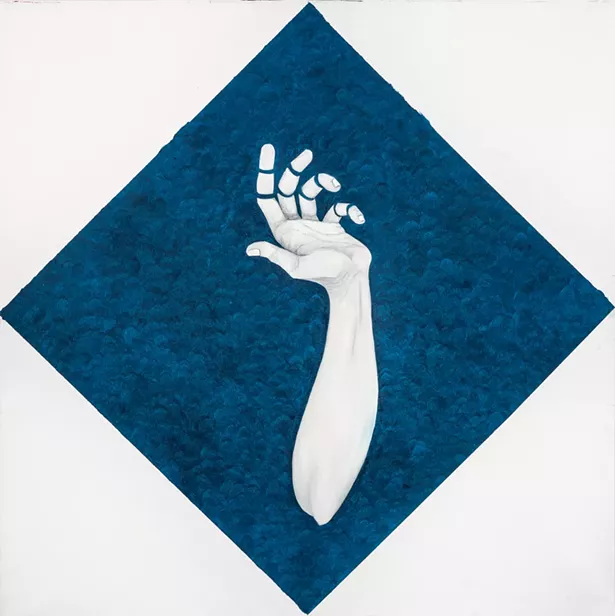 Geisel's experience with furniture is a family affair. "My parents, and one sister, are from Romania. When my father came to the USA in the 1960s, he started a cabinetry business that he is still doing at nearly 80 years old! He prides himself in European woodworking, and his heritage. As a result of working with my father, I confidently do a lot of furniture restorations at my store," she says.
Geisel's mother influenced her in other ways. "She is a tremendously talented, natural cook, gardener, and nurturer. I admire both of my parents. They created a hard worker out of me," she says. With a sister who is a tattoo artist, Geisel adds, "My family involved me in their crafts, and I can blame my artistic diversity on how many options they encouraged me to try."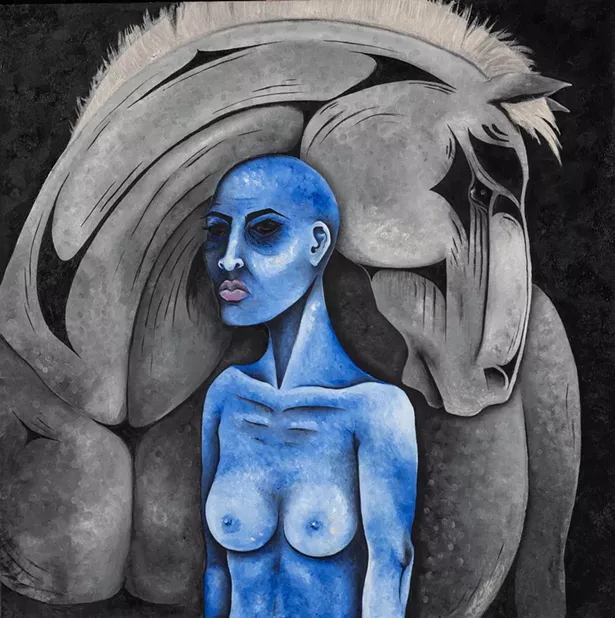 Though she relishes experimenting with a variety of media, Geisel's work has gotten back to basics recently. "In some strange ways [it] has regressed back into an organic medium," she says. "I am still photographing, but I now want to paint what my mind sees," she says.
Reflecting on her recent choice of nonhuman subject matter, Geisel says, "There is a beautiful array of shape, design, structure, and color in every being. Even if they're a completely fabricated creature, the freedom to design an animal based on what you believe they're up against can be very fun."
Perhaps Meowcifur is a subconscious exploration of earlier memories? "My family has always had cats, and I adopted a white cat in 2007," Geisel says. "He passed away last April. While Meowcifur looks nothing like him, he has definitely been on my mind lately."
As to what she wants to communicate through her art, she says, "Whatever people want to see, I suppose. There never is a goal in mind. I just create what I feel like creating."
Portfolio: Monikgeisel.com.