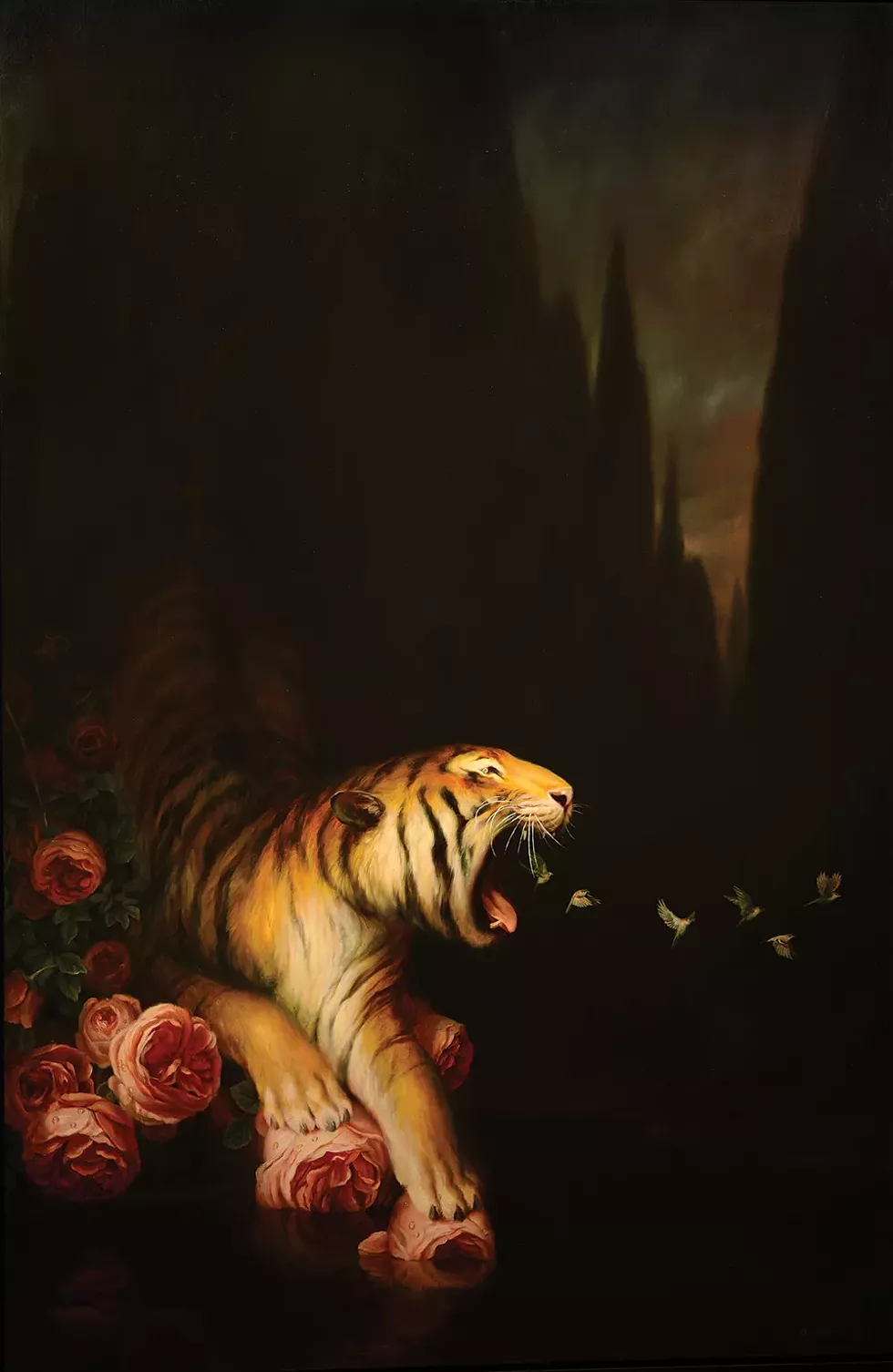 Martin Wittfooth
Nocturne I (2013)
Martin Wittfooth is a storyteller. The painter, who currently splits his time between Savannah, Georgia, and the Hudson Valley, was drawn to illustration because of its ability to portray powerful allegorical and symbolic narratives. As he points out, the word "illustrate" shares etymological roots with the word "illuminate"—to shed light.
Influenced by his upbringing in Finland, Wittfooth's paintings feel like modern-day fairy tales. They don't shy away from darkness, fear, or the complicated relationship between humans and their environment, industry and nature. Wittfooth's animal-centric body of work examines how wild creatures make do with the space humans have left them on our shared planet. Eschewing the classic trope of "man versus the wild," he challenges the very premise that there was ever a separation between humankind and nature—encouraging viewers to look critically at the measures our species has taken to disassociate ourselves from nature.
Martin Wittfooth
Incantation (2014)
Incantation—a massive vision of an elephant, adorned with a circus-style headdress, a trunkful of colorful flowers, and notably sawed-off tusks set against a stark black background—greets visitors as they step into the Muroff Kotler Visual Arts Gallery at SUNY Ulster for the latest installment of the visiting artists' series. "There's a duality between the hope and horror of it all," says Wittfooth of his work.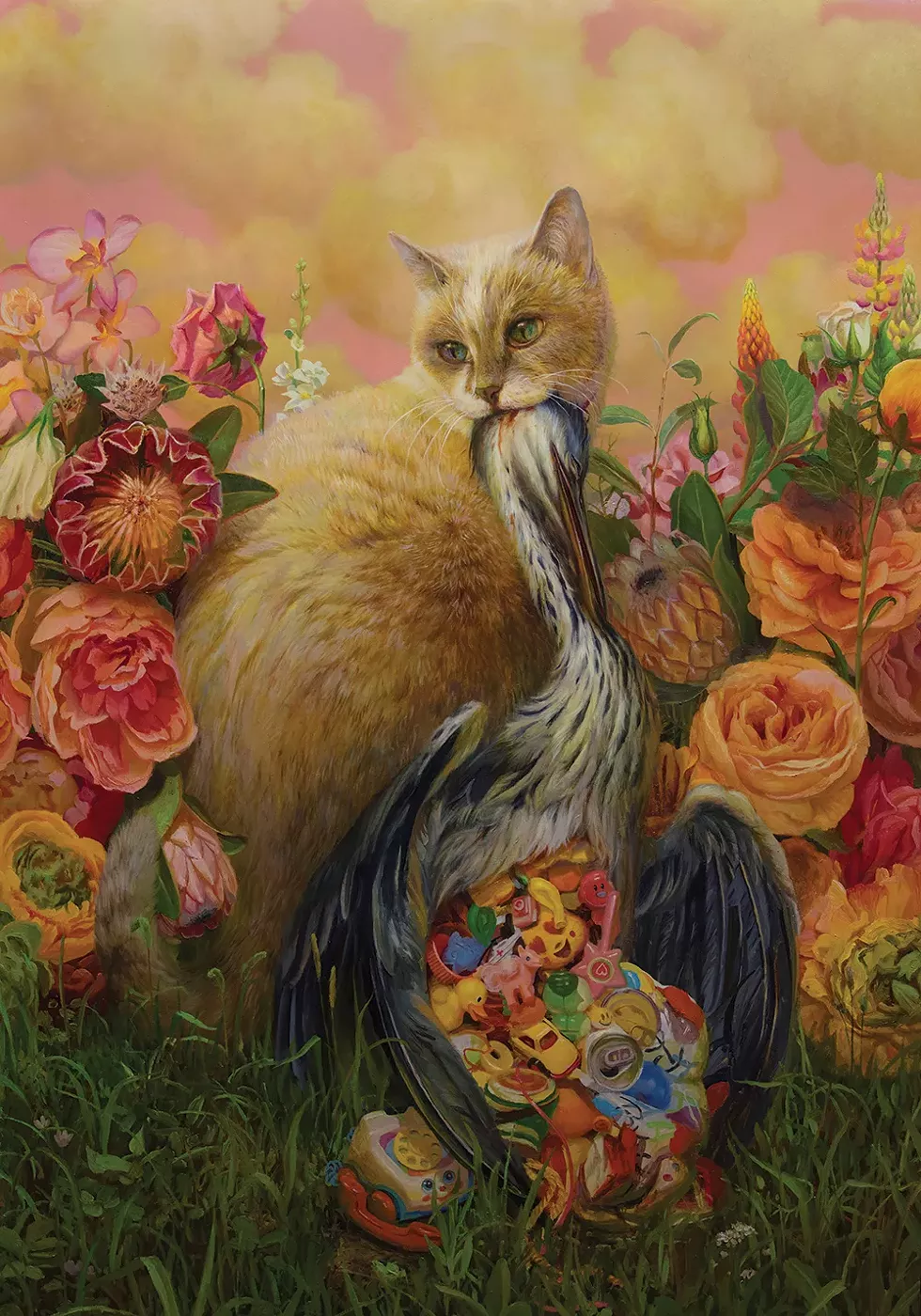 Martin Wittfooth
Pandora (2018)
Wittfooth's exploration of shamanism has bubbled up into his work through contemplations of ritual and collective narrative. "The practice of shamanism is as old as our species, but there's a resurgence of people discovering it, especially in the West and especially as it relates to getting back to nature," he says. "I'm trying to ask this question over and over again in my work: in what ways have we started telling ourselves a story that we're somehow other than nature?"
Shamanism's focus on the power of sound and the use of the voice in ritual is another fascination of Wittfooth's. "There's an emphasis on singing in a lot of these practices," he says. "There's something beautiful about the idea that we all have something within ourselves that, in coming out into the world, can have magical outcomes."
Martin Wittfooth
The Devil's Playground (2010)
In composition and in art, a nocturne typically refers to a dreamy piece that's evocative of night. Nocturne I, which appears on the cover of this month's Chronogram, plays with the solitary, melancholic sense of the word, while also hinting at the frightening things that lurk in the night. The tiger roars (or maybe it's another invocation), paws poised almost daintily upon peonies afloat in a pool of water—but the sound is rendered soft, almost tender, as a tiny flock of hummingbirds fly from the beast's mouth. We're left to wonder whether we should be frightened or delighted.
"Nature isn't some kind of mute automaton that we should just be utilizing or marginalizing or be afraid of," Wittfooth says. "Instead, maybe, if we cared to listen to what nature might have to tell us, we could learn a thing or two and get back on the path of reconnecting with it."
Martin Wittfooth
Wildmother (2018)
Wittfooth's work will be on display as part of the SUNY Ulster Visiting Artist Series at the Muroff Kotler Visual Arts Gallery until October 18. Sunyulster.edu
Alt Covers

Jerry Pena
Top half of Aviona Carrigan wearing a skatesock designed by Marist student Erika Rothman and a dress designed by Alexa Wisnieski.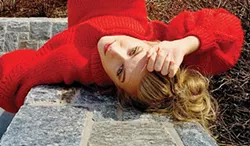 Jerry Pena
Bottom half of Aviona Carrigan wearing a skatesock designed by Marist student Erika Rothman and a dress designed by Alexa Wisnieski.