A portrait of Swedish painter Hilma Af Klint by Helena Zay, oil on canvas, 36"x48"
Much like the spirits of the afterworld that preoccupied her, Swedish painter and mystic Hilma af Klint's (1862-1944) work has found new life well beyond the earthly bounds of its maker. And, perhaps eerily, it seems it's because the artist herself knew well that the physical world she existed in wasn't quite ready for her creations.

Back then, af Klint, a woman in much more of a man's world than now, had begun making her bold, colorful abstract works in 1906, nearly a decade before Kandinsky, Mondrian, and other (male) presumed pioneers of abstraction were creating their influential works. Not long before she died, af Klint willed boxes containing several of her paintings to her nephew, Royal Swedish Navy Vice Admiral Erik af Klint, with the stipulation that the works be kept secret until at least 20 years after her death.

The collection caused quite a stir in her homeland when the boxes were opened in the 1960s, and eventually formed the basis for a massively popular 2018-2019 Guggenheim exhibit. But during all of that there were eight more af Klint works, made circa 1913-1915 and dubbed the "Tree of Knowledge Series," along with a sketchbook, lying undiscovered in Dornach, Switzerland, the hometown of her theosophical colleague Rudolf Stenier. And now, thanks to Martina Angela Müller, senior artistic director of Lightforms Art Center tracking them down, they're on loan from the Albert Steffan Foundation and on view at in at Lightforms in Hudson through August 9. (The cover artist, Helena Zay, splits her time between painting in her studio and serving as artistic director/curator of Lightforms Art Center.)
"There's something very mysterious about them," says Müller about the watercolor images. "They're very symmetrical, with geometric patterns—spirals, helixing—but with a little bit of representation of human forms, and birds. They're sort of half naturalistic and half abstract."
One of Hilma af Klint's paintings in the "Tree of Knowledge" series at Lightforms Art Center in Hudson through August 9.
Born near Stockholm into a bourgeois naval family, af Klint took portrait painting classes as child before studying at the Royal Academy of Fine Arts as a member of the first generation of women accepted into art academies. Upon graduating, she set up her first studio, where she began painting portraits and landscapes whose profits enabled her to travel throughout Europe. During her travels, she created numerous studies of flowers and other plants that are arrestingly meticulous; she also spent a year at the Stockholm Veterinary Institute as an illustrator of surgical techniques.
Things took a major turn in af Klint's life near the turn of the century, when she became interested in spiritism, a movement then just coming into vogue that held that the living could contact those who'd theoretically passed on to the spirit world. Her interest in spiritism spiked in 1880, when her younger sister Hermina died, and she became increasingly interested the theories of figures like Steiner and Theosophy founder Madame Blavatsky. She became a spiritual medium herself and joined a group of simpatico female artists known as The Five, with whom she held seances with the aim of contacting "the High Masters" in the next world.
"Looking at her paintings, it's helpful to understand how her abstract work started as representations of what she thought the spiritual world was like," Müller says. "The brilliancy of her colors on the gray paper she worked on makes them very striking. Each day [the gallery is open], we turn the sketchbook to a different page for viewing in the display case." Inspired by af Klint's detailed botanical images, Lightforms commissioned 11 female artists to create images representative of the plants seen in her work, resulting in over 100 new pieces that are also on view in the show.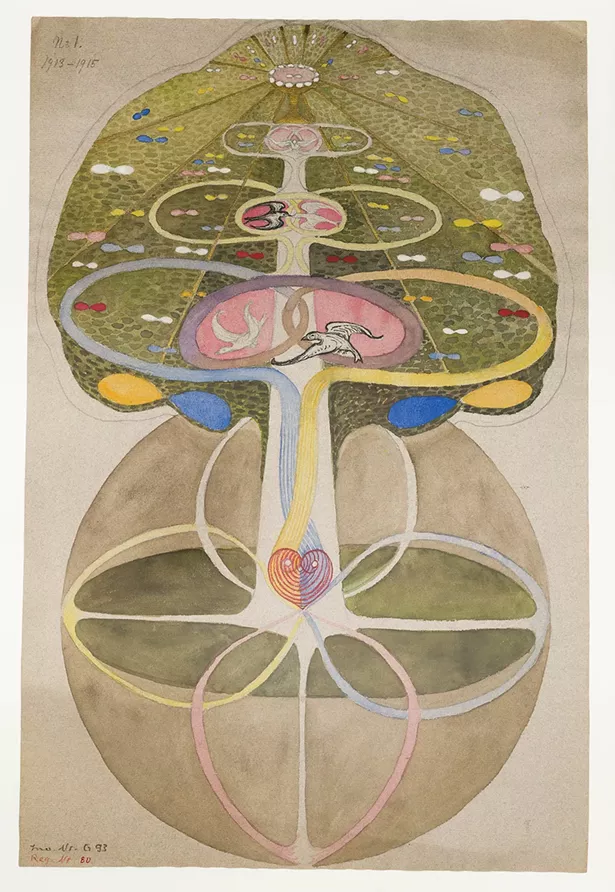 One of Hilma af Klint's paintings in the "Tree of Knowledge" series at Lightforms Art Center in Hudson through August 9.
Hilma af Klint's "Tree of Knowledge" series and related works are on view through August 9 at Lightforms Art Center, which is planning to reopen for limited-size groups of viewers in accordance with New York State COVID-19 advisory guidelines.