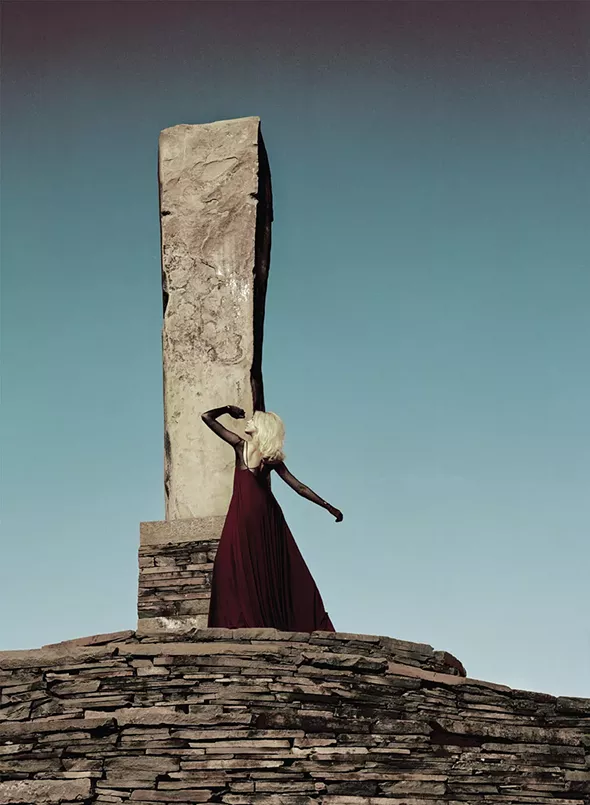 With a knack for magical realism, photographer Jennifer Tzar hones in on the modern-day fairy tale with her work. "Real life is not that interesting to me," says the Minnesota-born Tzar. "I want to create a world where people want to be a part of it, but they don't know what it is. A place they've never seen before." Tzar's incongruous images are eerily cryptic; from high fashion models casting unsettling faces against stark landscapes to a sunken Bruce Springsteen, hidden beneath a layer of clouds. While some shots do reflect an aura of lightness—like a sprightly Juliette Lewis banging a hot pink drum on a grassy hill—most bear an unprecedented hint of darkness. "Everything looks too real with regular lighting. I like to tweak everything [in Photoshop] to make it a little bit off."
Although Tzar has worked in the fashion industry for nearly 30 years, she didn't having any initial intention to follow an artistic career path. She went to college for science, studying particle physics and biology. After landing a modeling gig, Tzar shifted her focus out of school and into the world of fashion in New York City. When she got pregnant with her daughter, she transitioned out of modeling and into a life as a wardrobe stylist. Eight years later—with the help of a then-photographer boyfriend—she began taking her own photos. Everything panned out naturally for her, and within a month, she picked up her very first photo gig with Levi's. "It took off really, really quickly," says Tzar. "I got sucked right into it." Over the next few decades, Tzar traveled internationally, shooting bits for magazines like Men's Vogue, Spin, and Discover, and shooting portraits musicians like Ozzy Osbourne, The Black Keys, and Mary J. Blige.
A film by Stephen Blauweiss.
When a fire burnt down her SoHo apartment two years ago, Tzar left Manhattan and headed north, falling in love with Hudson. Instead of moving back to the city, she took on her latest project with her leatherworking boyfriend: ÖR Gallery & Tavern, a multifaceted coffee shop, bar, restaurant, gallery, and work studio. Her connection to the Hudson Valley kicked off while on a photo shoot back in 2012 with
Style Zeitgeist.
Tzar she shot this month's cover photo with a Mamiya RZ67 camera at Saugerties' Opus 40—sculptor Harvey Fite's world-acclaimed, mesmerizing structure erected from the natural bluestone quarry beneath his feet. Fite's fantastical creation coincides with Tzar's offbeat characteristics. "It feels like there's an ancient Pagan wisdom to it. You can't find a bad angle there," Tzar says of Opus 40. Tzar wanted to emphasize the model's composition juxtaposed against the obelisk. The model's shape and empowering warrior stance complements the towering stone behind her, while also providing a sense of displacement.
For the moment, Tzar has hung up her camera, focusing her time around ÖR and a newfound love—writing screenplays. "I just keep moving. I'm not someone who's married to one thing," she says. What's next? She hopes to make a full-length movie about a hillbilly fairytale. Portfolio: http://jennifertzar.com/