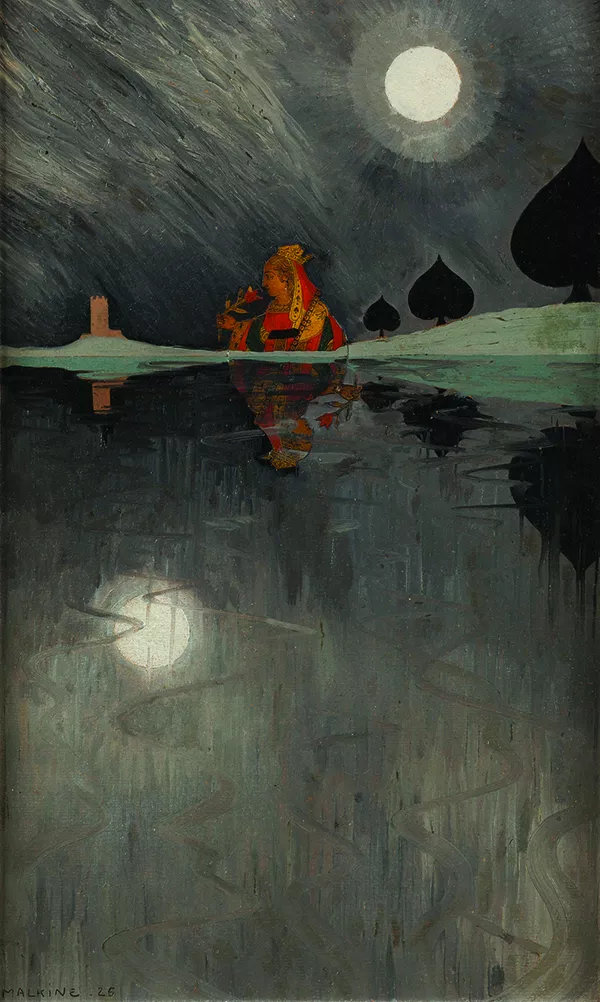 La Dame de pique (Queen of Spades), Georges Malkine, oil and collage on board, 38 x 23 cm, 1926
The moody, brooding landscape on this month's cover is a small, early painting by Georges Malkine, whose work and anti-career are the subject of an exhibition opening this month at the Woodstock Artists Association Museum (WAAM).
A complex character, Malkine began his work as a painter in 1920s Montparnasse, the Left Bank artists' neighborhood of Paris, alongside a number of other, but now better-known artists, including André Masson, Joan Miró, Yves Tanguy, and Man Ray. Together, they were responsible for the early injection of painting and visual art into the nascent Surrealist movement, which was being erected out of the ashes of Dada by André Breton and a circle of his anti-literary writer friends. Malkine holds the distinction of being the only painter identified by name in Breton's first Surrealist Manifesto, where he is listed (along with a laundry list of the writer's other favorites) for "having performed acts of ABSOLUTE SURREALISM."
Malkine fell into this avant-garde group early and easily, attracted by their dedication to nonconformity. It is the main thesis of curator Derin Tanyol's exhibition at WAAM that his embrace of Surrealism's anti-consumerism extended to a willful self-obscurity that was an act of "perfect surrealist behavior." She notes that "his disdain for self-promotion amounted to an evasive refusal of his own place in history" and quotes the artist himself as saying "I did everything I could to escape the attention of my contemporaries."
Eschewing commercial success of the sort that had the Surrealists anagramming the name of ultra-self-promoter Salvador Dali into "Avida Dollars," Malkine's life wended through any number of unplanned detours, side roads and dead ends. Despite his early embrace of Surrealism, he renounced his official membership in the movement in the 1930s, by which time a serious addiction to opium became his primary activity. He essentially abandoned art making altogether for the next 20 years, and was active in the French Resistance during WWII, for which he was detained several times by the Nazis, even spending some time in the camps at Wannsee and Dachau in 1943-44. After the war, he married his much-younger wife, Sonia Malkine (who passed away earlier this year), and began a family that was to include our own local favorite, Gilles Malkine. In 1948 they moved to the US, eventually buying a house in Shady, where Georges picked up his painting in earnest once again.
"Georges Malkine: Perfect Surrealist Behavior" is the first retrospective of Malkine's work ever to appear in the US, and is accompanied by a substantial catalog that is the first ever in English to appear on the artist. On October 11, the opening reception will be preceded by lectures by both exhibition curator Derin Tanyol and noted Surrealism scholar and translator Mary Ann Caws. The talks begin at 2:30 pm in WAAM's Towbin Wing; the reception will run from 4 pm to 6 pm. The exhbition continues through January 4 at the Woodstock Artists Association Museum, Woodstock. 845) 679-2940.