Collect The Sun
Gabe Brown paints adult fairy tales. She delves somewhere that is often forgotten or unexplored; into little cavelettes that remind you of magicians and rabbits being pulled from hats, where scarves are never ending, tears can literally form an ocean, and the lottery jackpot can hide in quarters behind your ear.
Brown's work is inspired by nature, yet also mathematically precise figures. They interact with fluid, freehand shapes creating somewhat escapist environments. "At one time I would have described myself as a purely abstract painter," Brown says. Although many of the shapes edge on the side of organic, grounded behind all the abstraction is something tangible. "I paint landscapes," she concludes. A world is created through vignettes. Off-colored and dreamlike as they may appear, they are still fields and oceans.
Brown describes the paintings as "miniature self-portraits," with moments of her life making homes in them. Like a concept album, the theme is threaded through the individual paintings. They highlight human struggle, not simply her own, but how frailty seems to accompany existence. What could be a worn-out encouragement seems relevant and anything but cheesy. "Life's hard," she says. "I think there's power in that." She portrays loss and uncertainty wearing the garb of youth, of possibility. Her viewpoint is not about throwing in the towel. Brown sides with the optimists.
There's joyful amusement to be found in Brown's paintings, surely, but there's also the idea that yearning exists and it's not something to run away and hide from. By keeping the color spectrum playful and airy, the pieces become the wistful soundtrack to a lighthearted daydream over a tragedy's monotone. "Water can carve through stone," Brown says of her seascapes. "In the same way, I think we underestimate our own power."
A solo exhibition of paintings by Gabe Brown, "Collect The Sun," will be exhibited at the Gallery at R&F Handmade Paints in Kingston. The show will run from April 3 through May 22. An opening reception for the artist and a gallery talk will take place Saturday, April 3 from 5pm to 7pm. (845) 331-3112; www.gabebrownstudio.com.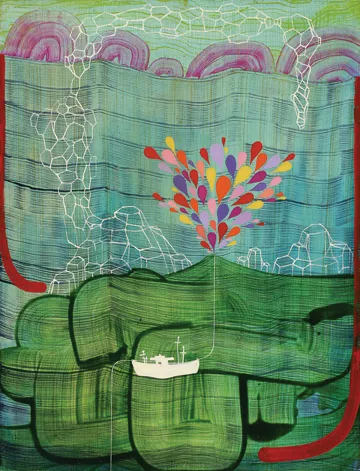 Gabe Brown | oil on canvas over wood panel |16 x 12 inches | 2009