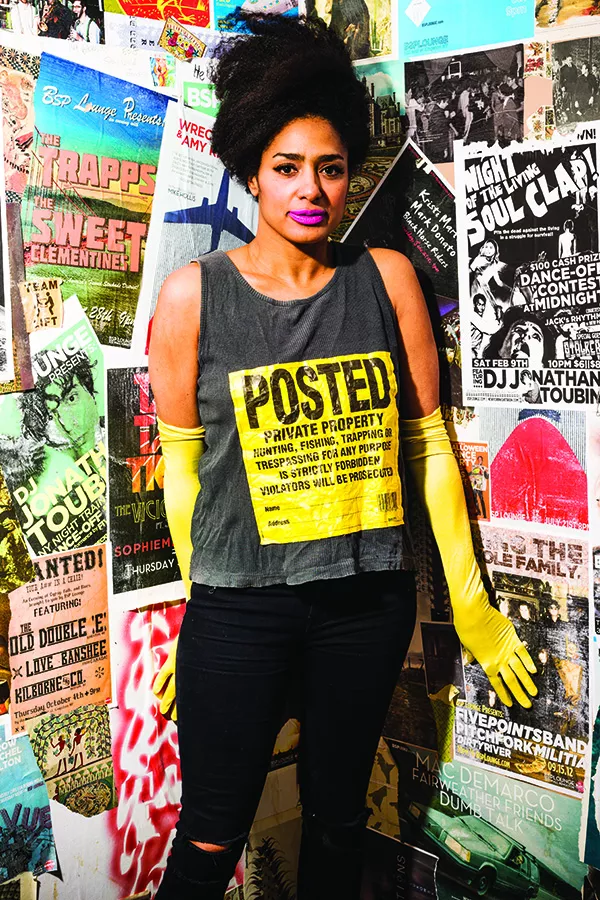 Franco Vogt
Simi Stone in Private Property tank top, ($30) by Mau. Conceptualclothing.com.On the Cover: Simi Stone in Comme des Garcons Noir kei ninomiya paneled tulle skirt ($440); Issey Miyake Pleats Please black top ($325); Reinhard Plank Monaca leather ankle boot ($560). Clothing from Kasuri, Hudson; Kasuri.com.
"Make me sound tall," the photographer says, laughing. "Smart and tall, that's what I want."
Franco Vogt has one of those personalities. Short and witty with a full-faced smile, the photographer and his wife of 22 years, Lucia Reale-Vogt, have earned a reputation in the Hudson Valley for making their subjects comfortable in front of the camera.
Photography is an intimate process, Vogt explains, one that depends on trust. In New York City, where Vogt does most of his commercial work with actors and celebrities, his subjects are more open than those from the Hudson Valley, where he does mostly private shoots. Lately, Vogt's been shooting a lot of authors, who he describes as "very, very shy."
Film by Stephen Blauweiss. Produced by ArtistFilmDocs.
At BSP Kingston, where we staged our spring fashion shoot ("Jam Session" on page 49), Vogt's subjects were much more relaxed. He'd photographed a few of the eight local musicians before and the rest were made comfortable with his energy-fueled humor and Lucia's ever-present help.
When asked what his wife's title is, Vogt says "everything."
"She produces the shoots, art directs, helps me style stuff," he said. "She's always with me on a shoot. She basically runs the back end of the business."
Together, the couple set up shop in BSP Kingston and began bouncing ideas off of each other. The artists' genres vary from Congolese electro to indie rock for kids, and Vogt made sure to consider their styles in the way he photographed them.
For Maria Todaro, a mezzo-soprano and co-founder of the Phoenicia International Festival of the Voice, they put her before a floor-length red velvet curtain with classic red lips and a flowing dusty-rose dress. For R&B singer Lindsey Webster, they perched her on an amp with a microphone spun around its base, her dark lips and eyes made stark in the black-and-white portrait.
"Basically, we wanted to go for a kind of contrasty club scene," Vogt says, with an "exciting after hours quality to it." That's why BSP Kingston was chosen. The space was dark enough for him to get experimental with lighting, yet big enough for him to feel like he didn't have to stay in a single part of the room. He got to explore.
"My favorite part was what I made the bar look like," Vogt said. He arranged the lights in such a way that it reflected to perfection in what he calls "a very happy accident."
"That's my photography philosophy, if I have one—let happy accidents happen."