Amazingly, last month marked my 10th year as music editor at Chronogram. And for nearly every month of that decade, the stunning portraits that correspond with the articles I've written for our Music section have been created by the madly talented eye of photographer Fionn Reilly. One of the rare exceptions, however, is that of this month's feature on our 2016 Chronogram Block Party stars And the Kids, whose collective likeness comes from an image provided by their record label. But Fionn had good reason for not being available to shoot the band for this month's issue: When we were on deadline, he was in India amassing a rich trove of his typically magical images—one of which here adorns our cover.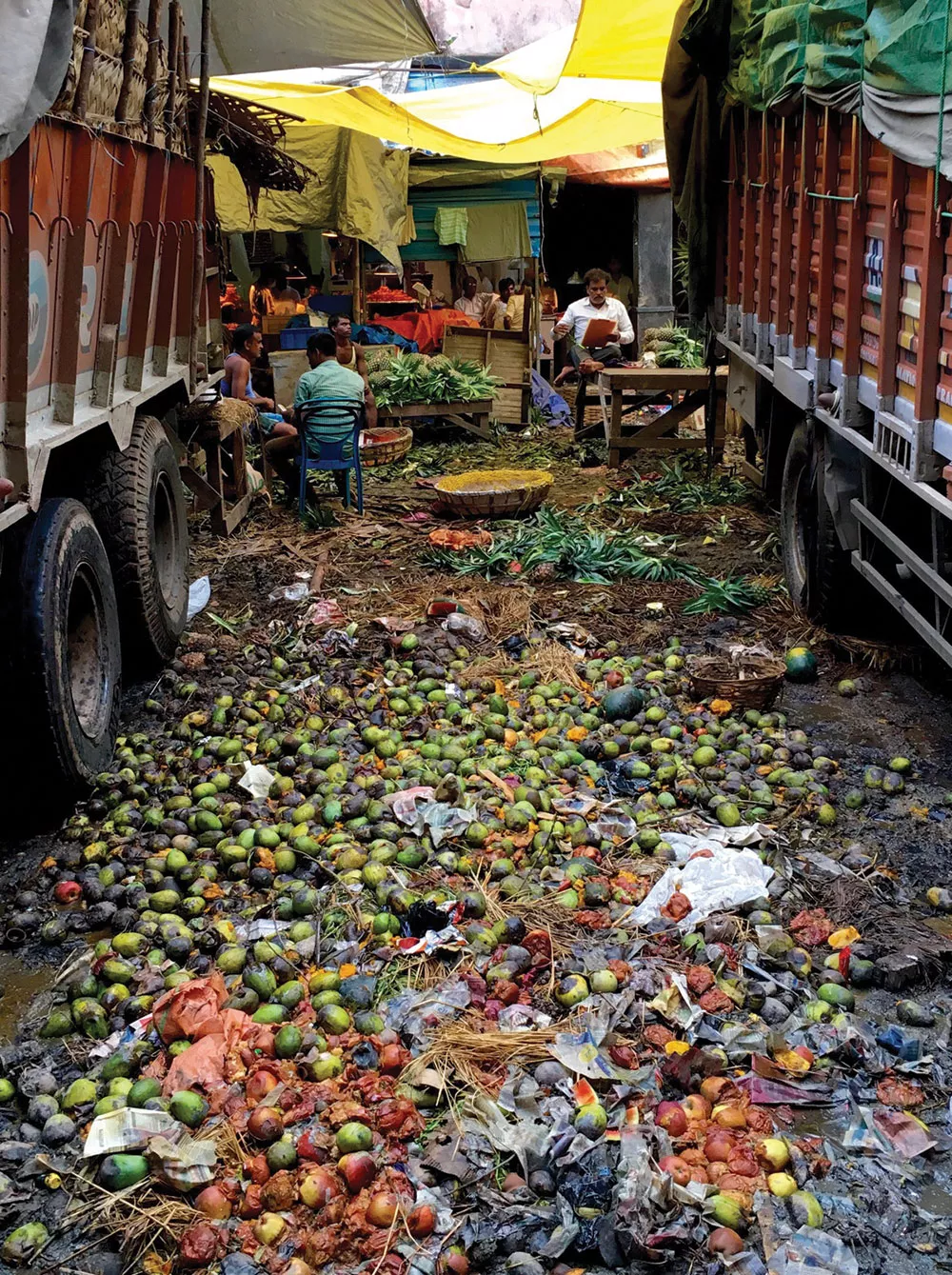 Fionn Reilly
Untitled
Fionn is no stranger to exotic locales. His website swells with arresting shots taken in Paris, New Orleans, and the hidden corners of his native England, as well as India, which he had previously visited in 2013. "It's bloody hot here, very challenging," he says on the line from Kolkata (formerly Calcutta). "The camera lens constantly steams up from the humidity, and I've been caught in the rain a lot. But the dampness has given the buildings a beautiful patina. I'm captivated by the teeming energy here."
In addition to the so-called City of Joy, the return visit would take Fionn to the regions of Rajasthan and Delhi. "When I was a kid my parents joked that my bedroom looked like [notorious dungeon] the Black Hole of Calcutta, so that's where the fascination with India started," he explains.
This picture, of workers and castoff fruit at Kolkata's central agricultural distribution market, was actually shot with the lensman's iPhone. "I came here because I wanted to document the working people," Fionn says. "The human spirit of the men who unload the trucks at the market amazed me. They work and sleep [on site] on and off all day in the heat, but always maintain their humor."
The featured picture aside, it's interesting to note that while being immersed in a culture renowned for its dazzling colors Fionn has elected to shoot largely in black and white. "I think black and white film often reveals more [than color], because it penetrates more deeply," says the photographer. "Especially with an older city like this one."
As the flames of paranoia and hatred continue to be fueled by certain unnamed political opportunists, it's clearly crucial that we in the West cultivate our understanding of our global neighbors. Unlike on his 2013 sojourn to the region, during his July journey Fionn didn't bump into many fellow Western visitors. Does he think it's because travelers feel unsafe? "Maybe," he responds. "But when I'm walking through the Muslim parts of town and other areas, there's no fear, no edge, at all. People are totally friendly. They don't want to fight you. They just want to sell you a chicken, or whatever it is they have, just to survive."