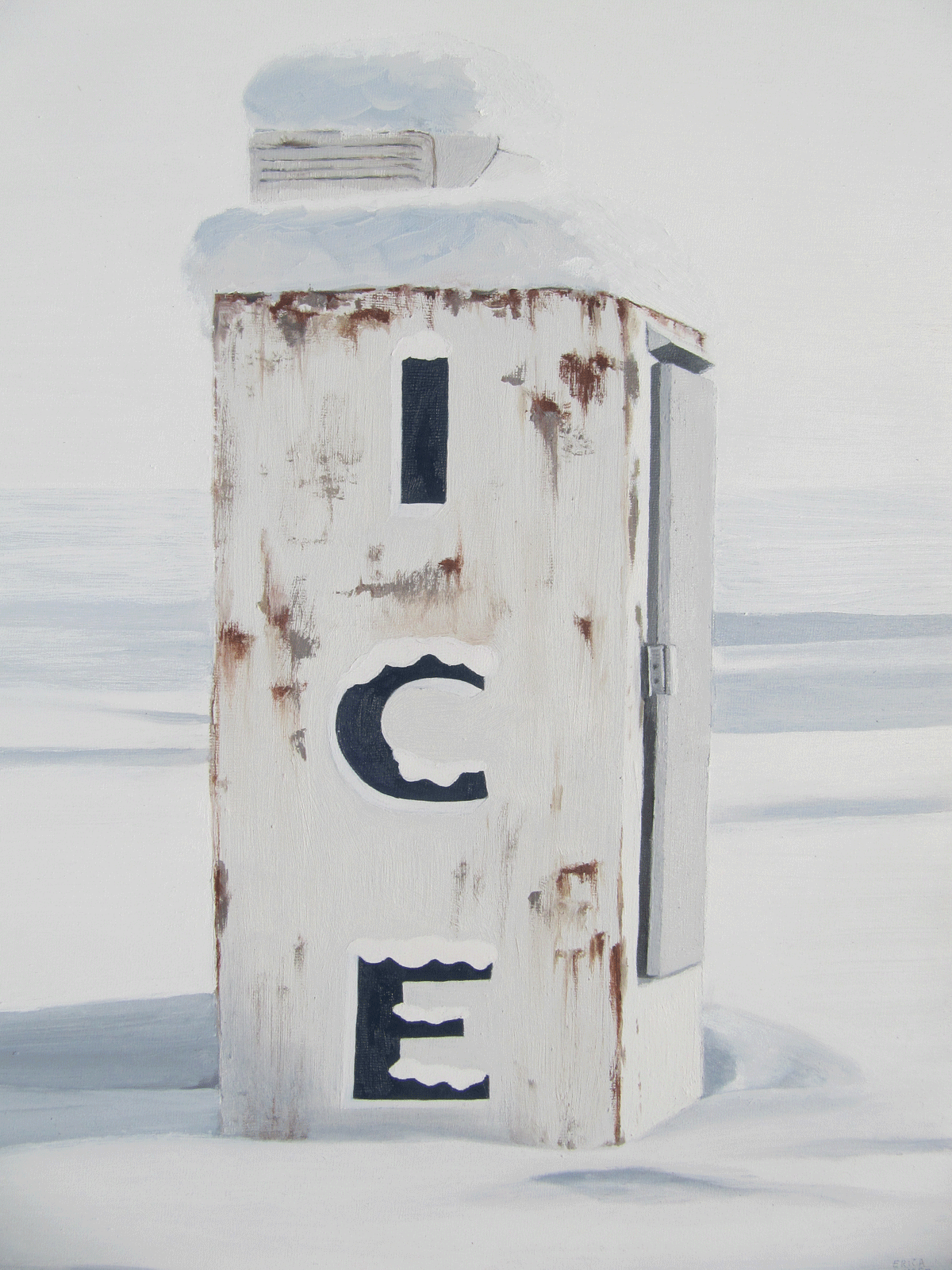 "Ice Machine" by Erica Hauser, oil on panel, 11" X 14", 2012.
"It doesn't oscillate, but it doesn't really matter."
Erica Hauser, 34, sits in her sun-washed studio in the former Beacon High School. From the corner, a little vintage Eskimo fan blows cool air directly at her. Hauser bought the fan a few years ago at an antique store. "It's very old, but it works and works well," she notes. "I like that. Now, people have to fix their phones every couple of months."
Drawn to moments of contemplation and stillness amid the din of a buzzing technological world, it is no wonder that Hauser surrounds herself with relics of a bygone age. Glass milk bottles hold paint brushes, rulers, and hand-picked daisies. A wooden easel features a painting of a gray wheelbarrow, the same one she uses to stack wood for her father's firewood business. A baseball mitt lies folded beneath a desk, as if still clutching a ball. The objects that make their way onto her canvases are a rare breed in our pixel-and-gigabyte era: They're built to last.
Like Frank O'Hara's observational poems about the small details of life in New York City, Hauser's paintings celebrate the seemingly ordinary things that often go unnoticed. "Like the ice machine," Hauser says, and points, as if to something in the room. "It's right there in Beacon at the corner store." The painting was inspired by a photograph that she took after a snow storm. The machine, with iconic snow-capped letters, is painted with formal accuracy. The fact that the machine itself was snow-capped inspired Hauser to push it a bit further. "I was feeling the chilliness of it," she says. "It felt right to put it in a snowy field."
Though she mostly paints from her own photographs, Hauser's goal isn't photorealism. "It's a holding on to a moment or an experience," she says. Hauser offers unusual perspectives of ordinary objects through subtle alterations, like cropping a movie marquee to frame a few decontextualized letters over an angular edge, or bleaching out colors to create soft vintage static. Such stylistic choices imbue the early-Americana objects with a dreaminess akin to flashbacks in old movies. Classic Ford trucks and antique gas station pumps are real things, but seem part of an intangible past—one only accessible through memory, or, it seems, one of Hauser's paintings.
Just before our meeting, Hauser sold her painting
Ice Machine
. When I arrived in her studio, it was hanging on the wall. She borrowed it back from the buyer so that I could see the actual object—the one unduplicable original. Looking at the painting, Hauser's interest in the rusty ice machine became clearer, less because of a personal nostalgic connection than for appreciating a thing in its own right. "The glorious tactility of oil," Hauser says, musing on what she used to paint it. "It's buttery, stays wet." The painting was more than just an image. It was a testament to the power of things—a sense experience first, a portal for the imagination second.
Hauser will exhibit recent paintings at Hudson Beach Glass from September 8 to October 7. An opening reception will be held on September 8 from 6-9pm.
Hudsonbeachglass.com
. Portfolio:
Ericahauser.com
.