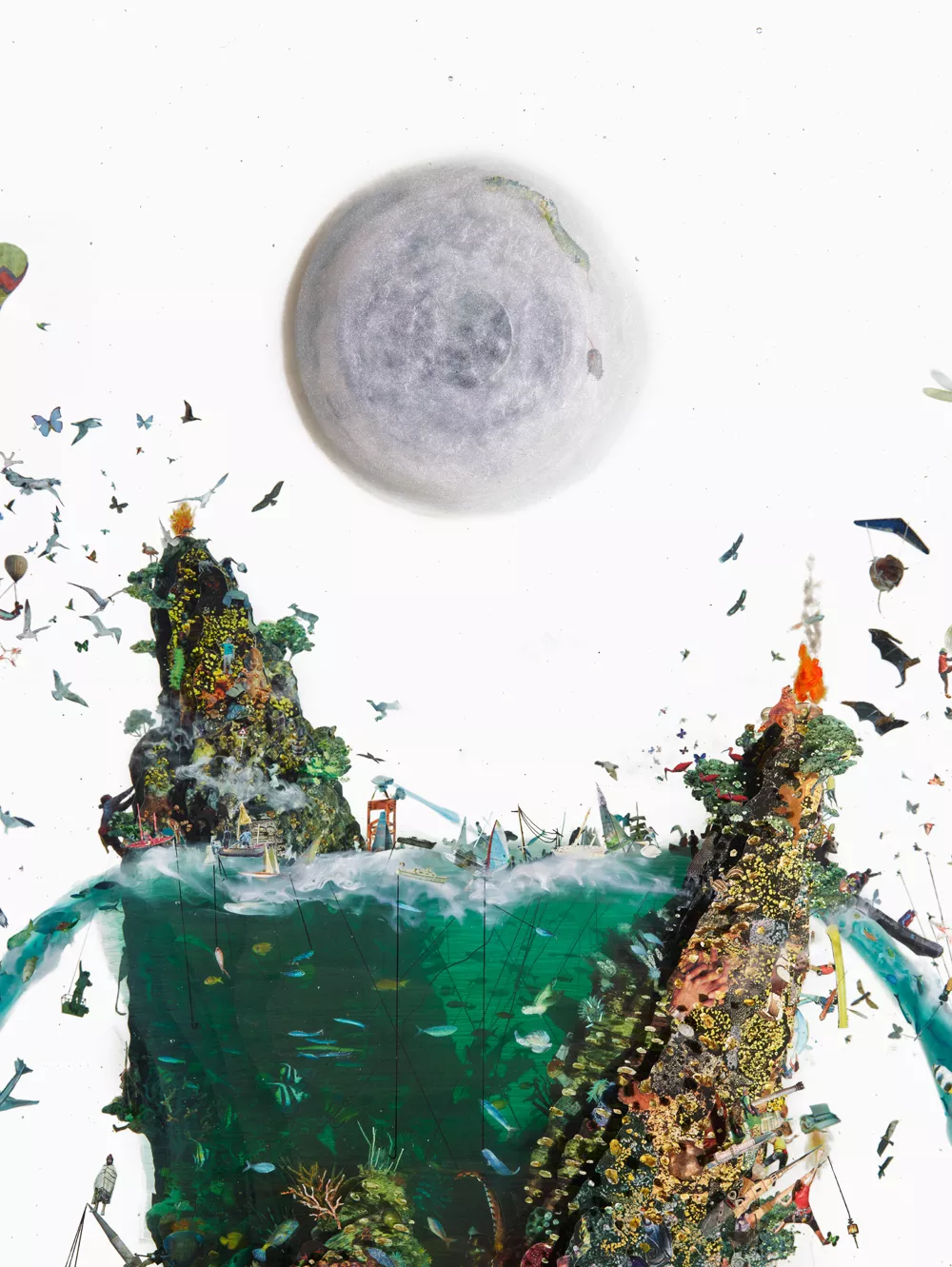 Dustin Yellin
The Theia Hypothesis detail
Dustin Yellin is a madman. Quite literally. In 1999, the artist had a psychotic episode that led to Yellin's incarceration and hospitalization. The craziest bit of it is that Yellin filmed it as it was happening, documenting his travels across Manhattan over the course of a weekend before the NYPD arrested him. You can watch the film, The Crack-Up, on his website.
Twenty years on, Yellin is clearly still mad, but in the boundary-obliterating way that creative geniuses are. A restless youth and a high school dropout, Yellin was drawn to art for its lack of constraints. "Art felt like the thing that had no walls around it," Yellin says. "Even before I read or learned about art history, and had any references really, I was like, well, this is infinite. This is fucking endless. And that felt very safe."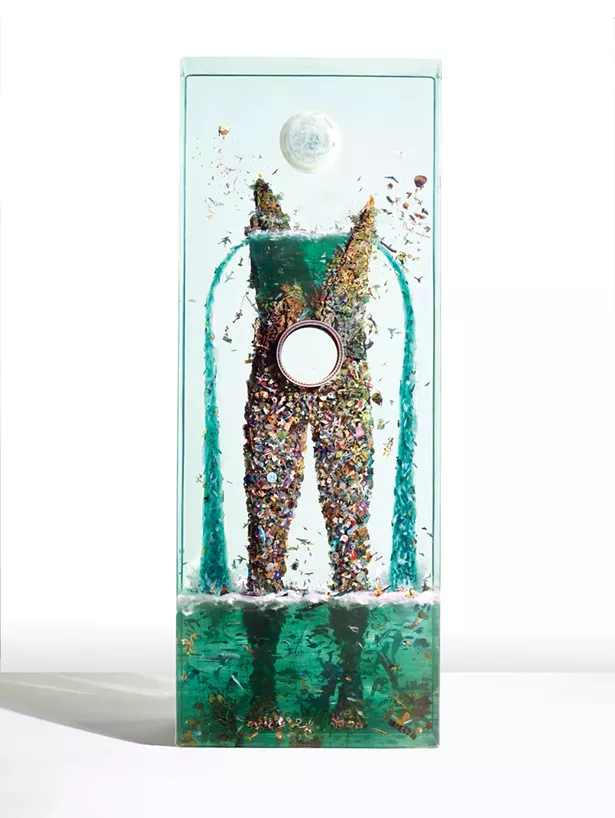 Dustin Yellin
The Theia Hypothesis
Something that was not safe was Yellin's early work, a series of resin-based pieces that saw him encasing plants and found objects in resin, which is toxic. "I was going to die," he says. This led Yellin to glass-based works, like this month's cover, The Theia Hypothesis, part of his Psychogeography series, which will eventually consist of 120 pieces (about 100 have been fabricated already). "Frozen cinema" is how Yellin refers to these pieces, in which he embeds hundreds of images clipped from magazines and art books in between anywhere from 12 to 50 layers of glass. (The Theia Hypothesis consists of 28 layers.) These works, crammed as they are with the detritus of civilization, are not only maps of human consciousness, but also a societal archive. "I like the idea that if there's a fallout, and this thing, you discover this thing, and you unbury it, you could learn so much about our civilization from the last 1,000 years," says Yellin.
Dustin Yellin
The Theia Hypothesis detail
His latest twist on telling a meta-narrative about humanity via hundreds of mini stories is a nine-foot-tall bronze sculpture he's in the process of designing. "I'm thinking about it as the last human," Yellin says. "It'll be made of many, many objects, and made of landscapes and dreamscapes, and volcanoes, and animals, and disparate pieces of clocks, and bottles, and frogs, and coins, and architectural details and cosmological fucking charts, and real gay poems that are hidden, and fucking maybe I'll get Nelson Mandela's shoe."
Another ambitious project Yellin is working involves tipping a 1,000-foot-long oil tanker vertically into a harbor. Visitors would be able to go up and down the tanker in elevators, and then visit the observation deck. Yellin says all proceeds from the exhibition—which would total an estimated $50 million a year—would go toward funding conservation projects. It would be called The Bridge, to represent the bridge from the past to the future of how we use energy. When asked how close the project is to completion, Yellin says, "It was amazing how close we got before COVID, and then COVID just froze everything." He's coy about when and where The Bridge will happen, but Yellin says he has the engineering and financing sorted out.
When Yellin and I spoke in mid-December, he was at his Brooklyn studio, though he was eager to get back up to his property in Putnam County, where he's making a series of earthworks inspired by Japanese Zen gardens. When asked if there's any difference between working in the studio or out in the woods, Yellin demurs. "It's all the same. I don't know how it'll ever be not the same, but writing a poem, or moving a rock, or making a drawing, or fucking with the landscape feels all very much the same," he says. "That act of changing things around you is very much akin to the process of being in the studio and painting on a piece of glass. Do you know what I mean?"