How do you find your way to the human soul? Some say it can be accessed through the eyes, others might need a map. Red Hook-based painter Daniel Baxter relies on both in his uniquely rendered portraits of soulful people on maps.

His portrait of Eva Perón, featured on the cover, was inspired by reading a biography of Che Guevara. "Because of her contributions to Argentina, she became known as the 'Spiritual Leader of the Nation.' I admired her support of workers' rights, as well as for women's rights, and I thought it would be cool to incorporate her image into a map of Argentina," Baxter says.
Baxter began exploring painting on maps with a 1941 Rand McNally atlas that was falling apart at the spine. He thought about recycling it, but found the maps too beautiful. A map of Cuba suggested an old 1950s Ford automobile. He tried it and loved the results. From there, he started free-associating on other maps, seeing what might come up. "I would respond to each map by drawing a portrait, a landmark, an artifact, which somehow resonated with each place," he says.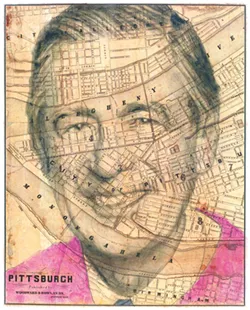 Continuing his research, Baxter gained access to enormous online collections of free maps to download. This allowed him to render notable people on maps suitable for portraits, developing his distinctive style along the way.

When asked if maps suggest the portrait or vice-versa, he responds, "It can definitely work either way. Ultimately, I try to look for a good marriage between the map and the subject, where they are each enhanced by the relationship. I never want the portrait to obscure what the map represents. The most important quality is that intuitive connection between the person and the place. If I feel that connection, the portrait will find a way to work. I try to summon sensitivity to my subject matter, and if it's there, everything will fall into place."
Baxter almost always works with black ink, which doesn't compete with the map's colors. "I like building a drawing with dry-brush technique. I utilize stamp pads and fingerprints as a way to create tones, as well as Q-tips to draw. I use pencils with darker carbons," he explains.
An avid reader, Baxter has broad interests in history, politics, science, sports, and music. "Maps are the perfect canvas to encompass these interests. They give me the 'latitude and longitude' to explore ideas and celebrate notable figures," he adds.
A lifelong resident of New York, Baxter grew up in Buffalo, studied illustration at Parsons School of Design, and lived in Brooklyn for 10 years. "Living in the city, I felt bombarded by so much information on busy streets. It was exciting, but as a more cerebral person, living close to nature gives me a clearer head. On a micro level, my town has an excellent recycling center, where I find cool old books, sheet music, and other material to draw on. As an artist who works with found material, this place has been a goldmine," he says.