Andrea B. Swenson
Laughing Mermaid
Mermaids are sometimes confused or conflated with sirens, the evil female creatures of Greek mythology who lure sailors to watery deaths with their seductive songs. Mermaids differ in that they are generally known to be more benign aquatic beings, though they can portend perilous events like storms, floods, and shipwrecks. The two are now nearly synonymous: In Spanish and Italian, the word for mermaid is sirena, in French it is sirene.
Various maritime navigators, including Columbus, apparently confused real life sea creatures like manatees for mermaids, and mermaids have appeared in popular culture from ancient Assyria to Hans Christian Anderson's The Little Mermaid to T. S. Eliot's "The Love Song of J. Alfred Prufrock" (I have heard the mermaids singing each to each. / I do not think they will sing to me.") to Ron Howard's Splash.
Andrea B Swenson
Hot Air Balloon Festival
The phenomenon extends to music. Tim Buckley's 1970 masterpiece, "Song to the Siren," is an ethereal ode to unrequited love. Canadian folk duo Kacy & Clayton released The Siren's Song in 2017, an excellent album produced by Wilco's Jeff Tweedy. Kacy's eerie vocals entrance the listener on the eponymous title track. The myth of the mermaid shows no sign of ceasing to make a mark on popular culture.
I know a (part-time) mermaid named Anna who lives in Brooklyn. When asked how mermaids are important to her, she says, "There is almost no region on earth where mermaids don't make an appearance. Back when colonizers were spreading misogyny far and wide, mermaids were associated with their ability to lure and kill men. I think mermaids represent how women just wanted to be left alone by men who can't seem to help themselves."
Andrea B Swenson
A sandwich stand in Cuba
But it goes even deeper than that. "We associate mermaids with beauty, danger, femininity, freedom, and mystery," Anna says. "And they are environmentally symbolic. We live in the ocean and love it, in contrast to most of humanity's destructive relationship with the earth."
Though it has been on hold due to COVID for the last two years, each June thousands of merfolk descend on Coney Island for the annual Mermaid Parade. Hudson Valley-based photographer Andrea B. Swenson captured a magic moment in the summer of 2019 on her way to the parade, which she titled Laughing Mermaid. She recounts how she got the shot.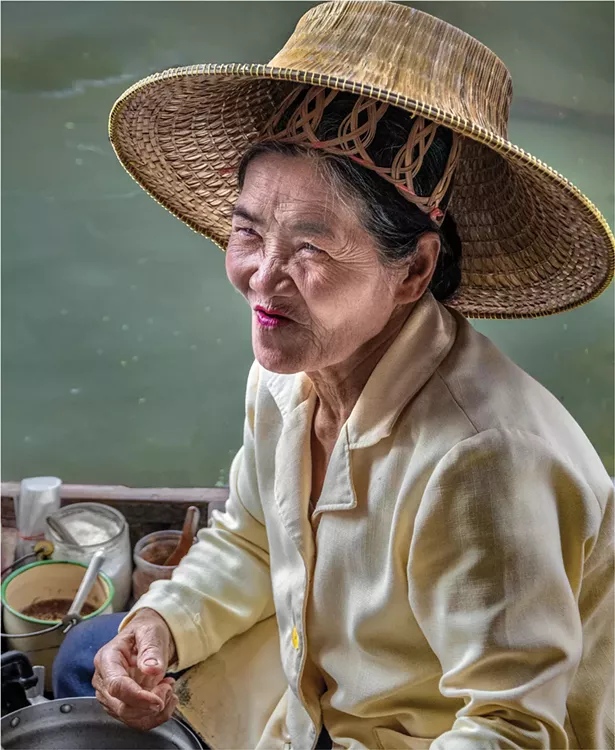 Andrea B Swenson
Damnoen Saduak Floating Market, Thailand, December 2019
"I was riding the F train to Coney Island with all these interesting people going to the parade. It was like a big family with mermaids getting dressed and ready. Everybody was interacting and having a great time. I was sitting next to the mermaid in the photo. We'd been talking, and she was with her friend. I don't know what they said, they just burst out laughing. It was a lucky moment and a happy day," she says.
Swenson shoots primarily with a digital SLR and prefers natural light. She is inspired by Cartier-Bresson's concept of "the decisive moment"—capturing events that are ephemeral and spontaneous, where the image represents the essence of the event itself.
Andrea B Swenson
Marrakech, Morocco, November 2018
Laughing Mermaid is part of the "Photocentric 2021" exhibition at the Garrison Art Center, on display through January 9.