Page 2 of 3
A few blocks away, another business shows that while some people see trucks as a refuge from restaurant work, others see it as a way in. Steve Walsh is a former corporate pilot whose ex-wife is Brazilian, and his love for the food and culture of that country has become the basis of his new career. From Ponto Brasil, a pushcart he built himself, Walsh serves espetinhos—barbecued skewers of beef, chicken, or vegetables—along with feijoada, the classic black bean stew. Walsh calls the cart "a seed, which will grow into a brick-and-mortar boteco," a café and social club where people gather to eat, drink, and watch soccer.
Heather Williams of Pippy's Hot Dogs intersection of 23A and 32A in Palenville.
While Hudson's truck scene is the most diverse, there are noteworthy endeavors throughout the region. Last spring, Sean Kelly, a sculptor and mason, saw an old camper for sale on the side of 9W. "It seemed like a good project." Unfortunately, the project—The Tin Cantina—turned out to be rather more laborious than he imagined: "All these old campers from the 60s and 70s are built on a 1' x 1' wood frame and it was completely rotted." He got it repaired and fitted out with everything needed to make burritos and quesadillas for people driving between Woodstock and Saugerties on Route 212, where it's parked in the lot next to Fiber Flame. "I try to use as many organic ingredients as I can, but sometimes it's hard to find them," Kelly says, citing tortillas as an example.
Kelly uses the Hudson Valley Dessert Company in Saugerties as his commissary, which makes preparation easy since he lives nearby. Woodstock Meats kindly allows him to buy chicken (Bell & Evans) wholesale through them, and he gets as many vegetables as he can from local farms, including Slow Roots Farm outside of Kingston. Kelly worked in various restaurants before training as a mason; he made a career out of stonework and plans to return to it. "I've taken a little time off from doing commissioned work to get this up and running. It's been a process, figuring it out. I'm hoping that at a certain point I can hire some people and transition away from it." Demand appears to be brisk; there are usually a few people gathered around eating or ordering. A pop-up tent serves as a welcome shelter on inclement days, and there are thick logs on end scattered around for seating.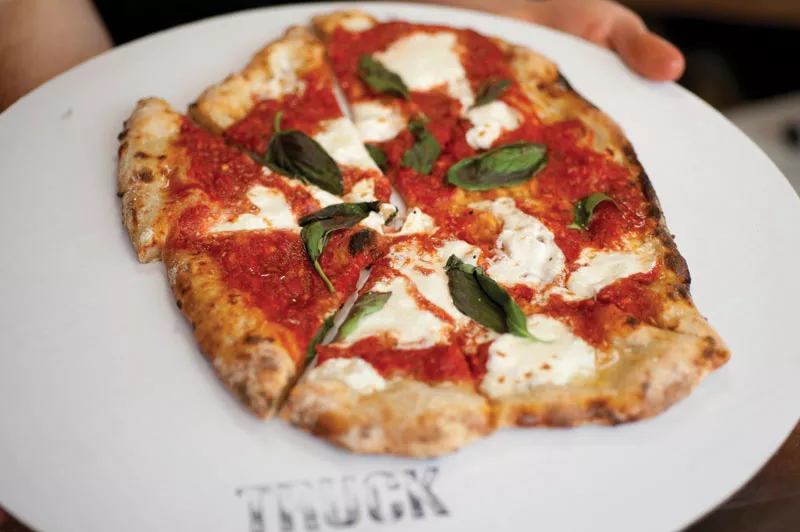 The margherita pizza from Truck Pizza in Hudson.
For more years than she will admit to, Bjanette Andersen has sold much-praised food from Bubby's Burrito Stand by the side of Route 199 in Red Hook. She is happy: "It's successful, and satisfying, because it's a perfect mix of everything I love in life. It's social, it's outside, it's cooking, and I have my potted plants out front." She has plans to expand, adding some catering or possibly another truck in the near future. Weekends find Pippy's Hot Dog Truck parked at the intersection of 23A and 32A in Palenville, where Heather Williams serves dogs (including veggie) with a wide range of homemade toppings made from local produce in season. A particularly clever version is a hot dog bánh mì, that most glorious open-source street food from Vietnam, which she fell in love with getting her master's degree in education at Hunter College. Her grandmother had a hot dog truck in the 1970s—Pippy's is from 1973—and she enjoys that continuity as well as the varied nature of the job: "You have to do truck maintenance, prep, cooking, deal with people; it's a lot of work and a lot of fun." Whether an improving economy will return her to the career she trained for is an open question: "I'm playing it by ear."