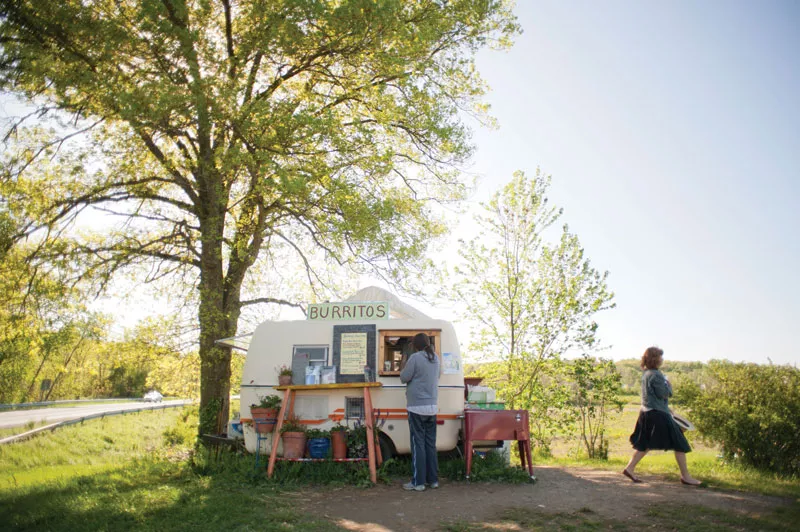 Bubby's Burrito Stand on Route 199 in Red Hook.
Years after gourmet food trucks took hold in big cities, the Hudson Valley has finally attained an abundance of quality establishments on wheels. While some restaurants have opened trucks to expand their reach–'Cue in Saugerties and American Glory Barbecue in Hudson have them, as does Yum Yum Noodle Bar of Woodstock and Kingston—those are the minority. Most food trucks are autonomous outposts for creative people with unorthodox career paths. And the food can be superb, affordable, and as diverse as the personalities behind it.
Kazio Sosnowski inside Bubby's Burrito Stand.
Brian Branigan has had many jobs over the course of his life: graphic designer, videographer and director, lifeguard, and Outward Bound instructor, among others. After the economy fell apart, he looked for a new source of income. As if on cue, he and his wife happened past a quilted stainless-steel food trailer for sale, and there began the most recent chapter. Now in its fourth year, Tortillaville has garnered effusive reviews from its many fans, and Branigan is expanding the business to include frozen burritos for retail sale. This idea originated with what he calls the Winter Stash: a batch he makes at the end of the season so his loyal patrons can stock up their freezer while Tortillaville is in Florida for the winter. The frozen burritos will be made using as much local produce as possible. In addition, he is writing a book, Food Truck 101, which he hopes to publish this summer. Besides including numerous recipes, it's a comprehensive and detailed guide to starting and running a business that deals honestly with the challenges and pressures of working long hours in a small space and dealing with the public the whole while. Having built a reputation, a prosperous business—the truck can net between $500 and $1,500 a day—a budding frozen line, and the book, Branigan is considering selling the enterprise if the right offer comes along.
Winston Francis of Winnie's Jerk Chicken.
Another truckerateur can be found right next to Tortillaville. Sam Starr studied art at Pomona College, where he was influenced by a teacher with a passion for building and baking in brick ovens. Last year, Starr came out to build an oven for some friends in Ancram and fell in love with the region. A friend suggested the idea of a pizza truck, "and two weeks later I was in Maryland buying this," he says, pointing at the now-gleaming silver truck behind him, smokestack billowing. "It was a disaster, though; it belonged to a chimney sweep and I had to redo the entire thing." He built a Pompeii-style dome oven from firebrick and refractory cement right behind the cab and installed a fully code-compliant restaurant kitchen around it to avoid the extra cost of renting commissary space.
Sean Kelly of the Tin Cantina on Route 212 between Woodstock an Saugerties.
Starr uses a live sourdough starter and ferments it for 24 hours, making for a tangy crust with plenty of character that's further enhanced by the blistered char that only a thousand degrees can impart. This temperature—the standard in Neapolitan ovens, which gave birth to pizza after all—means that you're unlikely to wait long for your pie since they take longer to fabricate than they do to cook. (The chimney and reflective truck exterior help keep the interior bearable on hot days). Balancing the life cycle of the dough, which changes dramatically depending on ambient temperature, with customer demand and a very finite amount of space has been the biggest challenge. "I learned the hard way. It's a logistical battle, and sometimes we time it wrong and run out." Besides the classic margherita, Truck Pizza also offers one other special pie each day, made using seasonal produce from nearby farms; a recent offering featured grilled turnips and broccoli rabe.
3FortySeven, the furniture store on whose property Tortillaville and Truck Pizza sit, has plans to turn their side yard into a beer garden with three food trucks in back and Branigan retaining his spot out front. It's a clever idea, codifying the heretofore casual arrangement into an outdoor food court that will likely increase business across the board. Branigan thinks this is a logical next step: "If they're done right, a group of trucks together is good for everyone," he says.
Winston Francis hails from Jamaica, though he has lived in this country since the late 1970s. He got a culinary degree from NYIT on Long Island, and had his own restaurant in Flatbush for years before moving up to Orange County. His conversion to nomadic cook came a few years ago: "I went to a fair, and liked what I saw." Asked why the idea appealed, he smiles. "It's easy!" Winnie's Jerk Chicken and Fish has sold Jamaican food out of an imposing black trailer parked across from Van Kleeck Tire in Hudson for three years now. "The owner likes my food, so he invited me to park here," Francis explains. "And the guys who work there are regulars; they get sad when I go away." And travel he does, to fairs and carnivals all over the Northeast. In the winter, he and his wife Joan (who helps in the truck) drive down to Georgia to ply their trade in milder weather. This itinerant life, while it suits Francis and some others, represents an inconvenience for devotees, who miss the goat curry prepared by someone whose deep, sonorous voice sounds a lot like Linton Kwesi Johnson.
A few blocks away, another business shows that while some people see trucks as a refuge from restaurant work, others see it as a way in. Steve Walsh is a former corporate pilot whose ex-wife is Brazilian, and his love for the food and culture of that country has become the basis of his new career. From Ponto Brasil, a pushcart he built himself, Walsh serves espetinhos—barbecued skewers of beef, chicken, or vegetables—along with feijoada, the classic black bean stew. Walsh calls the cart "a seed, which will grow into a brick-and-mortar boteco," a café and social club where people gather to eat, drink, and watch soccer.
Heather Williams of Pippy's Hot Dogs intersection of 23A and 32A in Palenville.
While Hudson's truck scene is the most diverse, there are noteworthy endeavors throughout the region. Last spring, Sean Kelly, a sculptor and mason, saw an old camper for sale on the side of 9W. "It seemed like a good project." Unfortunately, the project—The Tin Cantina—turned out to be rather more laborious than he imagined: "All these old campers from the 60s and 70s are built on a 1' x 1' wood frame and it was completely rotted." He got it repaired and fitted out with everything needed to make burritos and quesadillas for people driving between Woodstock and Saugerties on Route 212, where it's parked in the lot next to Fiber Flame. "I try to use as many organic ingredients as I can, but sometimes it's hard to find them," Kelly says, citing tortillas as an example.
Kelly uses the Hudson Valley Dessert Company in Saugerties as his commissary, which makes preparation easy since he lives nearby. Woodstock Meats kindly allows him to buy chicken (Bell & Evans) wholesale through them, and he gets as many vegetables as he can from local farms, including Slow Roots Farm outside of Kingston. Kelly worked in various restaurants before training as a mason; he made a career out of stonework and plans to return to it. "I've taken a little time off from doing commissioned work to get this up and running. It's been a process, figuring it out. I'm hoping that at a certain point I can hire some people and transition away from it." Demand appears to be brisk; there are usually a few people gathered around eating or ordering. A pop-up tent serves as a welcome shelter on inclement days, and there are thick logs on end scattered around for seating.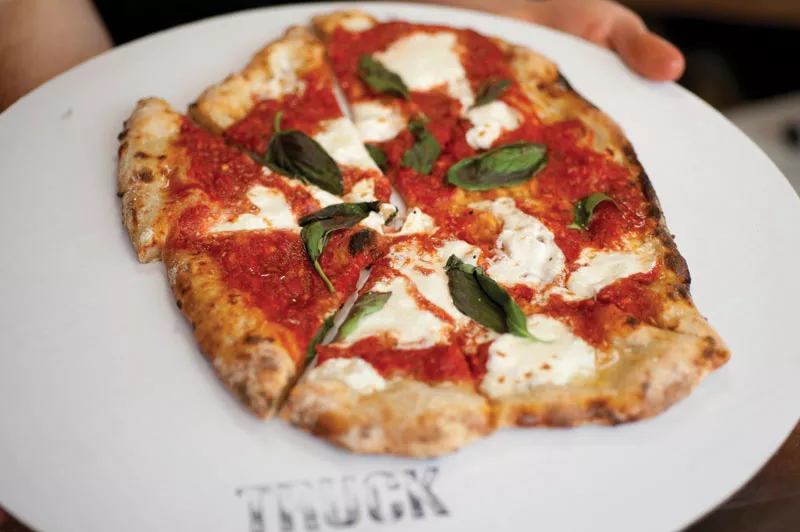 The margherita pizza from Truck Pizza in Hudson.
For more years than she will admit to, Bjanette Andersen has sold much-praised food from Bubby's Burrito Stand by the side of Route 199 in Red Hook. She is happy: "It's successful, and satisfying, because it's a perfect mix of everything I love in life. It's social, it's outside, it's cooking, and I have my potted plants out front." She has plans to expand, adding some catering or possibly another truck in the near future. Weekends find Pippy's Hot Dog Truck parked at the intersection of 23A and 32A in Palenville, where Heather Williams serves dogs (including veggie) with a wide range of homemade toppings made from local produce in season. A particularly clever version is a hot dog bánh mì, that most glorious open-source street food from Vietnam, which she fell in love with getting her master's degree in education at Hunter College. Her grandmother had a hot dog truck in the 1970s—Pippy's is from 1973—and she enjoys that continuity as well as the varied nature of the job: "You have to do truck maintenance, prep, cooking, deal with people; it's a lot of work and a lot of fun." Whether an improving economy will return her to the career she trained for is an open question: "I'm playing it by ear."
There are others, too, popping up like mushrooms after the economic storm, from Albany to Poughkeepsie and beyond. East is a fine new pan-Asian cart just off the town green in Woodstock, selling bánh mì of the non-hotdog variety and other treats. Also in Woodstock, Jessica Anna hopes to have her Little Bird's Little Bites taco truck (actually a converted party bus) open for business by the time this is printed. It's a good bet that someone's selling quality street food near where you have lunch every day. For the price of unhealthy fast food, you can enjoy something handmade and wholesome. And the conversation is free.
The Branigan's outside of Tortillaville.
RESOURCES
Bubby's Burrito Stand Facebook.com
East Facebook.com/eastfoodcart
Little Bird's Little Bites Littlebirdslittlebites.com
Pippy's Hot Dog Truck Pippyshotdogtruck.com
Ponto Brasil Facebook.com/botecopontobrasil
The Tin Cantina (845) 863-9429
Tortillaville Tortillaville.com
Truck Pizza Truckpizza.net
Winnie's Jerk Chicken Winniesjerkchicken.com