In 1923, author and activist Sholem Aleichem founded a summer camp with the goal of imbuing Jewish children with educational values and the experience of cooperative living. Today, those same 195 acres of rolling hills and woodlands are home to the Omega Institute for Holistic Studies. A center for wellness and personal growth, Omega is a mecca of spiritual ideas and methodologies and a platform for many of the world's foremost thinkers.
The campus, located on the outskirts of Rhinebeck, is dotted with modest wood cabins, quiet gardens for reflection and meditation, and a lake at its center. A sense of serenity pervades the grounds, invigorated by the bustle of activity that hints at the intensity and vitality behind the calm. Inspired by the writings of the 20th-century mystic Teilhard de Chardin, Omega refers to the point of unity and integration that all life is evolving toward. For 30 years, Omega has set the standard for holistic education. Now it remains at the forefront as the next generation of questions are asked, and new warriors join its search for answers.
In the beginning
Omega was founded in 1977 by the Sufi meditation master Pir Vilayat Khan and two of his students, Elizabeth Lesser and Stephan Rechtschaffen, both of whom remain active as faculty and as advisors on the board of directors. At the time, few westerners were familiar with yoga, meditation practices, mind/body connection, and alternative medicine. Experts from the disciplines of science, psychology, and religion were just starting to come together and figure out how they all fit together. "People thought you were some kind of freak for eating whole wheat bread," Lesser remembers. "It wasn't this that we started," she explains, motioning around her to emphasize the distance they've come from the rented spaces the first classes and workshops were held in. "It was the '70s. We were a bunch of hippie kids with an idea," she says and laughs, but continues in all seriousness, "That idea was to start a school, an updated kind of university, where people could learn how to live instead of getting trained for work."
Elizabeth Kubler-Ross, Jon Kabat-Zinn, and Thich Nhat Hanh were just a few of the pioneers who flocked to Omega in the early days. Spiritual leaders, doctors, religious practitioners, and others welcomed the opportunity to broaden their audience, and they attracted hundreds of participants within the first years. That number grew steadily into the thousands; Omega now accommodates roughly 20,000 attendees annually. Robert Bly, acclaimed poet and leader of the men's movement, has led scores of workshops, including one this summer with folk musician Arlo Guthrie. Author and psychologist-turned-spiritual-seeker Ram Dass was among the earliest teachers at Omega, and was also one of the most influential. He supported the development of a staff community, realizing early on the importance of nurturing the ideals of the institution within its employees and encouraging them to take classes and pursue their own paths of personal growth. Doctor Deepak Chopra, physicist Gary Zukav, Buddhist teacher and author Pema Chodron, anthropologist Jane Goodall, and former Vice President Al Gore have all lectured at Omega. It is this stellar roster of visiting presenters and faculty that Omega's reputation is built on.
The next generation
As these ideas have made their way into the mainstream, sorting through the voices has become more difficult. Ads for bottled water feature young women practicing yoga, and Zen masters sell laptops in TV commercials. Corporations are speaking the language of the formerly marginalized New Agers, and bookstores are flooded with anything and everything their merchandisers believe will make a buck. "Just like in the beginning, I look at what interests me, what works for me, and I think others will be interested too. But we also have to consider what is going to last, not just the flavor of the hour," says Lesser.
Gone are the days when teachers would work for free, grateful for a place to espouse their lessons. They are now in demand around the world, traveling far and wide for frequent engagements and commanding considerable financial compensation. "We have to stay very open. We're more like a colander than a sifter," says Lesser. "That allows us to narrow down the field, to find people that are genuine. Then people can come and try it out and see what works for them."
In accordance with the changing times, people are changing too. "At the core, the questions are the same," says Lesser. "Who am I? What am I doing here? Where will I go when I die?" But the circumstances people are living in and the stresses they are subject to are quite different. She explains, "My generation grew up thinking everything's great, America's great. It must be very different to grow up knowing the earth is in trouble. This generation, they're global beings. They're more accepting. They weren't raised seeing as many distinctions between race, color, and class. This brings a lot more diversity and openness." She continues, "There is also a degree of overstimulus, though. There are more children of divorce. They are growing up with different needs. In terms of healing, they bring different questions to the table. Our challenge is to decide just how that will affect the programs."
Programs are also focusing more on integrating how to live with how to work, and on how to bring one's personal growth out into the world. Executive Director Skip Backus started working at Omega in the '70s as a contractor. As his interests became more and more aligned with Omega's mission, he began to transition his skill set. He asks, "What is it that we want to leave here? This body is not permanent. How do I address that in terms of what I leave to the world?" He describes a connectivity between self and the world that can be addressed each day through practices like yoga and meditation, as well as changing one's eating habits, using compact fluorescent light bulbs, and making other efforts to reduce one's carbon footprint. "It's individual work, but each individual is also part of a whole," he says.
In the same way, Omega is recognized both as a gem in the Hudson Valley and also as an institution of international repute. In addition to the Rhinebeck campus, Omega has retreat centers in California, the Caribbean, and Costa Rica. Students, as well as teachers, travel from Brazil, Portugal, Singapore, and beyond, and with an expanding website they're able to serve an even more global audience. At the same time, they have a policy of supporting local businesses, hiring local contractors, and purchasing operational supplies locally. Omega is one of the largest purchasers of organic food in the Hudson Valley, and acts as a model for sustainability in the area. "We're residents of Rhinebeck and global citizens. I don't think you can separate local from global anymore. Thinking globally is acting locally," says Backus.
Toward the omega point
The extensive schedule of programs at Omega reflects the interconnection between personal transformation and cultural change. In its attempt to move toward a more integrated, more compassionate, more sustainable society, Omega puts great emphasis on understanding and tending to the environment, human rights, poverty, and increasingly, peace.
It's a rare day when four Nobel Peace Prize laureates, a member of Afghanistan's parliament, award-winning artists and musicians, social workers, policy analysts, political organizers, and a bevy of other influential professionals converge to work toward creating a new paradigm for power and peace. Jane Fonda, Eve Ensler, and Natalie Merchant are just a few of the world-class speakers, teachers, and performers enlisted for this year's Women, Power, and Peace Conference (September 14-16), produced by V-Day and Omega's Women's Institute. This is just this kind of programming that gained Omega its renown.
Being Yoga (November 2-5) is one of the Institute's largest and most popular annual conferences, but many programs address practicing spirituality in more surprising ways. Beyond Basketball, led by Charley Rosen and Scott Wedman in July, focused on teamwork, group coordination, and practicing competition without anger or aggression. Flying Trapeze, taught by Peter Gold and the staff of Trapeze Experience, also in July, used the experience of physical exhilaration to explore the nature of awareness and transformation. Some weeks, the Institute is abuzz with drum circles, singing, boating on the lake, and youth programs. During silent retreats and mindfulness and healing workshops, the feeling is quite different. Yoga, meditation, and dance classes are held daily at Omega, and a wellness center offers massage, body work, nutritional consultations, and other spa treatments. (For $25 a day or $38 on weekends, the public can utilize these services without taking part in a workshop. Spa prices are listed on Omega's website.)
One of the newest initiatives at Omega is the Center for Sustainable Living, which will break ground on October 18 and is expected to open in April 2008. Structured as a living museum, its main purpose is to produce clean water from waste without harming the Earth or any of its inhabitants. Its main feature, The Eco Machine, designed by a team of architects, engineers, and ecologists, will filter waste water with naturally occurring bacteria, plants, and algae instead of chemicals. School children, college students, and individual visitors will be able to watch the entire process. "It will do no harm now and it will do no harm in the future," says Carla Goldstein, director of external communications. "It will be completely transparent."
Transparency is a concept that's getting a lot of attention at Omega these days. Co-founder Stephan Rechtschaffen sees it as an essential element of the shift Omega is attempting to navigate. A big part of the problem, as he and many scholars he is in conversation with see it, is that people are not inclined to make changes in their own lives, even when they know that in some way their actions are causing harm. He attributes this largely to a lack of transparency throughout our society. "The lack of real awareness is astonishing," he says. "Enron—that was non-transparency. Our political system—that's non-transparency. It has to do with good values. It is about seeing things clearly."
Goldstein offers additional examples: "When you throw garbage down a chute, you don't see it. You don't think of what happens to it after it leaves your hands. When you buy clothing, there's no connection between you and the worker in some other country that sewed the stitches."
"At some point, we have to own what is happening. I believe we can do that in a positive way, to see it as an opportunity. There is an awakening that is happening, and we have to look at what we can bring to that," says Backus.

Practice makes…practice
Perhaps the most progressive thing about Omega is the worldview it has managed to sustain. It doesn't tout one specific religion or belief system over another. It aims to bring awareness of different cultures and religions to a broad audience, without advocating one as any better than the next. As in the past, it moves forward with the goal of "awakening the best in the human spirit," a phrase it has taken as the theme for its 30th anniversary.
In its aim to promote holistic living and strengthen spiritual connections, its influence is immeasurable. "If a CEO comes here and has this transformative experience, we know it will effect their business and their business practice," says Lesser, who says her own biggest hurdle was learning to run a business in a manner consistent with its virtuous ideals. She says, "I learned that business is actually a noble cause."
Whether attending to reach personal goals or for professional development, to learn new skills or to cultivate new attitudes, there are more than 300 workshops, conferences, and professional trainings each year to choose from. "Omega is a place where people come because they're seeking to make a change, small or large. People come to us at points of transition. We've learned how to create a safe place for that kind of change," says Goldstein. "We also want to apply that relationship between a person's personal life and our global, socio-political issues. They are all interrelated."
The Omega Institute for Holistic Studies is located at 150 Lake Drive in Rhinebeck. To find out about upcoming programs, register online, and learn more about Omega's faculty and visiting teachers, go to www.eomega.org. For more information, call (845) 266-4444.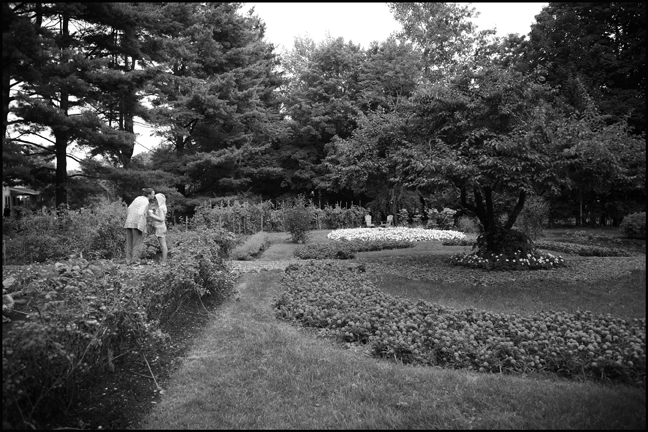 Amber S. Clark
Views of the Omega Institute campus outside the Village of Rhinebeck.
Amber S. Clark
A lakeside cabin on the Omega Institute campus.
Amber S. Clark
Views of the Omega Institute campus outside the Village of Rhinebeck.