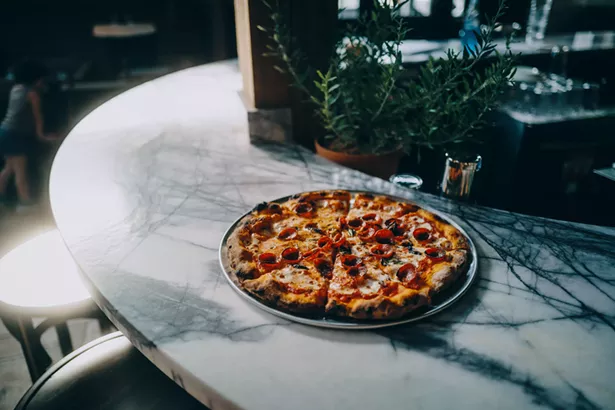 High Falls has struggled to find its center of gravity, even as quaint Main streets from Rosendale to Germantown reinvent themselves. But with any luck, that's about to change. In early August, in the heart of town, a new eatery celebrated its grand opening. Bringing together a team of hospitality industry veterans with local ties, Ollie's offers up wood-fired Neapolitan and al taglio pizzas under the direction of a seasoned Brooklyn pizza chef in a rustic, small-town setting.
The "downtown" of High Falls is small, even by upstate standards. At the main intersection of the Ulster County hamlet, one corner is occupied by a grassy lot and a tall, 1850s barn. A few years back, local antiques dealer Ron Sharkey saved the structure from near-certain ruin, renovating it and painting it a trendy shade of black, before transforming it into a space for pop-up events and a weekend antiques market called Field and Barn.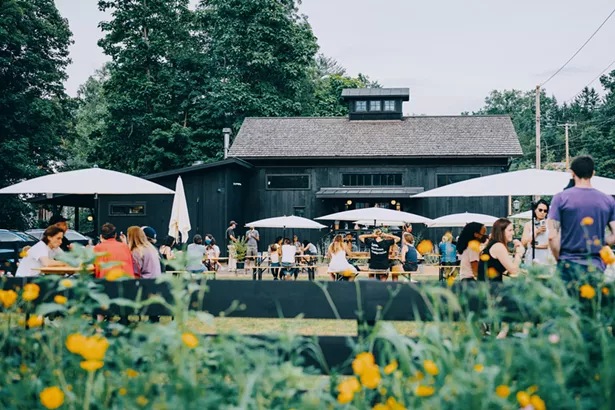 The operation puttered along but never quite took off, and in 2019 Sharkey put the barn on the market, where local couple Sophie Peltzer-Rollo and Innis Lawrence scouted it.
"My wife and I were trying to organize a pop-up with pizza and natural wine that we'd do on weekends," says Lawrence "And then when the barn became available, we thought, 'Can we make this happen here?'"
The potential significance of the lot for High Falls' economic and cultural vitality is not lost on Lawrence, who grew up a mile away. "I've watched the town change a lot," he says. "This barn is a big part of the town, and the lot has a lot of history. I wanted it to become something great for the town. I believe that restaurants have always been the first thing in a town that starts to change it and the rest follows."
The pair called up their best friend, Ilan Bachrach, performer, artist, and eternal pragmatist (as well as Lawrence's childhood friend from a nearby camp), to partner on the project, and together they built a team of hospitality industry professionals around a mutual love of pizza and Ollie, Lawrence and Peltzer-Rollo's daughter.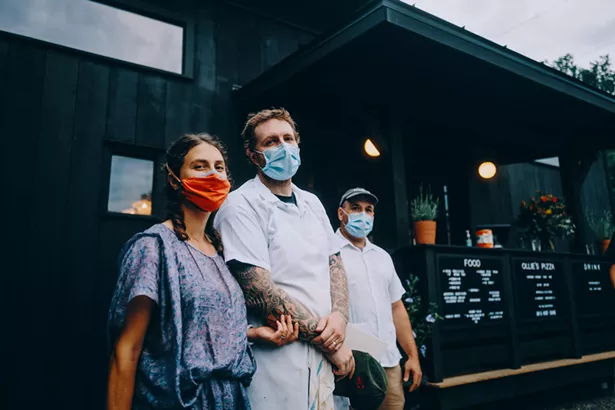 It took months of due diligence, but on December 3, 2019, the partners closed on the property and broke ground on Ollie's a month later. While Lawrence praises Sharkey's life-resuscitating efforts, the barn needed major infrastructural work—there was no plumbing, no septic, and the electric was minimal. Working through winter—and later, through the pandemic—Lawrence oversaw all of the renovations, construction, and design, thanks to his background as a builder, operations manager, lighting designer and collector.
In addition to extending the barn to house bathrooms, pizza ovens, and prep kitchen, the team added windows to brighten the interior and plaster to the lower walls. "When I first thought about this project, the first thing I wanted to do was Tudor-style plaster, between the hand-hewn beams," Lawrence says. "It seemed like the natural thing to do to keep the inside as original as possible while making it cleaner, lighter, and more inviting for dinner." The lofty barn is outfitted with sapele hardwood booths and mix-and-match marble tables. But the jaw-dropping centerpiece is the circular bar—crafted from a single continuous piece of lilac marble.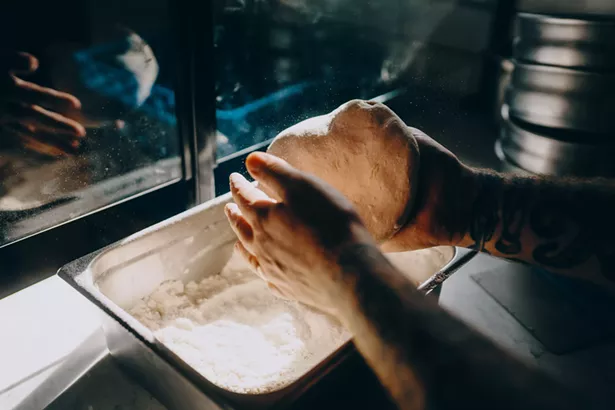 Lawrence, who is an avid collector of early 20th-century lighting, used fixtures from his private collection to illuminate the barn's interior, including pieces ranging from Victorian-era to Art Deco. "The space is this bridge between modern and antique aesthetics, within the original barn," he says. "The theme is taking these old Tudor and Victorian influences and updating them, making them feel livable and inviting."
But with the interior closed to the public until further notice, as the partners monitor the ever-evolving pandemic situation, all that aesthetic goodness isn't on display to the public. So let's get back to the important stuff: the pizza.
The Pizza: It's Amore
Helming the pizza operation is Frank Pinello of Best Pizza and "The Pizza Show" fame. Using San Marzano tomatoes and his nonna's sauce recipe, Pinello is training the Ollie's kitchen team in two styles of pizza: al taglio or Roman-style pizza, which is cooked in rectangular trays with a thicker crust (though nowhere near as hefty as Sicilian crust); and what he calls "neo-Neapolitan," a wood-fired thin-crust pizza that rival's New York's finest.
Alongside tried-and-true specialty ingredients imported from Italy, Ollie's uses Hudson Valley-grown and milled flour for their dough, which is proofed overnight and stretched on a cool, smooth slab of white marble. The local, organic toppings come from local food distributor Hudson Valley Harvest.
The neo-Neapolitan pizzas, wood-fired in an Italian Forza Forni oven, come in three classics: rossa (no cheese), margherita (classic), and white pie, made with ricotta, mozzarella, and caramelized onions, sprinkled with sesame seeds and garnished with parsley. The 14-inch pies range in price from $15-18. The al taglio pizzas, which are made over several days using the triple proofing method, are currently served by the half-sheet for $24, with slices and full sheets coming soon. To either style you can add a range of toppings including pepperoncini, shallots, anchovies, pepperoni, Calabrian chilis (watch out, they're hot!), and vegan cheese. To round things out, the menu also includes a seasonal summer salad and damn good garlic knots.
If August was anything to go buy, the people have been hungry for some authentic pizza. For the first two weekends, Ollie's was sold out by 5pm, which led them to up the amount of dough they were preparing by 30 percent. Since opening, they've also rolled out some simple, classic Italian-American staples to the menu meatballs ($12.50), a chicken parm sammy ($12), hot wings, garlic knots ($3), and local sides like roasted broccoli rabe ($7) and a seasonal salad ($8).
Josh Goleman for Ollie's
Elliott Goleman enjoys a slice of pizza.
Keeping with the partners' original dream, the drink program focuses on natural, organic, and biodynamic wines, which are served alongside a limited menu of classic cocktails, craft beer, and, in true Italian fashion, espresso. They have a rotating selection of six wines by the glass, ranging in price from $11 to $15, and a dozen or so wines by the bottle, which range from a $30 liter of "everyday pizza wine" to a $105 biodynamic white Burgundy. Ollie's keeps it simple on the beer front, with with a dozen local brews and ciders, both in cans and on tap, and the everyman's pick: a $5 Narragansett tall boy.
And in a refreshing break from the craft cocktail mania, the Ollie's team has taken an easy, laid-back approach to their drinks list: non-alcoholic options that you can add booze to (or not). For summer, the choices are: regular and cucumber mint lemonade, iced tea, Arnold Palmer, and fresh-squeezed orange juice ($3.50-$6). And for an additional $6, you can pick your poison: white rum, tequila, gin, vodka, or champers for a $10 mimosa (trend forecast: brunch pizza).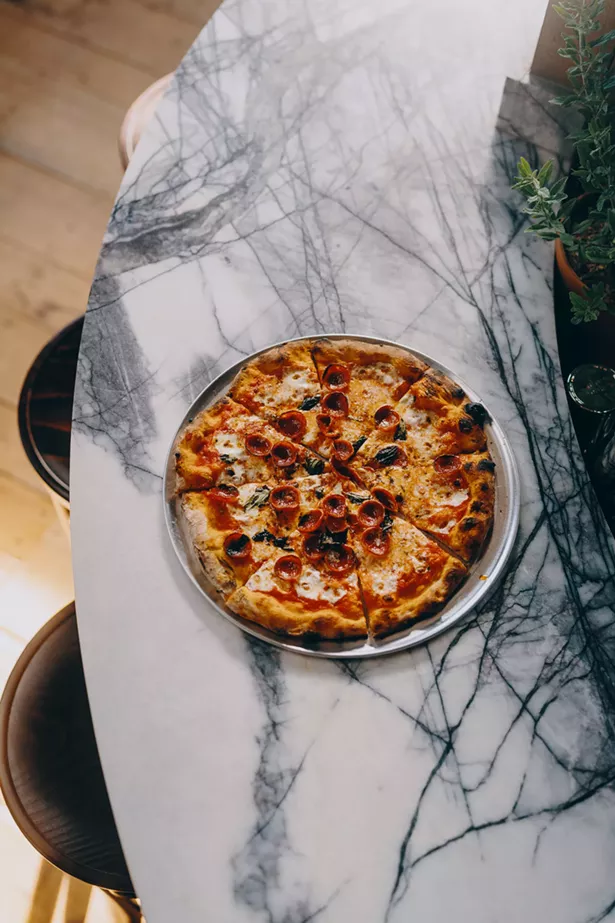 A Summery Setting
While the public debut of the refreshed and refinished barn interior will have to wait, the front garden, outfitted with lofty white umbrellas, socially distanced picnic tables, and red Adirondack chairs—all bordered by potted plants and wildflowers—is a lovely spot to grab a bite. Even in the hot August sun, neighbors chatted while kids ran around and dogs lazed in the shade of the tables—a picturesque scene that makes it easy to imagine Ollie's as a social and culinary cornerstone of High Falls for years to come.
"We are trying to make some place that is as welcoming and considered outside as what we have inside," says partner Ilan Bachrach. "I've made a lot of experimental theater and contemporary dance. So, a lot of what I do is create and present experiences at a very high level. My role in this has drawn on that experience—asking, 'how will people interact with the space?' and 'what will be the things they notice even if they don't pick up on it?'"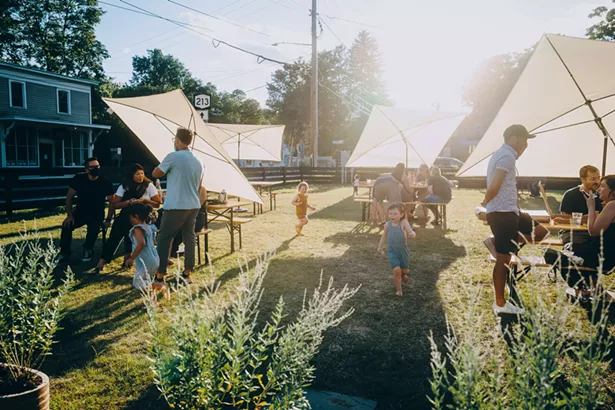 Over the winter, Ollie's bolstered their to-go pizza sales with a cafe-style provisions market that stocked some of their own housemade sauces and mozzarella, plus a limited selection of gourmet pantry staples. They also began doing take-away coffee service, baking pastries in-house, and stocking sourdough loaves from Kingston Bread + Bar. Though the provisions market has closed with the return of spring, Ollie's is still offering espresso drinks and nitro cold brew on tap on the weekend mornings, plus Partners Coffee beans, house-made baked goods, and fresh levain loaves for sale.

The three main partners—Lawrence, kitchen manager, Peltzer-Rollo, chief of operations, and Bachrach, manager, plus namesake little Ollie—can be seen buzzing around the place, mingling, throwing pies, cleaning, and generally keeping the show going.
"This feels like a natural transition in my mind," Lawrence says. "This project is bringing together a bunch of different things I've done in my life—and in my hometown—so it feels really good."

Ollie's Pizza is open Thursdays through Sundays, serving for coffee and baked goods from 8:30am to 11am, and lunch and dinner from 11am to 8pm.
4 Bruceville Road, High Falls, NY 12404
(854) 687-3464
www.Ollies.pizza