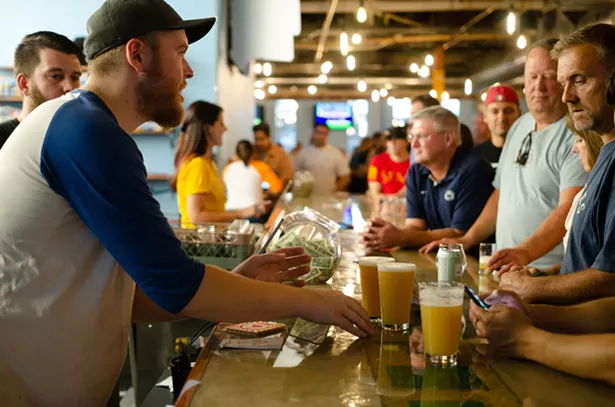 Courtesy of Sloop Brewing
Hudson Valley history is such a rich mix—bread basket, political hotspot, industrial powerhouse, creative and culinary destination—there are upon layer of stories here. For decades, no business was more emblematic of the Hudson Valley than IBM, which employed thousands of people on both sides of the river and drove the built environment of the region in a major way. Nowhere more than in East Fishkill, where over 10,000 worked in a 2-million-square-foot building, on a sprawling 460-acre campus.
The story of how Sloop Brewing went from farmers' market stand to 25,000-square-foot-factory and how a prime chunk of East Fishkill went from IBM to iPark (a mixed-use hub) epitomizes the region evolution, touching on artisanal beverage, adaptive reuse, several flavors of brilliance.
Garage Brew
Seven years ago, before anyone knew what would become of the IBM campus, Adam Watson and Justin Taylor took to the Dutchess County farmers' market trail to market the beer they'd started making in a Poughkeepsie garage. People fell in love with the product over the next three years, and by 2014, Sloop Brewing Co. had set up a production facility in a Dutch post-and-beam barn in Elizaville.

As business continued to grow by leaps and bounds, the Sloop folks knew they needed more room for production. They found it in the former IBM campus in East Fishkill, which was purchased by GlobalFoundries, a cutting edge California tech company, in 2015. Needing only 160 acres, they sold the remaining 300 acres to National Resources, a real estate development and investment company specializing in repurposing former industrial properties into mixed-use developments.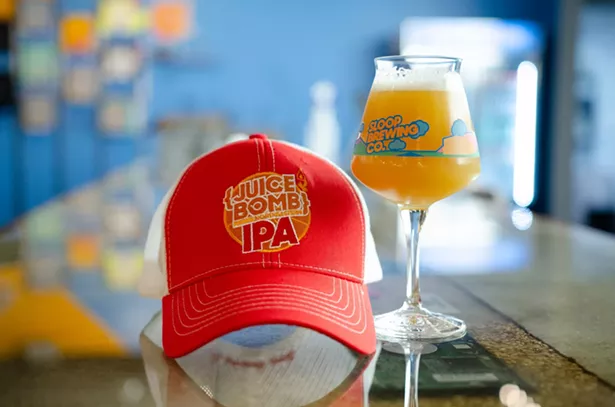 Courtesy of Sloop Brewing
The resulting iPark 84 features a mix of everything from retail, residential, and hospitality spaces to labs, warehouses, and of course, the brewery, which was the first tenant to be announced.
"The location puts us close to the city and is easily accessible to all of the Hudson Valley, just a minute off Exit 15 on I-84," says Adam Watson, co-founder and president of Sloop, of Sloop Brewing @ The Factory. "And bringing this IBM plant back to life is a great project to be a part of."
Small Batch, Big Facility
At 25,000 square feet, Sloop Brewing @ The Factory, is one of the largest craft brewing production facilities in the state, allowing the company to ramp up production from 4,000 barrels to 28,000, or nearly a million gallons of beer a year. The location, which celebrated its grand opening in September also has tasting rooms, a restaurant, and event space besides.
The restaurant serves a full menu featuring "a take on street food from around the world complementing our beer at the brewery, pizza that feels right at home in New York, and burgers that we've put together just for Sloop," according to executive chef Adam Slamon. "We're sourcing many of our ingredients locally, and trying to stay as environmentally conscious as possible with our packaging and presentation."
"The new brewery will allow us to increase production and still focus on our beer with the same love and care as always," said Justin Taylor, co-founder and head brewer. "With our new tanks we'll brew enough beer to be throughout the Northeast—but we'll keep making small batches, honing our craft, and trying new things like we've always been proud to do." The barn in Elizaville will remain open for tasting and beer sales.
So stop in for a shrimp taco and a Green Island or a Sloop Burger with a Juice Bomb. (There are eight or nine wildly creative brews on the website at any given time, and Sloop says they invent something new each week.) Play free arcade games, taste great beers, and savor the constant reinvention of our Hudson Valley home.
Sloop Brewing's kitchen and tasting room are open Thursday through Sunday at 755 East Dr., Suite 106, Hopewell Junction.