Ashley Bohan
Buck Fever, an amber Vienna lager
Why did I go? Well, I was a little down, grim about the mouth, looking for something to do. And I'd heard reports about West Kill Brewing, and they all ended with, "You've got to go!"
After one of those seemingly exaggerated reviews, I finally asked, "Why is it so great? Is the beer that good?" "Oh," the woman responded, "It is that good. It's terrific. All kinds of great IPAs, stouts, and ales. I love the stout. But the place! The last five miles of dirt road through the valley, the long lovely views, and then the falls. Yes, there are falls! Once you get there, you'll know. The big stone fireplace, the picnic benches inside and out. It's just a great atmosphere."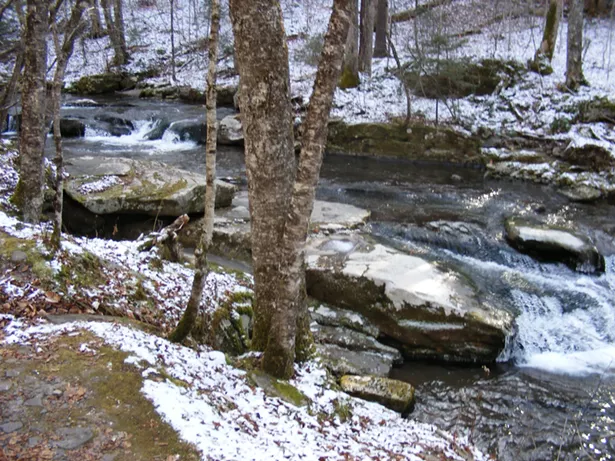 So, one winter day I drive 80 miles from Sheffield, Massachusetts to West Kill Brewing.
After crossing the Hudson on the Rip Van Winkle Bridge, I take Route 23A past the Kaaterskill Falls area, where the terrain is all ledges and ravines. At Hunter, the mountains open up and the road parallels the Schoharie Creek, which is no creek that day. After a warm spell, it has burst into a river. I see a peregrine falcon flying over the water. A Homeric omen?
After four miles or so on Route 42, I find the sign I was looking for: Small, low, and handwritten in white on a blackboard, it proclaims "West Kill Brewing" with an arrow.
I drive the last five miles on Spruceton Road—flat, paved, and mostly straight—through a narrow, open valley. There's about a foot of snow in the fields and around a few houses and a church. Finally, on my left another black sign with white writing touts: BEER! I veer left and scoot up the little rise to a dark rustic, grayish green, one-story building with fine olive trim around the windows, a black metal roof, and a generous front porch: the tap room. Farther up the hill sits the new brewhouse.
As my friend had reported, there are picnic tables outside on the porch and in the yard as well. People are drinking, standing on the well-packed snow beside fire pit, sitting at the tables, and just hanging out. I think of Bruegel's Dutch peasants swilling, dancing, and kissing. These outdoor beer drinkers are also laughing and, given warmer weather, might well dance.
Inside—a big stone fireplace burning hot, a slate floor, a broad bar with a smooth concrete surface, more picnic benches, eight taps topped with deer-horn handles, white walls and exposed dark beams—West Kill Brewing successfully brings together the contemporary and the traditional. I order three five-ounce glasses: the gorgeous amber Vienna lager called Buck Fever, the dark mild Decoy and Fresh Coat, which is the smoothest milk stout I've ever tasted.
The five-ounce size is perfect—more than just a taste and far more doable than a pint. If you are an IPA aficionado or a just curious neophyte, you can try the Kaaterskill, Moonfarmer, Falcon's Prey, or Firetower. Like most breweries, West Kill does not have a restaurant license, but the venison sausage and cheese plate is more than generous, and, of course, you can always pack a lunch.
A man at the bar says this place reminds him of the bar scene in Star Wars. "It's a taking-off place before you head into the unknown," he explains. Then he adds Klaus Kinski's Nosferatu, referencing the scene in the village inn on the way to Count Dracula's castle. Someone else mentions the inn where Frodo meets Strider (Aragorn) in The Lord of the Rings. "But there's nothing scary or dark here," I protest. The first man answers, "No, but it's out on the edge of 19,000 acres of mountain trails. Hikers pass through here—both going in and coming out—there's a sense of adventure. Plenty of good stories come out of these mountains."
Then someone gets onto the water here: How pure it is, how it's the reason why the brewery is here. The conversation flows to the West Kill Creek and the trail to the falls: "It's not far, maybe a mile walk, slowly rising, but a little icy today. Be careful."
Later, as I get in my car to drive to the trailhead, a guy who has just driven in is leaping out of his car. "It's all about the journey," I say for lack of a better opener.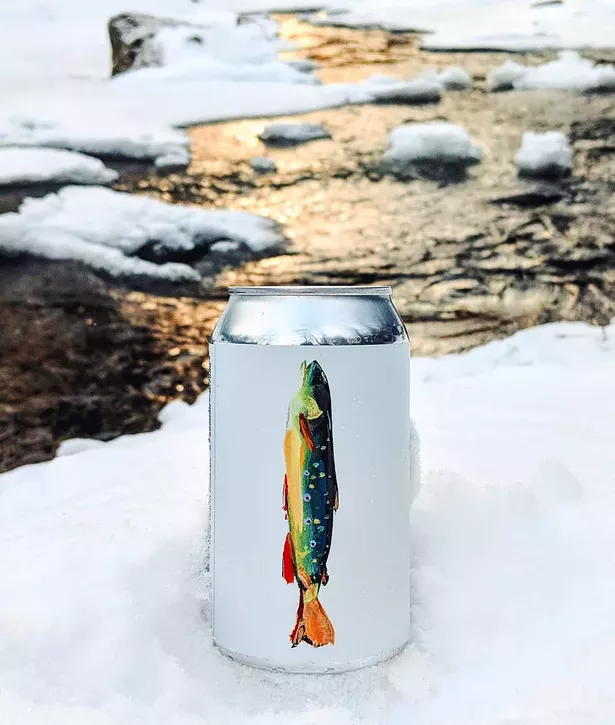 "It's my first time here," he adds with pure, unbridled enthusiasm.
"Mine too. The beer's great!"
"That's what I heard," he says as he scrambles up the rise.
It isn't long before the road turns to a dark gray dirt and the forest closes in. I pass a couple of those brown-with-bright-yellow trail head signs: Spruceton Trail, Hunter Mountain Trail, Devil's Path, and finally Diamond Notch Trail, the one that takes you along West Kill Creek to the falls.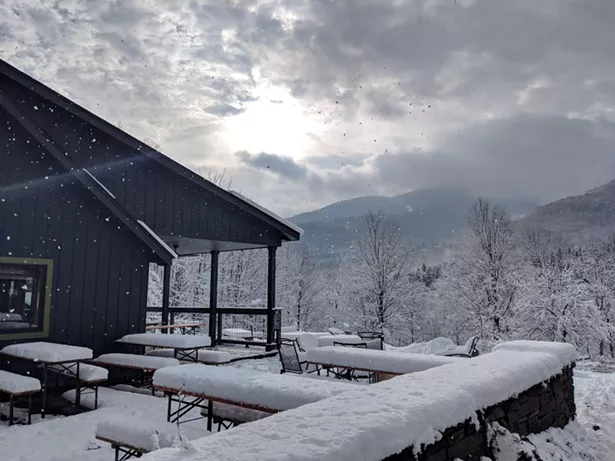 The creek, bedded on gray Catskill sandstone, handles the run-off from seven mountains, and like the Schoharie, it is running high. The rocky trail rises gradually. About half way up and to my left, a couple comes walking out of the woods. Pointing back, one of them says, "There's an interesting rock construction, over there. It might predate the first European migrations. You can just see it from here." And there it is—smallish rocks built into something perhaps more than a wall.

But since the trail is getting icy, I decide to save the stonework and the falls for another day. It's a wide falls, I've read, about 15 feet high, which lands in a nice pool. A wooden footbridge above it crosses the creek, and there are several smaller falls below. I'll get there in warmer weather.
On my way back past the brewery, I plan to do the trip in reverse next time, hiking first to build up a good appetite. I know that driving by the busy brewhouse to the trail will take a heroic effort, however. I might have to rope myself to my seat and keep my eyes straight ahead.