"The next Buddha will not take the form of an individual. The next Buddha may take
the form of a community; a community practicing understanding and loving kindness,
a community practicing mindful living. This may be the most important thing
we can do for the survival of the Earth." —Thich Nhat Hanh

Sharing anything you call home with people outside your family quickly becomes a fairly radical act when multiplied often enough. It's not for everyone, of course, but there are those who love it. Consider, for example, having the option of dining casually with friends, weeknights at 6:30 pm—but having kitchen duty just once a week. Or for a very reasonable and predictable monthly fee, a shared expanse of land, but freedom from mowing, gardening, trash hauling, and snow removal, plus septic and well maintenance. But perhaps most of all, enjoying an enhanced sense of tribal belonging, with this affiliation available in doses small or large.
The Hudson Valley has boasted an array of creative and spiritually based group residences for many years. However, a new phalanx is emerging, secular in flavor, with sustainable and cooperative living as its common denominator. Lean economic times, smaller families—to include a widening cast of permanent singletons—plus bargain-priced older buildings or grant-subsidized supergreen new construction, have combined to sprout collective habitats with avant garde social structures.
This month, Chronogram looks at Friendly Acres Homeowners Association in Kerhonkson and Common Fire Housing Co-op in Tivoli, alternative residential arrangements that may be the future of group living.
Friendly Acres: Like a New York Apartment Condo in the Country
"Every time I walk into this house, I say 'Thank you, Mom," says Judy Swallow, a psychotherapist who has lived at the Friendly Acres bungalow community since 2002.
Initially, Swallow rented her winterized 1950s cottage, which she purchased a year later. Like all Friendly Acres homeowners, she owns her roughly 1,000-square-foot home and its footprint independently, plus a share of the eight acres the community holds jointly. Formally established in 1999, the Friendly Acres Homeowners Association (FAHA) functions much like an apartment condo in the country.
The opportunity to buy at Friendly Acres "came along at the right time in my life," says Swallow. She'd been married for 19 years, and together with her husband owned a home in New Paltz, but she needed her own space, free of his clutter. "With the money my mother left me, I was able to buy this place outright, and it saved our marriage!" exclaims Swallow. Swallow loves the age range and mix of occupations represented by the residents of Friendly Acres' eight bungalows. She visits about once a week.
Friendly Acres is located four miles from the entrance to Minnewaska State Park. At present, it's a mix of owner-occupied residences and tenants, with one home for sale. Its owner, a songwriter and professional stilt walker, is moving back to New York City.
At Friendly Acres, basically anyone can rent or buy a place to live, subject only to market conditions. There's no formal approval process. The residents jointly own a lawnmower, ladder, gazebo, outdoor table, recreation room, and a big fire pit for barbecues. There's also a 30'-by-30' fenced organic garden; the yield is shared.
In exchange for all these extras, homeowners pay $200 a month in addition to their mortgage (if they have one) for maintenance of everything pertaining to the larger property, including taxes and insurance. There's also an annual labor commitment of 40 hours. Residents can pay $20 an hour, or $800 total, instead of working on the premises. FAHA runs a surplus, sticks to its budget, pays for storm damage and capital improvements, and hasn't raised the monthly fee in over a decade.
Friendly Acres residents often gather for cookouts during the summer, and there's one annual meeting. Other routine business is conducted via e-mail. Although residents often do become friendly and share leftovers and pet sit for one another, they basically keep to themselves.
Architect Adam Kushner, a Manhattan native, became acquainted with Friendly Acres through a rock-climbing partner in the mid-90s. Being Jewish, Kushner says he also had a great fondness for the mid-century Dirty Dancing-era bungalow colony. "It's the anti-New York," says Kushner. "You have lawns, you have neighbors you talk to, and you have space."
The summer colony stood abandoned for 20 years. A local realtor bought it in the 80s with plans for a spiritual community. That never materialized, but eventually people who rented the renovated bungalows wanted to buy them. After years of visiting and renting, Kushner and his wife Louise, a doctor, bought their place in 2000 for $55,000. Adam estimates they come up as a family about 15 times a year, and he also takes a solo winter retreat.
"It's cheaper than therapy, but I've found it equally as healing," says Kushner, who has designed and built several internationally recognized structures. He says he's completely unsatisfied with the idea and ideal of the single-family house. In contrast, a bungalow community is "more than the sum of its parts."
At the next annual FAHA meeting, Kushner hopes members will vote to buy solar panels to power the recreation room. He's offered to install them, since he's a licensed contractor, as part of his work commitment.
Common Fire Five Years Out
"In the wake of the excesses on Wall Street, it's not surprising there's a renewed interest in co-housing and tool shares," says Jeff Golden, the lanky, articulate, and intense co-founder of the Common Fire Foundation, which owns and operates Tivoli-based Common Fire Housing Co-op.
Firmly perched at the high end of the eco-secular cohabitation continuum, this year Common Fire celebrates its fifth anniversary of "creating a just and sustainable world of tomorrow, today." Common Fire's a true modern intentional community, or commune. Everyone shares nearly everything. The privilege of being able to rent one of Common Fire's eight private bedrooms costs between $600 to $900, including utilities, most food, and monthly educational trainings. At any given time, between nine and 11 people normally reside there. Common Fire is family friendly.
Professor Piro Rexhepi, who teaches political science at SUNY Dutchess and global civil society at NYU, divides his time between the Tivoli Co-op and an apartment in Brooklyn. "I was looking for a place that promotes and believes in communal living, where everyone is on the same page, open-minded and liberal," says Rexhepi, an Albanian who was born in New York and grew up in Macedonia.
Long-time resident Sean Ritchey, a homebuilder who grew up in Woodstock, says what he likes best about living at Common Fire is that he's able to live a more "environmentally sustainable life in keeping with his core values." He cherishes the "mutual aid and support" living with others on the same path provides. He also treasures the wholesome dinners served five nights a week as a quality of life choice that also saves time. "It's by far the cheapest and most nutritious way of engaging with food," says Ritchey.
The Common Fire Co-op is a 3,600-square-foot masterpiece of green architecture. In 2007, the Tivoli Co-op was voted the "greenest building in the Eastern US" and third in the nation by the US Green Building Council. The not-for-profit Common Fire Foundation has since expanded, and also owns and operates a five-unit apartment-style multifamily home in Beacon and has projects in other states.
Living at Common Fire entails a serious commitment to participating in the experience at all levels. Would-be residents should plan on staying at least two years. But careers, relationships, and other life changes often throw curveballs.
In 2011, the co-op experienced almost a complete turnover of occupants. It's now looking for enthusiastic new inhabitants, who must apply and be voted in by the other residents and the board of directors. "It's probably not a coincidence that the changeover happened around our five-year anniversary," says Golden. "[Common Fire] wasn't going to coast anymore on the initial good energy and good ideas, so we've tinkered with things."
When asked about the free love and abundant cannabis often associated with Woodstock-era upstate communes, Golden, who is married to co-founder Kavitha Rao, laughs. "We're not against the love aspect, but it really hasn't been an issue," says Golden. "People are also really disappointed when they hear about the lack of drugs as well," he says.
The most significant alteration of the original Common Fire Co-op program is its new certificate program, which kicks off this month. Because living in such close quarters inevitably brings up conflict, residents will now participate in weekly check-in meetings and mandatory monthly trainings, primarily focused on interpersonal dynamics and communications skills. There will also be classes on subjects like how to maximize use of a root cellar.
Golden says that while details are being finalized for the "program refresh," the certificates will be issued by the Common Fire Foundation. The holder will be recognized as trained and experienced in all aspects of sustainable, cooperative living. "Being human is so much about being in relationship, and these trainings will help people throughout their lives," says Ritchey, who's also on Common Fire's board.
For comprehensive information about the Common Fire Foundation, its Tivoli Co-op, the new certificate program, and how to apply for residency, visit
www.commonfire.org
.
Deborah Degraffenreid
Kavitha Rao, Stephen Switzer, and Samiha Golden making apple pie at Common Fire's communal house in Tivoli.
Deborah Degraffenreid
The Friendly Acres Bungalow colony in Kerhonkson
Deborah Degraffenreid
Common Fire in Tivoli
Deborah Degraffenreid
Solar panels at Common Fire.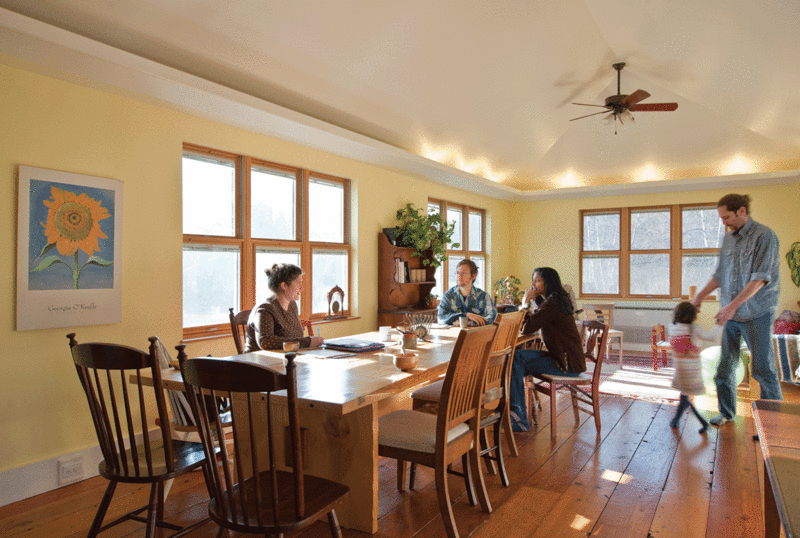 Deborah Degraffenreid
Jeff Golden and Samiha Golden dancing while Kavitha Rao, Johanna Greenberg, and Stephen Switzer enjoy the morning sun and conversation in the dining room at Common Fire