To some it probably sounded like a crazy idea at first. "A music and arts festival in which the performers and exhibitors get free medical exams and wellness services in exchange for their art?," they thought. "Yeah, how long will that last?" And yet here it is, for the fourth year in a row: the annual 0+ Festival, which returns to Kingston for three days this month to do exactly that, and even celebrates its second run on the West Coast this November. So there, haters.
"I'd donated to the festival in the past, so I was aware of it before [signing on to play]," says rapper TK Wonder, who as part of a duo with drummer Ben Perowsky is among the 40 top-tier acts booked to appear at 0+ 2014. "This festival is imperative, because it brings the issue [of universal health care] to the forefront and is the catalyst for a conversation."
Pretty Nose and Dakota Unity Riders, a mural by Lmnopi.
Also on the bill for this edition of the community-wide event are critically hailed folksinger Kevin Devine, international duo Xylouris White (featuring Jim White of Dirty Three and Cat Power), hot indie-pop outfit Landlady, anti-folk collective Arc Iris, and electronic trio Young Magic. Oh, and bring your boogie shoes: New to the musical activity this year is a Chronogram-curated dance party on Saturday at BSP Kingston. As with past festival installments, the performances will take place at multiple venues across Kingston.
A pop-up clinic staffed by volunteer health-care providers and specialists will give free evaluations and vouchers for follow-up office visits to artists on a case-by-case basis; yoga, gong sound healing, meditation, dance, and Qigong sessions are also on offer. Festival organizers have plans to open a year-round multiuse facility in Kingston to provide artists and musicians with complementary care services, wellness education, and other preventative care options. There will also be children's activities and two bicycling events: a mural-to-mural ride for all ages and a 50-mile ride for serious cyclists.
In addition to its music and wellness components, one of 0+'s signature elements is its wealth of specially created murals and other public art installations (2013's highlight was street painter Gaia's towering mural Artemis Emerging from the Quarry). Correspondence is the theme of this year's artmaking, which is set to include works by Keith Carollo of online boutique Fred Flare, former Moldy Peaches guitarist Jack Dishel in collaboration with fellow graffiti writer Vor 13, Virginia street artist Nils Westergard, and artist Complete of the bartering website Mass Mosaic.
Last year the celebration expanded to California, where a sister three-day event was held in San Francisco; this time around, the 0+ Festival's Golden State incarnation will run November 7-9 in Petaluma.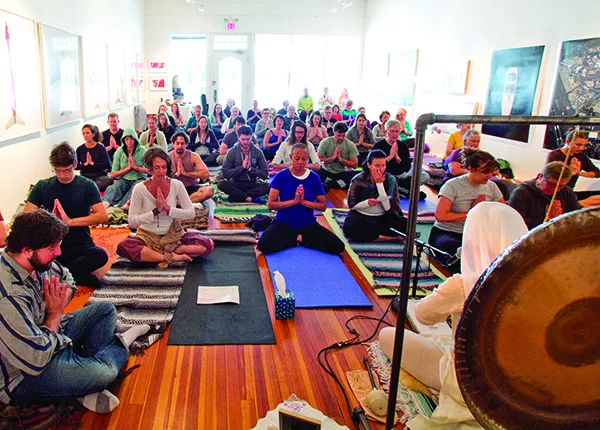 "I always find it appealing to play for a good cause, and this certainly fits into that category," says Wonder.
The O+ Festival takes place in Kingston on October 10, 11, and 12. For a schedule of performances and events and more information, visit Opositivefestival.org.
—Peter Aaron