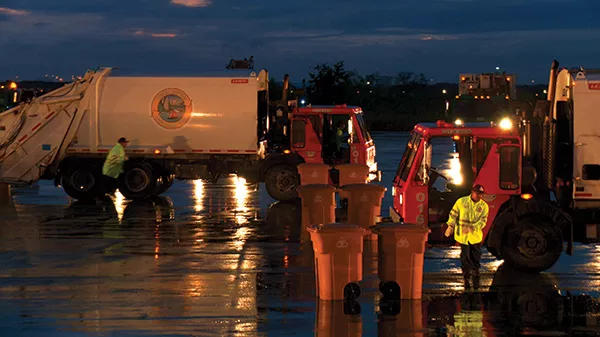 Trash Dance: The Garbage Truck Ballet
Trash Dance: The Garbage Truck Ballet Clean up, clean up, everybody clean up...and dance! On November 10, learn about the sanitary heroes who take out our trash and tidy up our lives at the Rosendale Theater. The film Trash Dance documents the choreography of eccentric, eclectic, and entertaining characters performing the choreography of Allison Orr. Venturing through the lives of sanitation workers, from their homes to their headquarters, Orr convinces the laborers to participate in a collaborative performance—with dancing trucks! From trained dancers to firefighters and from Venetian gondoliers to Elvis impersonators, all will dance and celebrate. Trash Dance has been deemed "sublime...a small miracle" by the Washington Post and "magical" by the New York Times. (845) 658-8989;
Rhinebeck Center for Performing Arts Family Series Every Saturday in November, explore a new and exciting performance meant for the entire family. Dress up as your favorite wizard and reenact a day in the life of a student at Hogwarts on November 2. On November 9, experience the multimedia performance of Elska as she blends music and storytelling in her own high-tech world and interacts with eccentric characters. Share an afternoon with Cinderella's Fairy Godmother as she sings and dances on November 16 and tries to solve a riddle before her goddaughter's marriage. Join the Puppet People on November 23 as they retell the famous E. Nesbitt fairy tale "The Last Dragon." And lastly, witness Steve Johnson's comedic magic performance as he creates illusions, juggles, and performs a dramatic escape on November 30.
Little Painters: All About Texture Grab a smock, put on some drab clothing, and get down and dirty with paint at Fiberflame Studios in Saugerties. During the three-part workshop, children and parents will explore the world of texture on watercolor paper, utilizing varied techniques, tools, and materials as instructed by Shea Lord-Farmer. At the end of the course, each child and parent will have a set of work ready to be framed and placed on the wall or refrigerator. Participants can range from as early as 18 month-olds to children six-years of age. And, if guests cannot make it to all three Sunday classes between November 10 and November 24, it is possible to take a single class.
Holiday Express with Jim Vagias Ever wondered why the menorah is lit for nine nights, why Muslims fast until sundown during Ramadan, or why thousands gather at Stonehenge during the winter solstice? Join magician Jim Vargias on November 23 at the Unison Arts Center in New Paltz for an imaginary train ride through the holidays of different cultures. Vargias will explore the worlds of Kwanza, Diwali, Solstice, Ramadan, Hanukkah, and Christmas. Children can enjoy the humorous show through guest participation and by reaching a greater understanding of cultural awareness.