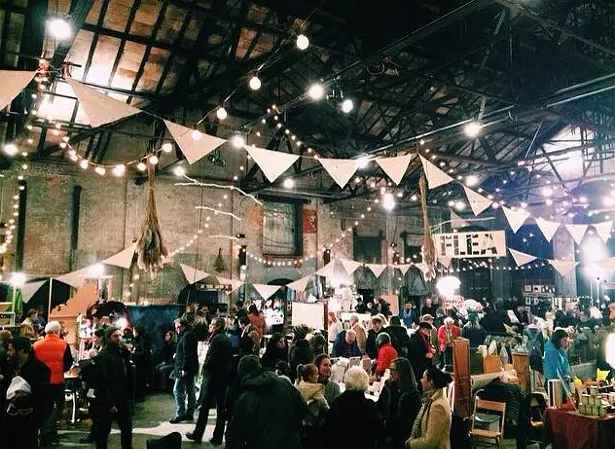 Farm & Flea at Basilica Hudson
ZZ Top on the big screen, photographer Elliott Landy, the return of Farm & Flea, and more. Stuff your Thanksgiving-month schedule with these savory events.
SHOPPING
Farm & Flea in Hudson Basilica Hudson's Farm & Flea holiday market, held every Thanksgiving weekend for the last eight years, has become one of the region's most-anticipated annual shopping events. Featuring over 100 vendors (with 25 new vendors this year), the market will take over the rustic interior of the former foundry building on the city's waterfront from November 29 through December 1 and offer locally made artisan items, farm products, vintage items, food and beverages, and more. Admission is $5 for a full-weekend pass (kinds under 12 are free). https://basilicahudson.org/
FILM
ZZ Top Documentary in Rosendale "La Grange." "Tube Snake Boogie." "Tush." "Just Got Paid." "Sharp Dressed Man." Ya just can't top the Top, son. Boogiein' hard since 1970, bluesy classic rock kings ZZ Top are the subjects of That Little Ol' Band from Texas, a new full-length documentary produced by the Emmy award-winning group Banger Films. For its Music Fan Film Series, the Rosendale Theater will screen the doc on November 20 at 7:15pm. Call or see website for ticket prices. (845) 658-8989. http://www.rosendaletheatre.org/
MULTIMEDIA
Elliott Landy's "Music Cinema" in Albany
Photographer Elliott Landy is the man who was behind the lens for some of the most iconic images in rock history. The long-time Hudson Valley resident created the shots that adorn the covers of such albums as Bob Dylan's
Nashville Skyline
, the Band's
Music from Big Pink
and
The Band
, and Van Morrison's
Moondance
, as well as documenting the heady and turbulent times of the 1960s and 1970s. At the Egg in Albany on November 23 at 7:30pm, Landy will present "Music Cinema," an innovative new film experience "where music and images become one." Local band Professor Louie & the Crowmatix will perform songs by Bob Dylan and the Band. Tickets are $20.
http://www.theegg.org/
FAMILY FUN
Charity Run/Walk in New Paltz
Held annually to benefit Family of New Paltz's food pantry and crisis services program, the Family of New Paltz Turkey Trot will once again take place in the village on Thanksgiving morning (November 28; registration is at 8am). The event will include prizes for best costumes; tee shirts for adults and children; and the Mashed Potato Fun Run, which is free for kids 12 and under. For the more serious runners, there will be a USATF-certified 5K course with photos of individual runners crossing the finish line available for upload at no cost. Age groups this coming year will be in 10-year increments, and medals will be awarded for 1st, 2nd, and 3rd in each age group, with separate awards for male and female.
https://www.newpaltzturkeytrot.com/
PERFORMANCE
Robert Burke Warren's "Redheaded Friend" in Phoenicia
Local author and musician Robert Burke Warren will bring "Redheaded Friend," a song cycle with spoken word based on his new memoir of the same name, to the Phoenicia Playhouse on November 23 at 7pm. Recalling his fatherless and "extremely dysfunctional, largely unsupervised childhood in 1970s Atlanta," the tale follows Warren's "[search] for fellowship and courage in a story of latchkey kids, southern belles, and thrift store cross dressers, beginning as a barefoot, free-range wanderer, becoming bass player to pre-fame RuPaul, then lighting out for Manhattan to find his life." Admission is $15.
https://phoeniciaplayhouse.com/
To find out about more upcoming events in the Hudson Valley, subscribe to our weekly newsletter Eat. Play. Stay.