Established in 2017 by performers and life partners Daphne Malfitano and Eli Rose, the taboo-trouncing troupe No Ring Circus specializes in spicy treats and freakish feats that are decidedly not for little ones or meek prudes—but it's all in good fun, of course. Hudson-based No Ring Circus will perform a "grand-scale sideshow/circus spectacular" at Hudson Brewing Company on January 27, 2023 at 7pm [new date]. I spoke with Rose via email in mid-November.
—Peter Aaron
What made you want to start your own circus? Were you drawn to performing at a young age, or did that come later in life?
I've been interested in sideshow my entire life, likely inspired by my father's tales of his circus work when he first came to America. Though I was raised in an artistic household, I didn't actually start performing sideshow until my early 20s. I was a solo touring performer for years—Daphne was the inspiration and the driving force behind our creating our own circus and company. They are a lifelong performer, writer, and director, and the No Ring Circus came of the joining of our forces.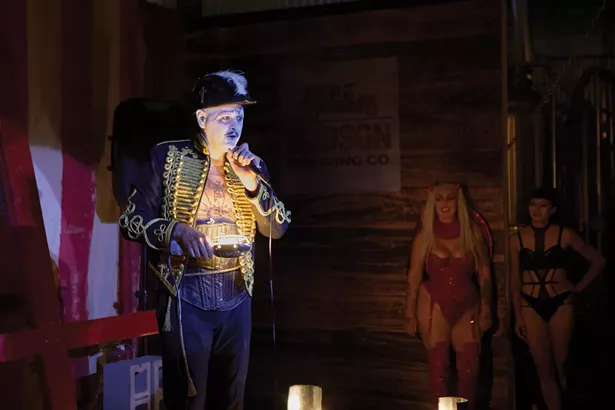 David McIntyre
No Ring Circus cofounder Eli Rose as "The Great Omniscious."
How did you meet Daphne, and what makes you two such a good fit as performing partners?
Daphne and I were introduced though a mutual friend, and we married eight months later. We truly consider ourselves to be sharing a single brain, spread over two bodies. We can communicate fluently without words on stage, we are excited by the same ideas, and we have an identical artistic language. Our work grows very organically as a result.
Why "No Ring"? Is there a story behind the name?
Our very first production was a full-length existential clown show with an intentionally long name alluding to the circuses of yesteryear: "Fiddles & Oboe's Clown Orchestra and No Ring Circus." As we developed into a brand beyond this show, we shortened our name to the No Ring Circus; the initial joke being that we were so broke when we started out that we fancied our circus would have no rings, as opposed to three. But our work also largely exists in liminal spaces (both physically and thematically), so the name continues to resonate.
How would you describe the No Ring's particular aesthetic? What qualities are you looking for when you come up with your routines and add other performers?
Our aesthetic encompasses many authentic aspects of ourselves and as such tends to lie at the center of a Venn diagram of ritual/performance art/occultism/fetish and BDSM/camp/traditional sideshow. We are quite particular about the performers we work with. They are all obviously wildly talented, but beyond that, we work with people that are on similar artistic/personal/philosophical wavelengths as me and Daphne. The No Ring Circus is intensely familial in that way.
When and how did the troupe end up in Hudson? It's interesting and unusual that such a small city is home to two independent circuses, yours and the Bindlestiff Family Cirkus. Were you aware of the Bindlestiffs before you moved to town?
Daphne lived in Hudson years ago and was in love with life here. We met while I was living in New Orleans, and they moved down to me. Though we adored living down South, we agreed that if we were to ever actually purchase a house, it would be back in Hudson. These days, most of our gigs are in New York City as well as across the country, but we'd much rather sneak away for work and then be able to retreat to a much more restful place. And yes! Of course we know the Bindlestiffs! They've been legends in this industry for many years. I used to frequent their talent showcases even before I began performing sideshow. The Hudson locale is a coincidence, but a happy one.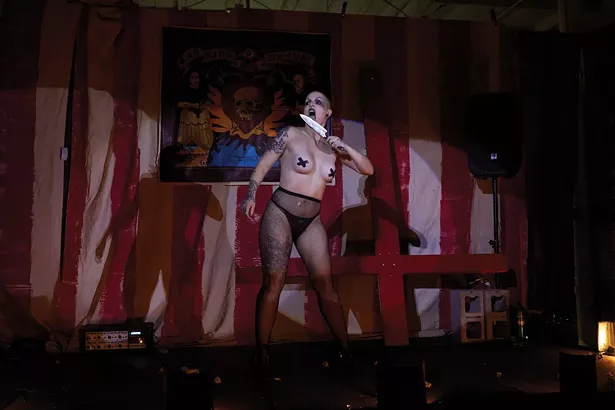 Watching the demo reel on the circus's website, there's a little bit of "adult" content in some of your shows. Do you tailor/tone down the performances for local venues like Hudson Brewing Company, where you've appeared previously?
We certainly have different acts for different crowds and events, but we insist on tailoring without sacrificing our authenticity. We exist in extremely high-end and corporate worlds as well as strip clubs and sex parties, and everything in between. It's less about the content and more about maintaining our voice. This is the main reason we don't do kids shows—frankly, we have nothing to say to kids. (FYI, Hudson Brewing Company enthusiastically grants us incredible boundary-pushing freedom. We definitely have some fun there.)
What do you most hope that the audience gets from an evening with the No Ring Circus?
Truth. What they need that day. A new viewpoint or experience. A gradual expansion of horizons. Answers to a question but also a lot of new questions.