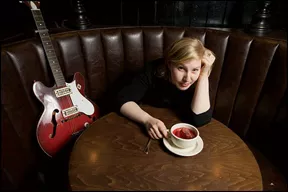 Rebecca Pronsky plays Muddy Cup/Inquiring Minds in Saugerties on March 15.
STUDIO STU
March 6.
Everyone's favorite swingin' hipster, Studio Stu is truly a cat to behold. Stationed behind the Studivarius, a one-string electric washtub bass of his own invention, he croons and scats his way through choice covers and swank originals. For this date he and said 'tub share the bill with singer-songwriter Erin Hobson at the Arts Upstairs gallery in Phoenicia as part of the town's hep Phirst Saturday art walk. Be there or be square, Daddy-o. 7:30pm. No cover. Phoenicia. (845) 688-2142;
www.studiostu.biz
.
HUDSON VALLEY SONGWRITERS SHOWCASE
March 6.
After many years in Woodstock, this month marks a change of venue for the long-running Hudson Valley Songwriters Showcase, which returns to New Paltz's Unison Arts & Learning Center to once again put the spotlight on a cast of today's most accomplished singer-songwriters. This installment features folk legend Rex Fowler of Aztec Two-Step, 11-time ASCAP Special Award winner Bar Scott, and the Philadelphia father-and-son duo Beacoup Blue. 8pm. $8, 10, 12. New Paltz.
(845) 255-1559; www.unisonarts.org.
REBECCA PRONSKY
March 15.
Brooklyn's Rebecca Pronsky is one of the fastest-rising voices on the
alt.Americana scene. Called "literate, passionate, and wry" by Time Out New York, her 2007 full-length Departures and Arrivals (Nine Mile Records) was also named one of the year's best albums by Philadelphia City Paper. Pronsky's newest release, The Best Game in Town (Independent), is an EP that's only available at gigs—which makes this free show at Muddy Cup/Inquiring Minds a no-brainer for music fans. 7pm. No cover. Saugerties. (845) 246-5775; www.myspace.com/muddycupsaugerties.
AISLING
March 17.
What better way to celebrate St. Patrick's Day than with fine beer, delicious corned beef, and superb live acoustic Irish music? Aisling performs traditional and contemporary Irish and Scottish styles and will be joined for this special wearin'-of-the-green engagement at Kingston's historic Hoffman House by acclaimed Irish tenor Warren Kelder. Reservations are recommended for this truly beguiling evening. 6:30pm. No cover. Kingston. (845) 338-2626; www.aisling.fanspace.com.
RAMBLIN' JUG STOMPERS
March 22.
The Ramblin' Jug Stompers bring their rollicking "78-rpm music for the 21st century" to the elegant 1872 Howland Cultural Center for a fun-packed evening of old-time hokum and hilarity. Comprised of several members of legendary Capital Region outfit Blotto, the Stompers fuse that band's patented humor with traditional jug band sounds and tunes by the likes of Woody Guthrie, the Carter Family, Clarence "Frogman" Henry, Jimmy Reed, and others. 7pm. $10. Beacon. (845) 831-4988; www.howlandmusic.org.
LEE SHAW
March 28.
Octogenarian pianist, composer, and bandleader Lee Shaw's jazz trio has been up and swinging for over 40 years and has been the toast of numerous clubs, concerts, and festivals across the United States and Europe. The band's current lineup features Hudson Valley luminaries Jeff "Siege" Siegel on drums and Rich Syracuse on bass and just released the stellar CD/DVD set Live in Graz (Artists Recording Collective, 2009). For this date the plush, mahogany-lined bar of Albany's 74 State Hotel provides Shaw's trio with the perfect first-class backdrop. 8:30pm. Call for cover info.
(518) 434-7410; www.leeshaw.org.