Paul Geremia
December 4.
Hailing from, as he calls it, "the Providence River Delta," Rhode Island's  is one of today's topmost acoustic bluesmen. The six- and twelve-string virtuoso counts Big Bill Broonzy, Blind Lemon Jefferson, and Tampa Red as key influences, and got his start on the early '60s folk circuit. A firm fave of the Rosendale Cafe, Geremia makes another rabidly awaited return to the venue. (Wayne Montecalvo hosts a singer-songwriter showcase on the second and fourth Tuesdays of each month.) 8pm. $10. Rosendale. (845) 658-9048;
www.rosendalecafe.com
.
The Neighborhoods
December 5.
One of Boston's finest early punk bands, the Neighborhoods have been slamming it out for over three decades and became instant local legends when their 1979 debut single was a regional hit. The 'Hoods are masters of hook-upon-hook power pop a la the Jam and Generation X, and this rare date at Valentine's Music Hall will make you sweat, smile, and pogo like you never have. With the John Powhida International Airport and the Charlie Watts Riots. (The Figgs rock out on December 11.) 8pm. $15. Albany. (518) 432-6572; www.valentines.albany.com.
Rhett Miller
December 11.
When he's not fronting acclaimed, road-slogging country rock outfit the Old '97s, Rhett Miller somehow also finds the time for a fruitful career of his own. The singer-songwriter's just-released fourth solo album, a self-titled effort on Shout! Factory Records, earned him four-star kudos from Rolling Stone, who called it his strongest solo set thus far. The Trapps open this intimate hit at the trusty Towne Crier Cafe. (Livingston Taylor plays on December 12; the Bobs return on December 19.) 9pm. $20, 25. Pawling. (845) 855-1300; www.townecrier.com.
The Jefferson Trio
December 11.
Last month we bemoaned the fact that so many area venues have jumped ship on jazz, so it's encouraging to see that the Bean Runner Cafe has an enticing calendar of great jazz on tap. Led by drummer and vocalist Tony Jefferson (Eddie Harris, Cyrus Chestnut), the Jefferson Trio also includes ace guitarist Jon Hart and bassist Paul Beaudry, and delights on ballads and up-tempo classics. (Premik Russell Tubbs leads his quartet on December 5.) 7:30pm. $5. Peekskill. (914) 737-1701; www.beanrunnercafe.com.
David Temple
December 26, 27.
Classical guitarist David Temple's annual winter concerts at the Center for the Performing Arts at Rhinebeck are a Hudson Valley holiday tradition, offering enraptured audiences a full program of the local string-stunner's dazzling skills in a setting that's inviting and acoustically perfect. This year's offering is titled "Sounds of Bells," and debuts new compositions and arrangements to celebrate the season. 8pm on December 26; 3pm on December 27. $18, 16. Rhinebeck. (845) 276-3080; www.centerforperformingarts.org.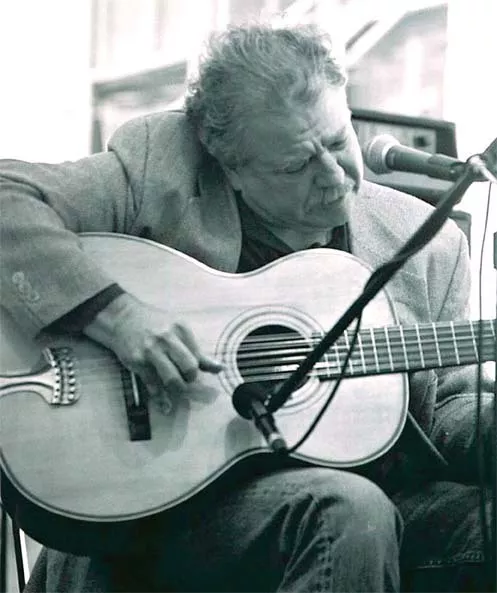 Paul Geremia performs at the Rosendale Cafe on December 4.