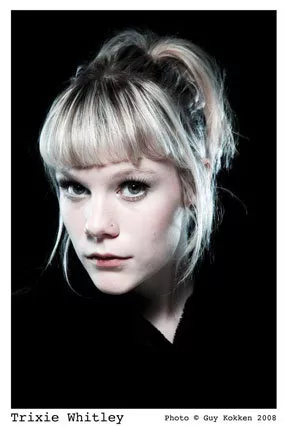 Trixie Whitley plays Wall Street Salvage Company in Kingston on May 9.
The Wiyos
May 8, 10. Brooklyn-based quartet the Wiyos hit the Hudson Valley with a vengeance this month, with Teddy Weber (of local Americana disciples the Hunger Mountain Boys) sitting in. With a new CD in the works, the band extends its northern exposure following its debut last month at Bodles Opera House in Chester. On May 8 the group lands at Pawling's Towne Crier as the opening act for acoustic guitar legend Woody Mann. On May 10 the group trades the Catskills for the Berkshires as it rolls its country-blues-boogie into Club Helsinki in Great Barrington. Towne Crier: 9pm, $25, 20. Pawling. (845) 855-1300. Club Helsinki: 8pm, $15. (413) 528-3394.
www.thewiyos.com
.
John Street Jam
May 2, 30. Prepare to get cozy with your neighbor at the next John Street Jam, with no less than eight performers packed into the intimate Dutch Arms Chapel for one of the most talked-about music experiences in the Hudson Valley. On the second and fifth Saturdays of each month, Terri and Steve Massardo invite four-score or so music fans into their circle, with performers in the nucleus. The format is two rounds of four players with an intermission. This month's songsmiths include Montgomery Delaney, Julie Corbalis, Thea Hopkins, Chris Wilhelm, Charles Lyonhart, Rick Snyder, Sean Rowe, and Kelleigh McKenzie, fresh from her appearance on NPR's "Mountain Stage" last month. 7pm. $5. Saugerties. (845) 943-6720; www.johnstreetjam.net.

Ambrosia Parsley, Swati, Trixie Whitley, Nina Violet
May 9. Blame it on Mother's Day, but Band Shell Artists presents a night of powerful female artists at Kingston's Wall Street Salvage Company. Personal fave Ambrosia Parsley—her first album with Shivaree has always been in my top 10—croons alongside the Elegant One (composer/guitarist Chris Maxwell, half of the Elegant Too). Swati brings the goddess vibe with her enthralling voice and songwriting style and eight-string guitar. Trixie Whitley (daughter of the late, much-overlooked rocker Chris Whitley) brings a raw, bluesy sensibility to her music and has been recording with U2/Neville Brothers producer Daniel Lanois. Island girl Nina Violet (from Martha's Vineyard) handles guitar, viola, cello, and mandolin with ease. Bring flowers for everyone! 8:30pm. $12. Kingston. (845) 331-7011; www.bandshellartists.com.
Mark Raisch Big Band, Bill Gulino Big Band & Trio
May 14, 22, 30. Rodgers and Hammerstein said, "There's nothin' like a dame," but jazz vocal fans know there's nothin' like a big band with a suave singer. This month the best of the best in our area, crooner Mark Raisch and pianist/bandleader Bill Gulino, team up on various stages on both sides of the Hudson. On May 14, Raisch brings his big band into Poughkeepsie's beautiful Bardavon for an afternoon show of Sinatra classics and other American standards. On May 22, Raisch performs alongside Gulino's big band in an authentic USO-style stage show at the Franklin D. Roosevelt Library and Museum in Hyde Park. They finish out the month together with Gulino's trio at a worthy benefit for Safe Harbors of the Hudson in Newburgh on May 30. Word to the wise, these are hot tix, so let's get swingin', gates! Bardavon: 2:30pm. $5. (845) 473-2072. www.Bardavon.org. F.D.R.: 6pm. $5. (845) 229-9115. Safe Harbors benefit: 6pm. (845) 562-6940; www.marksings.com.
Dirty Dozen Brass Band
May 22. The DDBB, the modern leader of the Big Easy second-line street bands, is legendary for its repertoire of both innovative and traditional parade hits. (Hearing the ensemble mash up "Anchor's Aweigh" into the "Flintstones" theme was a life-changing moment.) The 'Dozen has recorded with everyone from Dizzy Gillespie to Elvis Costello, and also recorded an album of music by jazz pioneer Jelly Roll Morton. Basically, the band has resurrected and revitalized what had been the dying tradition of New Orleans brass units, in turn inspiring a full-on revival. (Punk guru Henry Rollins performs spoken word on May 15.) 8pm. $25. Woodstock. (845) 679-4406; www.bearsvilletheater.com.