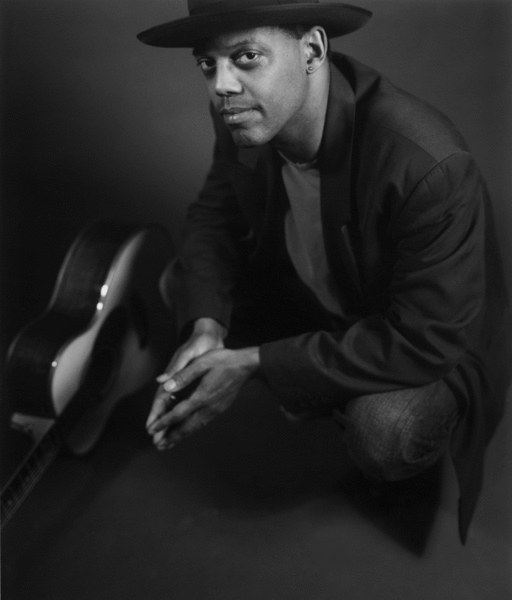 Eric Bibb will play the Rosendale Cafe on January 18.

Eric Bibb
January 18. When the owner of the Rosendale Cafe calls personally to rave about an upcoming artist, you know it must be a show worth seeing. Bluesman Bibb has won accolades from New York to London, and "provides tonic for the restless soul and ease to the aching heart" (Cafe Guide). Here, he appears in support of his latest album, Diamond Days (Telarc), which also features long-time touring partner and Eric Clapton sideman Dave Bronze. Bibb's talent keeps good company, as he recently appeared on stage with Odetta at B. B. King's in New York for a Dance Theater of Harlem benefit.  (Jazz god Joe Giardullo and his Late 20th Century Quartet perform on January 5 and Colorado banjoist Jake Schepps's Expedition Quartet lands on January 19.) 8pm. $20. Rosendale. (845) 658-9048.
www.rosendalecafe.com
.

Setting Sun/Quitzow
January 10. Setting Sun is a misnomer for Gary Levitt's ensemble, as constant touring and recording at his Young Love Studio prevents the sun from ever really setting on his one-man project. Here he returns to Oasis Cafe on a Thursday, arguably one of the best nights around for new and original music. Setting Sun's infectious pop grooves were perfectly described by David Malachowski in the Daily Freeman when he said the band has "more hooks than a tackle box." Levitt's companion in life and music, Erica Quitzow, performs with her own project, known simply as Quitzow. 10pm. $5. New Paltz. (845) 255-5400.
www.myspace.com/settingsun
.
Perry Beekman Trio
January 11. Good live music has been the mainstay of the many incarnations of Starr Place in Rhinebeck Center (the venue was previously known as Starr Bar and Starr Cantina) and this winter is no exception to that rule. For this night, guitarist par excellence Beekman brings his jazzy flavor to Montgomery Street, throwing out licks like holiday candy from his acoustic-electric six-string. Beekman, formerly of Rondout brasilieros The Cloud Club, doesn't play out nearly enough, so don't miss this rare and recommended gig. 8pm.
Call for ticket prices. Rhinebeck. (845) 876-6816. www.perrybeekman.com.
The Crooks
January 12. The Muddy Cup dynasty may be only a few years old, but it has quickly earned legendary status with its ambitious live music bookings. Tonight, The Crooks celebrate their release—that is, their album release—amid the Kingston location's upscale bohemian charm and endless beverage choices. The twisted trio's self-financed debut is called Walk On and Wave Goodbye, and for this event the youthful Woodstock post-punk crew promises to put some jive in your java on a cold January night. (Rapper/singer Righteouse hosts an open-mike night every Monday at 7:30pm.) 8pm. Call for ticket info. Kingston. (845) 338-3881. www.myspace.com/thecrooksmyspace.
Off Hour Rockers
January 18. A favorite of Chris Marino and his K-104 morning show team, the tropical-themed Cheeseburger in Paradise was nearly empty one recent Wednesday at 5pm, but two hours later the joint was jumping, with every table in the large restaurant was packed. On weekends, live music rules (we should hope!) and the Off Hour Rockers bring the party once a month. This Hudson Valley-based band relies on the big pipes of lead vocalist Dona Ann, but the rest of the players can sure sing, too. Check out their MySpace page for samples of their country and rock songs, then boogie on down to this eatery to sample some great grub in an endless summer playpen. 9pm. No cover. Middletown. (845) 343-9252. www.myspace.com/offhourrockers.

Rockland Road Rockfest
January 19. Live music fans who pay attention have found a bubbling area band scene of the teen and post-teen variety. This fest at the Rockland Firehouse on Rockland Road (where else?) features some of the best groups to have also performed at Woodstock's Garage Rumble and Accord's Skate Time 209. Check out the red-hot Sofmoure and perennial band-battle winners Fathom This, Starlit Theater, Bitterky, Without End, and others in one blissful night of rock 'n' roll heaven. 6pm. $5. Roscoe.  www.myspace.com/sofmoure.