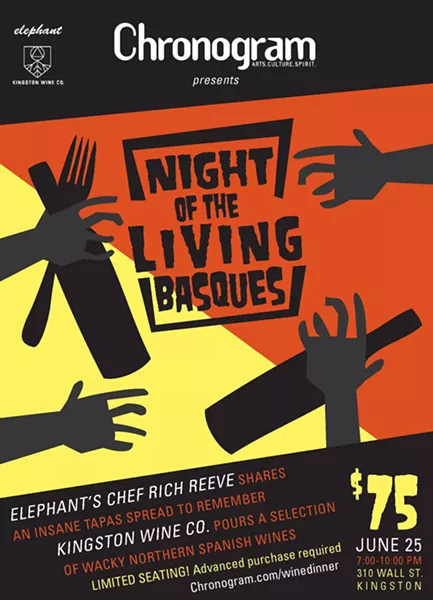 Chronogram, in partnership with Elephant Wine Bar and Kingston Wine Co. present Night of the Living Basques—a Spanish feast you will never forget! Experience Chef Rich Reeve's insane tapas buffet with wacky northern Spanish wine pairings by Michael Drapkin of Kingston Wine Co. Pay one price, eat and drink all night!
The event takes place on Wednesday, June 25, from 7-10pm. Tickets are $75. Limited to 32 people! View the menu, and grab your tickets while you can via Eventbrite.
Read our review of Elephant here.
Hear our conversation with Kingston Wine Co.'s Michael Drapkin here.
Advanced tickets only, limited space available!
Don't miss this Spanish wine-and-dine experience from Chronogram, Elephant, and Kingston Wine Co.!
Follow @ChronoSamm on Twitter for event updates, behind the scenes looks, and live tweets.