Page 2 of 3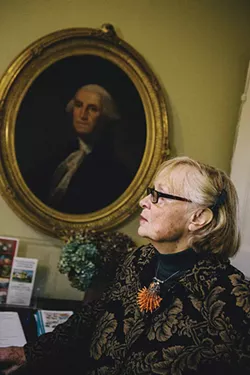 Thomas Smith
Carla Decker at the Newburgh Historical Society.
Artisans and Crafts
Visitors to Newburgh won't want to miss a chance to stop in at
Caffe Macchiato
—a neighborhood institution located across the street from Washington's Headquarters. The shop changed hands in August and is now owned by Claudio Pantoja. Pantoja is a Newburgh native who has long wanted to own a business in Newburgh. "This area is absolutely incredible. It's full of history, it's rich in culture, and it's very diverse. It reminds me of a mini Williamsburg, Brooklyn," he says.
Caffe Macchiato is located in a neighborhood that many in Newburgh hope can help power revitalization. There are nearby cultural attractions—the Ann Street Gallery, the Wherehouse bar and restaurant—and a juice bar is scheduled to open on the same block. Also, within easy walking distance is the Newburgh Brewing Company. The brewery opened in 2012 in a 20,000-square-foot former steam engine factory overlooking the Hudson. The brewery's beers are now distributed in more than 500 bars and restaurants. The brewery also has a tap room with a full menu that often features locally sourced items.
The Newburgh Brewing Company is not the only business that recently found a home in Newburgh. In 2012 Atlas Industries relocated to the city from Brooklyn. The high-end furniture company designs the as4 modular furniture system, a shelf and desk system that is easily reconfigurable, and allows owners to adjust their shelf space to accommodate their individual needs. The company purchased a 55,000-square-foot waterfront warehouse and now leases space to several artisans who formerly resided in New York City.
In addition to new and long-established businesses, there are also creative nonprofit organizations in Newburgh that help add to the feeling of richness one gets when visiting the community.
Safe Harbors of the Hudson is committed to building communities through housing and the arts. In 2002 the organization purchased the historical Hotel Newburgh, which at the time was run-down but has since been transformed into an attractive, supportive housing complex that has been renamed the Cornerstone Residence.
The Newburgh Armory Unity Center is a nonprofit sports and education center that has an indoor turf field, a basketball court, and several acres of athletic fields. The center hosts a variety of sports leagues, as well as numerous community activities, including yoga and Zumba classes, acting and gardening workshops, and 4-H and Scouting programs.
Pantoja, owner of Caffe Macchiato, says that Newburgh is attracting many New Yorkers who are bringing energy and excitement to the city. "It makes me very excited. I grew up here, then I lived in Boston, I worked in Williamsburg, I worked in SoHo, and it's really exciting to see that clientele moving here," he says.
Sights and Sounds
Newburgh is also home to several museums, including the Motorcyclepedia Museum, which is a loving homage to the two-wheeled steeds of the open road. Opened in 2011, Motorcyclepedia features over 450 motorcycles, along with photographs, posters, memorabilia, machinery, and other objects related to bikes. "Obviously, motorcycle guys or aficionados, they automatically come here," says Ted Doering, director of the museum. But he adds that he works to reach a broader audience by featuring bikes that appeared in popular films and highlighting bike models of historic significance. "We make it so the general public would be interested in it as well; we're showing motorcycles as part of the culture."
The museum also features what is known dramatically as "The Wall of Death," which is a barrel-like stunt arena. Weekends through January 12, stuntman Pit Lengner will defy gravity and entertain audiences by riding the wall.
Pit Lengner's "Wall of Death" from Rivaucci on Vimeo.
For visitors, the sights of Newburgh extend well beyond the museums. You can also walk over the Hudson and take in some stunning views on the Hamilton Fish Newburgh-Beacon Bridge.