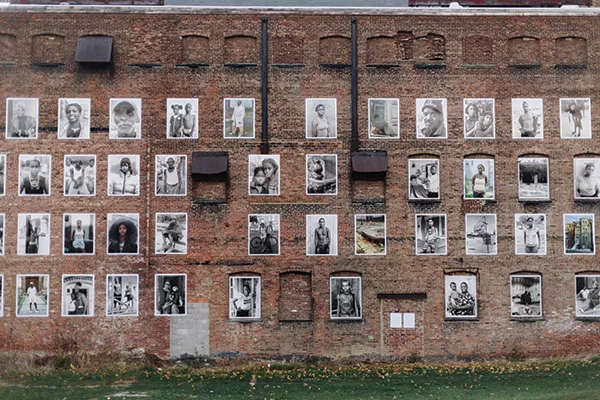 Thomas Smith
Street art at Safe Harbors on the Hudson in Newburgh.
Newburgh is not the easiest city in the Hudson Valley to love.
Like a veteran boxer, it has endured many blows over the years, including a well-documented gang and drug problem, urban decay, and financial hardships—nearly a third of the population lives below the poverty line. Yet, somehow, Newburgh has rolled with the punches, and though there might be a scar here or there, something undeniably intriguing, majestic, and, yes, loveable about the city remains.
To begin with, there's the architecture. The city was home to several celebrated architects in the 19th century whose compelling handiwork can still be seen in the form of proud and noble Gothic and Victorian structures that line Newburgh's streets. Then there's the history of the city. It was in Newburgh, from headquarters overlooking the Hudson River, that George Washington guided the Continental Army during the last year and a half of the Revolutionary War.
Finally, there's the culture and diversity. Unlike in other cities and communities in the midst of an urban revival, Newburgh has avoided the sometimes generic pitfalls of gentrification. Revitalization in the city has moved across economic and cultural lines.
Outsiders might still see Newburgh as an underdog but residents say the city's comeback is under way and it is destined for future glory. Cue the soundtrack to Rocky.
History and Architecture
Johanna Porr, director of the Historical Society of Newburgh Bay and the Highlands, says there are two things that will always draw people to Newburgh. "One is the river views, the nature of the scenery, and then we have the historic architecture," she says. "That's what makes Newburgh so uniquely beautiful and those are the two things that just can't be replicated in any other place."
Thomas Smith
Madison, Kathy, and Bryanna Foti at Lake Chadwick.
In the 1800s, the city was home to several star architects, including Andrew Jackson Downing and disciples like Calvert Vaux and Frederick Clarke Withers. Since the 1980s, preservationists have been fighting intensely to save the handiwork of these and other architects, with much success.
"Newburgh has the largest contiguous historic district and most diverse in New York State," Porr says. "When you look at New York City, there's more historically preserved buildings but they're scattered around."
The struggle to save historic sites continues, though, and there are many more buildings within Newburgh, both privately and publicly owned, that are in desperate need of restoration. "There's an urgency now that's always getting more and more serious," Porr says. "There are beautiful homes which are so ornately decorated with artistic carvings and stained glass, and all these details that you just can't replicate today. These are sturdy homes and they survived 20 and 30, and 40 and 50, years of neglect, but we're dealing in many cases with maybe 60 years of neglect now. So it's very urgent that we do restore the homes now because they're at that breaking point."
The task of restoration in Newburgh is made more difficult and more rewarding by the sheer number of historically significant homes and buildings. "Almost every single building here was built by a famous architect or has some importance—a moment of history that's tied to it, or some kind of architectural design style that's unique," Porr says. "The city is an architectural classroom, really; you can walk down the street and learn about different styles of architecture here."
The city's historic ties extend beyond architecture. Washington's Headquarters is a must-visit location for any history lover. In 1850, it was acquired by the State of New York and became the first publicly operated historic site in the country. Currently, it has been designed to re-create its condition during the Revolutionary War. The seven-acre site features the Hasbrouck House (the house where Washington guided the war), a museum (built in 1910 that houses thousands of Revolutionary War artifacts), and an impressive monument, the "Tower of Victory," which was completed in 1890 after four years of construction in order to commemorate the centennial of Washington's stay.
"The historical sites here, particularly Washington's Headquarters and the Crawford House Museum [home of the Historical Society of Newburgh Bay and the Highlands], are really the gateways to Newburgh," Porr says. "It happens all the time, that if a person is interested in moving to the city, the first stop they make is one of those two historic sites, and the first people they interact with are members of the preservation community."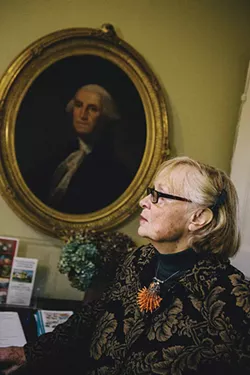 Thomas Smith
Carla Decker at the Newburgh Historical Society.
Artisans and Crafts
Visitors to Newburgh won't want to miss a chance to stop in at
Caffe Macchiato
—a neighborhood institution located across the street from Washington's Headquarters. The shop changed hands in August and is now owned by Claudio Pantoja. Pantoja is a Newburgh native who has long wanted to own a business in Newburgh. "This area is absolutely incredible. It's full of history, it's rich in culture, and it's very diverse. It reminds me of a mini Williamsburg, Brooklyn," he says.
Caffe Macchiato is located in a neighborhood that many in Newburgh hope can help power revitalization. There are nearby cultural attractions—the Ann Street Gallery, the Wherehouse bar and restaurant—and a juice bar is scheduled to open on the same block. Also, within easy walking distance is the Newburgh Brewing Company. The brewery opened in 2012 in a 20,000-square-foot former steam engine factory overlooking the Hudson. The brewery's beers are now distributed in more than 500 bars and restaurants. The brewery also has a tap room with a full menu that often features locally sourced items.
The Newburgh Brewing Company is not the only business that recently found a home in Newburgh. In 2012 Atlas Industries relocated to the city from Brooklyn. The high-end furniture company designs the as4 modular furniture system, a shelf and desk system that is easily reconfigurable, and allows owners to adjust their shelf space to accommodate their individual needs. The company purchased a 55,000-square-foot waterfront warehouse and now leases space to several artisans who formerly resided in New York City.
In addition to new and long-established businesses, there are also creative nonprofit organizations in Newburgh that help add to the feeling of richness one gets when visiting the community.
Safe Harbors of the Hudson is committed to building communities through housing and the arts. In 2002 the organization purchased the historical Hotel Newburgh, which at the time was run-down but has since been transformed into an attractive, supportive housing complex that has been renamed the Cornerstone Residence.
The Newburgh Armory Unity Center is a nonprofit sports and education center that has an indoor turf field, a basketball court, and several acres of athletic fields. The center hosts a variety of sports leagues, as well as numerous community activities, including yoga and Zumba classes, acting and gardening workshops, and 4-H and Scouting programs.
Pantoja, owner of Caffe Macchiato, says that Newburgh is attracting many New Yorkers who are bringing energy and excitement to the city. "It makes me very excited. I grew up here, then I lived in Boston, I worked in Williamsburg, I worked in SoHo, and it's really exciting to see that clientele moving here," he says.
Sights and Sounds
Newburgh is also home to several museums, including the Motorcyclepedia Museum, which is a loving homage to the two-wheeled steeds of the open road. Opened in 2011, Motorcyclepedia features over 450 motorcycles, along with photographs, posters, memorabilia, machinery, and other objects related to bikes. "Obviously, motorcycle guys or aficionados, they automatically come here," says Ted Doering, director of the museum. But he adds that he works to reach a broader audience by featuring bikes that appeared in popular films and highlighting bike models of historic significance. "We make it so the general public would be interested in it as well; we're showing motorcycles as part of the culture."
The museum also features what is known dramatically as "The Wall of Death," which is a barrel-like stunt arena. Weekends through January 12, stuntman Pit Lengner will defy gravity and entertain audiences by riding the wall.
Pit Lengner's "Wall of Death" from Rivaucci on Vimeo.
For visitors, the sights of Newburgh extend well beyond the museums. You can also walk over the Hudson and take in some stunning views on the Hamilton Fish Newburgh-Beacon Bridge.
Thomas Smith
Roy R. Spells, Treasurer of the Newburgh Historical Society in Newburgh.
In downtown Newburgh, visitors can stroll through Downing Park. The park is filled with hills and valleys, streams, and a pond. If the park seems reminiscent of New York City's Central Park, there's a good reason. It was designed by the same team that laid out that park, Frederick Law Olmsted and Calvert Vaux. Like the city it is in, Downing Park has classic vintage beauty.
Doering, from Motorcyclepedia, is one of several people in Newburgh working to capitalize on Newburgh's beauty by attracting film productions. Earlier this year, Doering donated office space inside Motorcyclepedia to serve as a film office for the city. The office serves as a clearing house for producers interested in possibly filming in Newburgh. Doering is also the founder and president of Umbra of Newburgh, a mammoth film and television production facility that features a 16,500-square-foot sound stage. "We've had a few movies [at Umbra] over the last few years, including the independent movie Mi America, which was shot totally in Newburgh at the Umbra soundstage and on location within the city limits," Doering says. "A lot of the architecture does fit certain genres for the movie shoots."
Although Newburgh still has its rough patches and has had a troubled recent past, visitors quickly learn it's a classic city with a great deal going for it. For those who are willing to explore, Newburgh has much to offer.