Editor's Note: Our writer, Brian PJ Cronin, filed an insightful piece on Newburgh for the April issue. The article described how the city is not without problems but that in the past 10 years, it has made great strides toward a real, sustainable renaissance. The biggest problem facing Newburgh, according to Austin Dubois, the head of the city's Industrial Development Agency, was negative public opinion. "At this point, the biggest thing holding Newburgh back," said Dubois, "is negative outside perceptions based solely on things people see in the news or on Facebook." Of course, that is now far from the biggest threat facing Newburgh, or anywhere else. We chose to shelve the piece. In its place, we're featuring photos from Newburgh Community Photo Project.
Map illustration by Kaitlin Van Pelt.

The Newburgh Community Photo Project is a grassroots community-based photography educational program whose mission is to engage local youth on topics of national interest that relate directly to their communities and ultimately empower them to utilize photography to advocate for change in their own lives and the lives of their communities. NCPP is a volunteer-run arts organization teaching young adults (16 to 24) photography and community activism.

NCPP provides exhibition space, cameras, materials, and equipment, as well as free workshops and mentorship by local and national photographers. NCPP participants explore a broad spectrum of photography including socially engaged art, documentary, portraiture and photojournalism. Topics cover gun violence, economic and political empowerment, gender issues, voting rights and registration, community policing, immigration, housing, and clean water. Educational programming (film and lecture series) are organized around the issues to encourage empathy and understanding among people who are different from one another to break down barriers and advocate for the rights of all residents to envision a future and participate in the political and economic progress in Newburgh.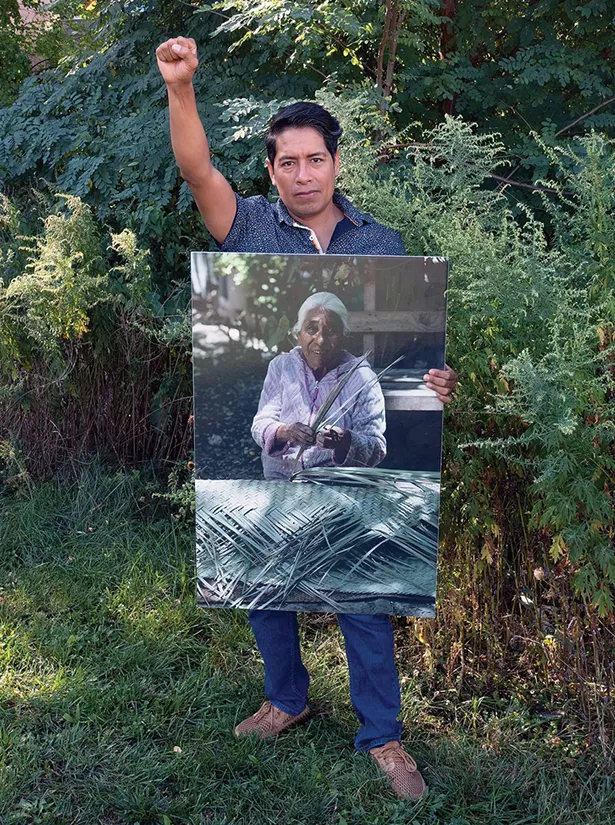 Photo by Angela Montiel
Ignacio Acevedo, activist for immigrant rights, age 41. Acevedo came from Mexico to Newburgh for a better life when he was 10 years old. Hisgrandmother is a reminder to keep fighting for himself and others. "That is the kind of strength that tells me it is worth fighting, keep fighting, because if [strong women] don't give up, youshouldn't give up".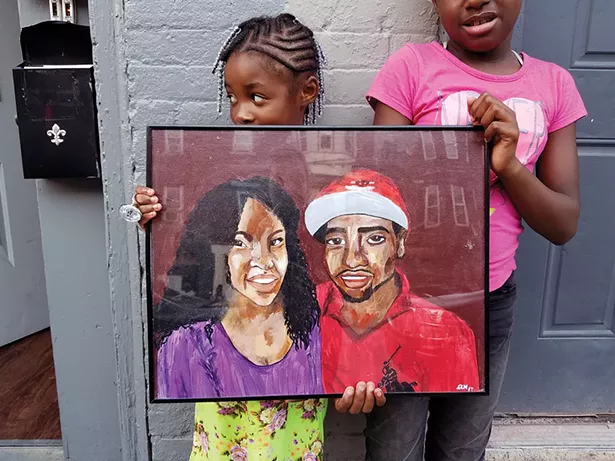 Photo by Lauren Berg
Relatives hold a painting of Gevontay Owens-Grant, who was killed at a Valentine's party at 253 South William Street in Newburgh in February 2017. He's pictured beside his fiancée, Demira Melvin.
Photo by Lauren Berg
Newburgh resident Lord Ward, who witnessed the aftermath of a shooting at a 2016 Halloween party at 119 Broadway in Newburgh that left 2 people dead, sits at home in his living room on Liberty Street.
Photo by Stephanie Quispe
Children enjoying the swing carrousel at Delano Hitch Park.
Photo by Brian Wolfe
View of Broadway near Liberty Street.
Photo by Therese Fischer
Strong Women of Newburgh 2018 series: A woman outside Two Alices Coffee Lounge on Broadway.
Photo by Therese Fischer
Strong Women of Newburgh 2018 series: Sha is preparing before a days work at her salon on lower Broadway.
Photo by Iyanna Moreno
Karicia: "The heart pendant was a gift from Karicia's father. Inside is a photo of them together. The cat pendant was the last thing her father gave her for being strong through her leukemia treatments. 'My first attempt was in school,' says Karicia. 'I brought a knife to slit mywrists in the girls' bathroom. I felt like my mom didn't care about me anymore. She didn't call me, she didn't text me, she didn't reach out to me to see if I was ok.'"
Photo by Iyanna Moreno
A slogan on the wall of a classroom at Newburgh Free Academy North Campus.
Thanks to Vincent Cianni of NCPP for helping to organize this collaboration.