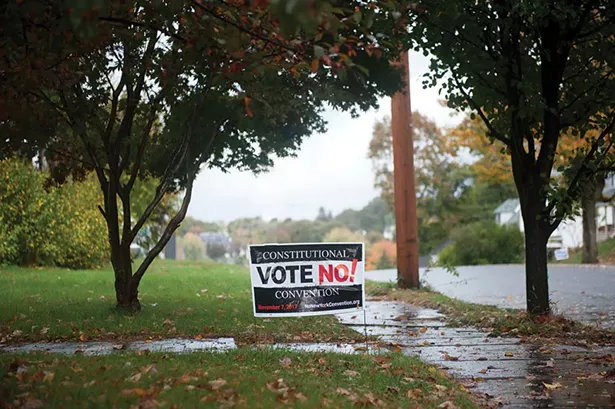 A no-vote yard sign on a lawn in Kingston.
The last time New Yorkers held a state constitutional convention, in 1967, Gerry Benjamin was in graduate school for political science at Columbia University. He studied the deliberations from afar, and considered the resulting proposals, which were ultimately rejected by the voters. The state wouldn't assume Medicaid costs, nor create neutral redistricting and disallow gerrymandering—just two of the ideas that never came to pass. "I've got a list of about 30 or 40 items in my file of good ideas that weren't adopted in '67," says Professor Benjamin, who is the director of the Benjamin Center for Public Policy Initiatives at SUNY New Paltz, and an acknowledged expert on New York State and local government. For several months, he's been speaking all over the Hudson Valley about the question that they'll face on November 7 in the voting booths: Shall New York hold a convention to revise the constitution and amend the same?
If the majority votes yes, then the Constitutional Convention machinery starts rolling. First, voters would elect a total of 204 convention delegates in 2018. There will be three delegates from each of the 63 state Senate districts and 15 others who are elected statewide. Candidates would run just like they would for any other office, and anyone can run for a delegate seat. In April of 2019, the delegates would meet in Albany for a convention lasting four to six months, resulting in a draft package of amendments to put to the voters that November.
If the majority this November marks no, then nothing happens. And therein lies the controversy.
A Vigorous Debate
Organized campaigns on both sides of the question have formed, and they're raising funds and running ads. A convention is favored mostly by good government advocates, like Benjamin, who believe in empowering the democratic systems and processes our political forbears established. Funded predominantly by individual donors, the good government groups believe that a 2019 constitutional convention can take our 19th-century document into the 21st century. According to a NYPeoplesConvention ad, the New York constitution was last substantially revised in 1938 at a convention that included only six women and two black men among the 186-person delegation. Revising the constitution now, they assert, with a delegation representative of New York's diversity, could elevate the rights of women and people of color, who have been historically less protected by the state constitution.

"There really are no certainties whatsoever as to what could emerge from a constitutional convention," says Fred Kowal, President of the United University Professionals (UUP). "Once they meet at the convention, literally the entire document is open to changes, and there are no restrictions as to how far they could go in changing the constitution."
For the UUP, local labor chapters, and teachers' unions, protection of public education and workers' rights are key. "The huge amount of money that goes to candidates who support charter schools, certainly that kind of money's going to flow in to support the election of delegates who would try to change those provisions and create protections in the constitution for charter schools, which would undermine public schools," Kowal says. He also details a national movement against collectively bargaining. "We are also concerned, obviously, that the Koch brothers, who have hundreds of billions of dollars to spend, will see a constitutional convention as the time when they could come and turn New York State into a right-to-work state."
A still from the pro-Constitutional Convention video "Our Shot," produced by Forward March NY, New York members of the Women's March on Washington.
"It's a situation in which, unfortunately, scare tactics are being used—by some of the unions, especially, to tell falsehoods about pensions for existing public employees and retirees being at risk," says Henrik Dullea, a SUNY trustee and good government advocate who was on the floor of the 1967 convention and wrote a history of the convention, Charter Revision in the Empire State: The Politics of New York's 1967 Constitutional Convention (1997). He says that the teachers' and public employee unions are major lobbying organizations that appear to be contributing the most to the no vote campaign.
POLITICO New York investigated the spending of more than 200 individuals and organizations taking a position on the convention. Looking at lobbying activity and state elections, including candidate, party, and super PAC funding, they found that convention opponents outspent proponents $24.2 million to $389,000. Opposing concerns center around losses of current constitutional protections.
At What Cost?
Opening day in the chamber of the 1967 New York State constitutional convention was exciting, according to Dullea. Addresses were given by Supreme Court Chief Justice Earl Warren, Governor Nelson Rockefeller, and Senators Jacob Javits and Robert F. Kennedy. The floor debates were spirited and lengthy. Ultimately, the delegation significantly edited and reshaped the constitution. "They saw it as an integrated document," Dullea says, so the delegates submitted a single package to the voters for approval, as opposed to packaging proposals into multiple ballot questions. "Some Democrats thought that the popular things would outweigh the controversial things." Things like the Blaine Amendment.