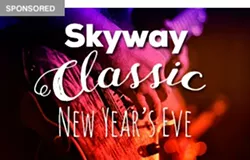 New Year's Eve is a time for making fun memories with family and friends – just like a stay at Skyway Camping Resort in the Catskills in Greenfield Park, NY. But Skyway is closed in January. The solution? New Year's Eve in August!
A tradition that's lasted over 30 years, Skyway's New Year's Eve party makes it possible for campers to celebrate the holiday together. Seasonal campers who met and befriended one another through camping at Skyway can come back together again at this annual event; and new visitors are more than welcome to join the fun.
The event starts on Saturday, August 12, with fun activities for kids and grown-ups alike to enjoy: from arts and crafts to hay wagon rides and more. As the sun sets, the joyful tunes of Auld Lang Syne will fill the air, played by the Midnite Image Band – a Skyway Camping favorite.
Native to the Hudson Valley, The Midnite Image Band covers the best of the best, from all-time oldies favorites like At Last by Etta James, to today's greatest hits like Uptown Funk by Bruno Mars. As if live music wasn't enough, Skyway takes it up a notch with a live musical dance party: an annual treat which visitors return for year after year.
So what are you waiting for? Visit skywaycamping.com to book your stay at Skyway! While you're there, take advantage of Skyway's Seven for Six special: book seven nights and pay for the price of six – that saves you $75! (Cannot be applied during holidays. Discount only applies to overnight camping fees. One per family. Non-redeemable for cash or goods. Cannot be combined with other offers, coupons or discounts. Coupon not valid for online reservations. Reservation must be paid in full.)
Skyway Camping Resort is located at 99 Mountain Dale Road, Greenfield Park, NY 12435. For more information on rentals, amenities, specials, events and more, visit
skywaycamping.com
.