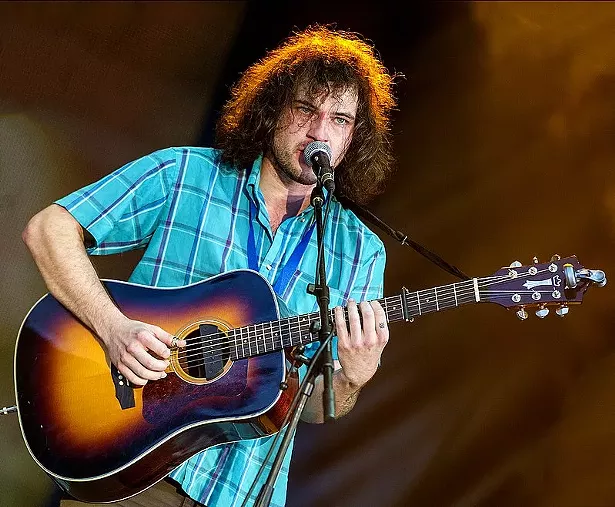 Ho, ho, ho! Why, it's a
Chronogram
Christmas! Your present? A new assortment of delicious doings right here in the Hudson Valley—including, naturally, some tasty New Year's nuggets.
MUSIC
Ryley Walker Tops Solid Bill in Woodstock
Sometimes word of a bill that's too good not to mention comes along too late to make it into the pages of
Chronogram
. This bill is definitely one of them, and it comes to
Colony
in Woodstock on December 29 at 7pm: dreamlike Chicago folk rock singer-songwriter Ryley Walker, searching New York experimental guitarist Steve Gunn, and New Jersey psychedelic jam-o-nauts Garcia Peoples. A mind-blower, for sure. Tickets are $13 and $15.
https://www.colonywoodstock.com/
NEW YEAR'S EVE EVENTS
New Year's Eve at the Grandview
In the mood for an elegant New Year's Eve? Make reservations for yourself and your partner at the swank
Grandview
event facility on the Poughkeepsie waterfront. The party starts at 7pm with a fancy cocktail reception followed by a six-hour open bar, a lavish dinner, and music by K104's Bill Beale. Tickets are $125 per person, and trolley service to overnight accommodations at the nearby Holiday Inn Express is available.
https://www.grandviewevents.com/event/new-years-eve-gala-ring-in-2020-at-the-grandview-in-poughkeepsie/
NEW YEAR'S EVE EVENTS
Phony Ppl in Kingston
Toots and the Maytals sang about "Funky Kingston." Well, we're not sure what's going on for New Year's Eve in the Jamaican city that shares the name of the Ulster County seat. But how does "Funky Kingston, New York" on New Year's Eve sound? Funky it shall be at
BSP
the night of December 31 when hitmaking Brooklyn-based R&B/hip-hop/old school funk-soul quintet comes to the venue's cavernous Back Room Theater. Doors open at 9pm and the night also features sets by dj.sterling and DJ Styles and food by Duo Bistro. Tickets are $20 early bird, $20 in advance, and $30 at the door.
http://bspkingston.com/
NEW YEAR'S EVE EVENTS
New Year's at the Roundhouse
Perhaps you and your mate would prefer a nice, quiet, intimate New Year's Eve? If so, dinner at the stunning
Roundhouse
in Beacon might be just the right option. For the occasion, chef Walter Hinds will present two seatings: one from 5 to 7pm featuring a three-course prix fixe meal at $80 per person with a $30 optional wine pairing; and one from 8:45 to 9:15pm featuring a four-course pre fixe meal at $95 per person with optional $40 wine pairing (neither rate includes tax or gratuity). Reservations are required. (845) 765-8369.
https://www.facebook.com/events/529130574603710/
NEW YEAR'S EVE EVENTS
Kool Keith in Woodstock
Those in search of a classic, trashed-out, debauchery-filled New Year's Eve would do well to consider getting down 'n' dirty at the Station Bar & Curio in Woodstock when Meltasia presents rapper Kool Keith. AKA Dr. Octagon AKA the Black Elvis, Kool Keith is a founding member of Bronx hip-hop greats Ultramagnetic MC's and is known for his trademark surreal rhymes and weirdo persona. The show's limited tickets are $40 and include food and a champagne toast.
https://www.facebook.com/events/station-bar-curio/an-intimate-new-years-eve-w-kool-keith/817887948672658/
To find out about more upcoming events in the Hudson Valley, subscribe to our weekly newsletter Eat. Play. Stay.