Photo by Arius Photography
Our fast-paced society often makes us feel as though we need to be glued to our devices, always available in work and life. But Grace La Penna, co-owner of Mountain Float Spa in New Paltz, wants to give people a "the time and space to just be"— through flotation therapy.


This increasingly popular holistic treatment involves floating in body-temperature water saturated with nearly 1,000 pounds of Epsom salts, in complete darkness and silence to limit sensory stimulation.

Photo by Arius Photography
"Eventually you lose track of where your body ends and the water begins, entering complete relaxation," says Joey La Penna, Grace's husband and business partner.
At Mountain Float Spa, each guest is provided a room with a private shower and a spacious cabin in which to float. Sessions last up to three hours, but an hour alone can alleviate various maladies, including inflammation, joint pain, and tension.
"Flotation therapy has been scientifically proven to increase endorphins and lower cortisol, producing feel-good emotions while reducing stress," Joey says. "And it offers pain relief; several people have come in using canes and accidentally left them behind because they were shocked that they could walk without assistance."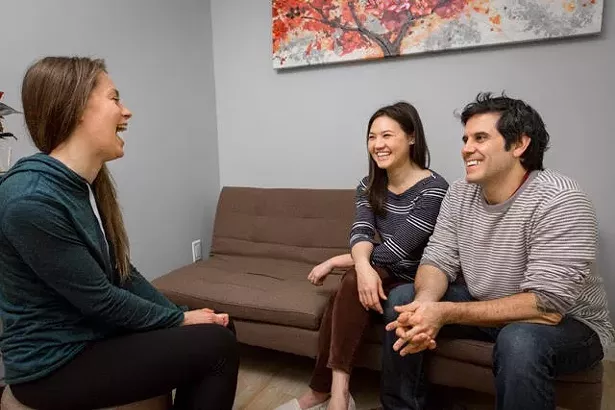 Photo by Arius Photography
Mountain Float Spa offers specials for students, veterans, and on special occasions. Look for Father's Day deals this month: Two 60-minute sessions for $99, plus 10 percent off massages for dads begins on June 15.
"New fathers dealing with sleep deprivation can benefit from floating," Grace adds, "while other dads can soothe tired muscles or simply just relax."

"It's a total mind-body therapy," Joey says. "In today's society where we're constantly plugged in, floating offers the chance to disconnect."