David McIntyre
Water Street Market in downtown New Paltz is a shopping and cultural hub for locals and tourists.
The last year and a half has been hard times for everyone everywhere," says New Paltz Town Supervisor Neil Bettez. "We're still trying to get through it, but I'm more optimistic than I was a year ago. I think we've been luckier than many communities. We've had new restaurants and businesses open up. I've met so many people who came up here during COVID and fell in love with New Paltz. I know the influx of newcomers makes people nervous about affordability, but I think the alternative would be worse."
Making Sense
In August, the New Paltz Regional Chamber of Commerce disbanded after a 66-year run during which it originated the Regatta, the Clean Sweep, the Regional Business Expo, Taste of New Paltz, New Paltz Challenge, Community of Peace Art Project, the Huguenot Young Professionals and Entrepreneurs, and Wisdom of Women, in addition to vigorously promoting local businesses and tourism.
David McIntyre
Door Dash driver and aspiring model and entrepreneur Johnny Cesar.
But the focus on in-person events was problematic in pandemic times, and funds ran dry. In making the painful announcement, the board of directors noted that most of its signature programming was being picked up by other organizations—including a new visitors' center at One Epic Place.
The new center opened on October 7. "We've always worked closely with the Chamber and they approached us when they needed to close; our business model is all about local small business, so a visitor's center seems natural," says Julie Robbins, one of the cofounders of One Epic Place, which has provided co-working, office, studio, and healing arts space to the community since 2014. "We'll host a business resource center there as well. It was a difficult decision they made, but they had a particularly event-heavy business model and just couldn't keep going. So we've been walking door-to-door to every conceivable business to let them know, talking to everyone. Weekends have been really busy—now people can stop in and find out what's up."
David McIntyre
With the closing of the New Paltz Regional Chamber of Commerce in August, many functions of the organization shifted to One Epic Place, a co- working space on Main Street.
"We took a blow with COVID like anyone else, and we feel very fortunate," says fellow One Epic Place cofounder Nicole Langlois. "It feels like we're in a good position to be able to help, which is awesome. Needs have changed—we're accommodating a lot more remote workers, which is fun. We've tweaked some things, but we still serve a lot of home businesses and entrepreneurs; we're slowly coming back to doing more events. We now have outdoor offices and a new building, which is where the visitors' center will be. And people we talk to are excited about having that downtown, walkable from the village, with parking."
Love for Ludwig
Not every transition goes so smoothly. KonTiki Trading Post may or may not exist by the time you read this. Opened on Main Street in 1990 by Virginia and Oscar Montesa, the store has provided affordable imported goodies like incense, jewelry, tapestries, and China doll flats. The Montesas' son Ludwig grew up confidently neurodiverse, gender fluid, and multitalented. Known for his signature outfits, sparkling smile, karaoke ballads at open mic night, and all-encompassing empathy, Ludwig had a knack for splashing quirky, quicksilver joy everywhere he went. His sudden death in 2013 generated a Facebook fan club with 1,400 members and an annual Ludwig Day festival that was celebrated each year through 2019.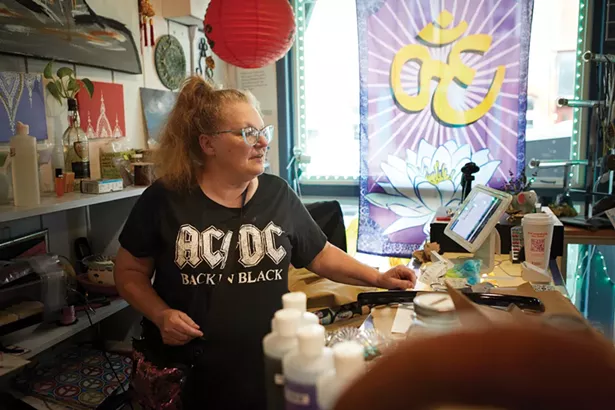 David McIntyre
MaryAnn Tozzi, proprietor of KonTiki Trading Post. Fands of the shop launched a GoFundMe campaign in September to save the financially strapped store.
When the Montesas announced that they'd be closing KonTiki in 2019, Ludwig's legacy—and the larger whole that is New Paltz street culture—was a part of what fueled MaryAnn Tozzi's passion for reopening the store. "We sorta wanted to use his name, but I didn't want it to seem like we were trying to monetize Ludwig's memory," she says. "I just wanted to keep a place for the kids to go that wasn't bourgeois. I wanted $2 incense, not $3. Thrift, not vintage. I'm not a Montesa, I can't equal them, but I've tried to keep the heart of it."
Tozzi, a product of the village's youth street culture, welcomed kids to her steps and kept Narcan handy, saying, "Although I don't want you shooting up out there! Bring your guitar or your ukulele." When the store's security camera caught a trio of teenagers burglarizing KonTiki, she went straight to their parents, receiving prompt apologies from two out of three.
KonTiki remained open and mostly solvent through all but the mandated lockdown in spring 2020. But Tozzi's business partner and investor, Ana Lynn of Gardiner wants out. Supporters of Tozzi have started a GoFundMe campaign to try and save the store.
Try, Try Again
Mayor Tim Rogers is hoping that the fifth time will be the charm for his village's application for a $20 million Downtown Revitalization Initiative grant, with an application focused on childcare, sidewalks, and storm water mitigation. "We clearly have a lot going for us, but we also have challenges, and some tailwind would be huge," he says.
David McIntyre
Theresa Fall, pictured inside of her micro-bar, Jar'd. Both Jar'd and the Parish, Fall's other restaurant, are located in Water Street Market.
Accustomed to seeing its population double every time university students flood back in, New Paltz came into the pandemic already mindful of housing affordability. Zoning has been redone to encourage mixed-use structures, and developers of anything larger than 10 units must commit to making at least 10 percent of the units affordable. Accessory dwellings are legal, and short-term rentals are only allowed in primary residences. "We don't want to stand in the way of a homeowner monetizing their asset, but we also don't want income investors turning residences into unregulated mini-hotels," says Rogers.
"The village's Neighborhood Business Residential code took a long time to write, but they're recreating the way towns and villages were built before the '50s, when suburbia took over," says Bettez. "The rezoning in the town Gateway District is analogous; we're trying to increase density there so we can have that kind of mixed use. And we passed an open space bond last year. Increased density in some parts and increased preservation in others is the best of both worlds—walkability and wilderness."
David McIntyre
The section of the Wallkill Valley Rail Trail that runs through the village of New Paltz is used by 300,000 people annually.
Rogers hopes that pandemic pilgrims landing here get behind community values like volunteerism. "So much of our culture depends on volunteers—the library fair, Family [of Woodstock], youth basketball, zoning and planning boards, the fire department. If we had to go to a paid fire department, property taxes would increase by 30 percent. That's one of an infinity of reasons why we can't afford to lose our volunteer culture. You're moving here because it's wonderful and affordable, but what keeps it that way is volunteerism—which, incidentally, is proven to be really good for your brain."
That volunteer fire department has a new home in progress. "We've been working toward this for seven years; when we didn't like the bids, we scrapped the plan and started over," Rogers says. "Now we're building one of the greenest firehouses in the state—state-of-the-art all-electric mechanicals, ready for solar."
David McIntyre
Inquiring Minds Bookstore on Church Street in New Paltz.
Another deep-green showpiece of the community, the award-winning multi-use development Zero Place experienced substantial construction delays in the pandemic and is behind schedule, but progressing. "We should be able to be more definite about an opening date by December, but I don't even want to try right now," says property manager Andrea Babcock.
New Main Street restaurant openings in 2021 include Apizza! (coal-fired brick oven pizza), Green Bar (smoothies and superfoods), and Burger Box (grass-fed, with housemade toppings). The former Murphy's Pub is currently being refurbished to host a piano bar.
"We're holding strong—the college kids are back and the leaf peepers are upon us," says restaurateur Theresa Fall, owner of Jar'd Wine Pub and Parish in Water Street Market. "Staffing is hard; we're lucky to have a great kitchen crew at Parish, but there's just no way to stay open seven days a week right now. If you push too hard on the people who hung in there and stuck around, you lose them."
David McIntyre
Zero Place, an eco-conscious multi-use development on the edge of the village experienced substantial construction delays during the pandemic and is behind schedule.
During the shutdown, Fall asked customers to buy gift cards. "I felt like George Bailey in It's A Wonderful Life," she says. "I was crying. It came pouring in—from people that I knew couldn't afford it, from people who don't even drink. That covered two or three months of rent. We're lucky we had an established business. I don't think we could have made it otherwise."
An easy stroll from Jar'd and Parish, Denizen Theatre is staging Jennifer Fawcett's "Apples in Winter,"—a one-woman show exploring the relationship between a mother and her son on death row, starring Jennifer Delora through November 15. The Women in Black still protest war on the library corner, as they have since 2001; the New Paltz Climate Action coalition still meets, as they have since 2006.
"We've both grown up in this area and seen the changes, and I don't know how, but we just keep that New Paltz vibe," says Robbins. "I constantly have visitors ask, 'Is it always like this here?' and I'm like, 'I don't know, like what?' 'Oh, people are just so free to be themselves.' Well, yeah, it is."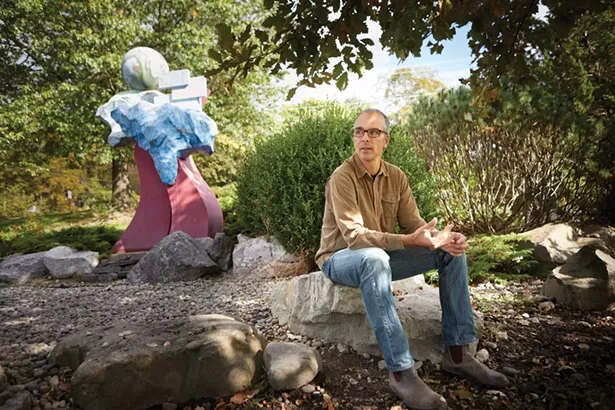 David McIntyre
New Paltz Village Mayor Tim Rogers supported a regulation that only allows short-term rentals in primary residences. "We don't want to stand in the way ofa homeowner monetizing their asset, but we also don't want income investors turning residences into unregulated mini-hotels," says Rogers.