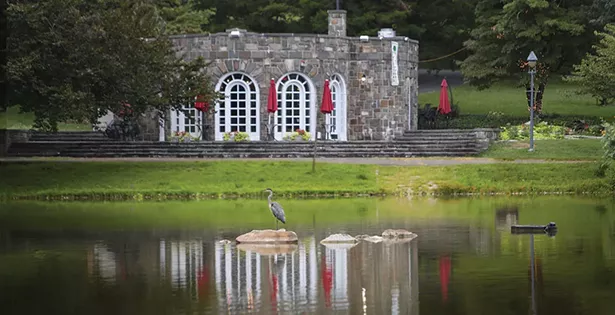 A group of determined volunteers, The Downing Park Planning Committee, are working to restore Newburgh's 35-acre natural marvel to its former glory after decades of neglect—a symbol of a city that is working hard at revitalization.
Opened in 1897, Downing Park was the last collaboration between Frederick Law Olmstead and Calvert Vaux (designers of Central Park in Manhattan). The park's 35 acres were conceived as a contemplative environment in the center of the city.
+ The view from the park's promontory, site of a former observatory, commands spectacular Hudson River views, including Bannerman Island to the south.
+ The park is named for Vaux and Olmstead's mentor, and Newburgh native son, Andrew Jackson Downing, who died in a steamboat accident on the Hudson in 1852.
+ The Shelter House, designed by local architect Gordon Marvel in 1934, now houses Shelter House Café, a restaurant run by Stephen Sinnott, who is spearheading the park's restoration through entrepreneurship and community engagement.