Jen May
The dining room at The Amsterdam.
There's always a little heartbreak involved when a longstanding establishment closes its doors. But aspiring business owners, especially restaurateurs, seem to spring up faster each year, eager to resuscitate these timeworn buildings—aware of the immense undertaking of preserving community spirit while bringing their vision to life.
The Amsterdam
For instance, the buzzing main strip in the Village of Rhinebeck is bookended by two restaurants in buildings with storied pasts, though they couldn't be more different in design. At one end, Terrapin's storybook former-church location contrasts with the welcome-home feel that new eatery The Amsterdam provides. When approaching The Amsterdam, it's as though you are walking up to a neighbor's house—the porch is decked with inviting chairs, seasonal decor, and modern lanterns to guide you towards the entrance. Inside, you've stepped into a tapestry of styles—modern, country, vintage, industrial chic—woven together to create a warm atmosphere.
"Part of the building dates back to 1798. Our goal was to bring forward the history and sense of place the building offered as a gathering place for our community of guests," says proprietor Howard Jacobs. Rhinebeck's earliest residents originally owned the historic portion, but the building fell into disrepair centuries later. An antiques dealer rescued and restored it. When Jacobs first saw the building, he couldn't resist its charm. "We fell in love with its underlying potential as a special place for friends and family to gather, just as it functioned in the 1800s," Jacobs says.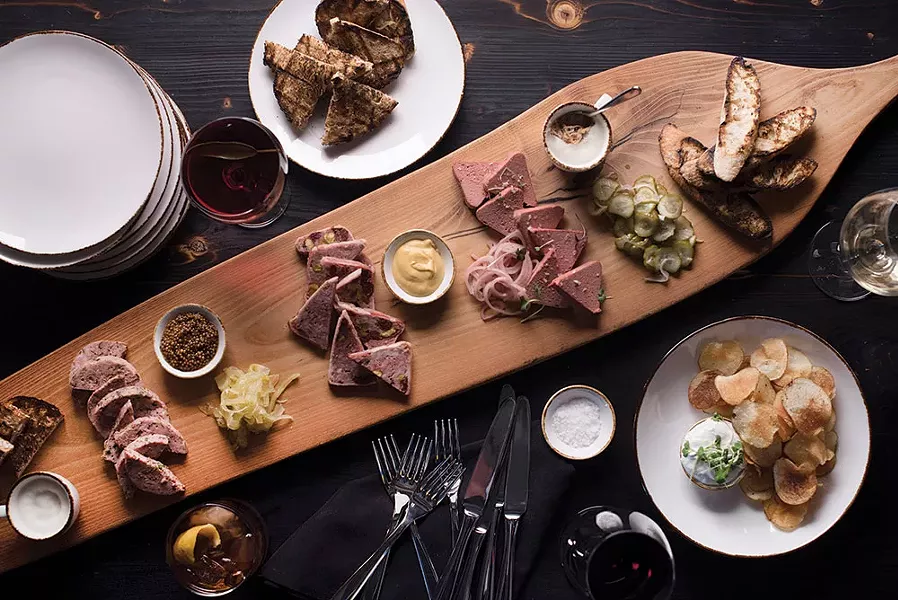 The charcuterie board at The Amsterdam.
It was a long road to transform the house into a full-service restaurant. Jacobs and his team were able to preserve some key architectural elements, but others were removed to open the space. Extensive steelwork was added for structure. "It created a beautiful and emotional connection that extended to fantastic transom windows at the rear the main dining," Jacobs explains. "There were plenty of big and little challenges along the way, but the end result was worth the effort. We sourced historic lighting, used reclaimed wood, and had materials custom designed by local artisans to complete our story."
The Amsterdam's menu features an array of locally sourced dishes that complement the space; upscale with a country soul. At dinner, the atmosphere is convivial; laughter bounces through the high ceilings, the sleek, open kitchen provides a peek at your prepared dishes, and the polite staff is happy to answer questions about your meal (the house-smoked salmon is indeed wild-caught, and yes, those are leeks flavoring your Prince Edward Island mussels). The dry-aged duck breast with roasted delicata squash, cauliflower, and black barley is a popular option, and the Amsterdam Burger—not your average grill choice—is topped with Rascal cheese, tomato jam, and Bibb lettuce on a milk bun.
"Guests initially fall in love with the warmth, beauty, and uniqueness of our spaces, but they rave about the quality and soulful execution of our food—simple comfort food done at a very high level," Jacobs says.
Read about the other new and newly renovated restaurants we profiled in January 2018: Silvia and Heritage Food & Drink.