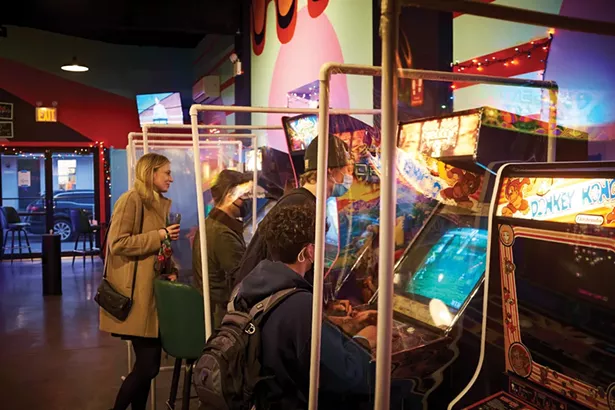 David McIntyre
The vintage games at Beacon's Happy Valley Arcade Bar.
There is nothing like the metallic ding and the flat thwap of pinball paddles to induce a state of exalted reverie. This and a dozen other nostalgic vintage arcade games are the central focus at Beacon's Happy Valley Arcade Bar, which was opened last August by Johnny Coughlin and Alyssa Follansbee.
At 25¢ a pop, the games invite you to come with your cup of quarters and play awhile. The retro offerings range from Mortal Kombat II ('93) to Donkey Kong ('81), Frogger ('81), Missile Command ('80), and a dozen others, all in their original dedicated cabinets. If gaming isn't your cup of tea, there's still plenty to love at Happy Valley, which boasts a big biergarten—a rarity for Main Street, Beacon—and a playful drink list. Despite punny names like the Bloody Mario, Sex on the Koopa Troopa Beach, and the Gin Blossom, the craft cocktail program is serious. "We really wanted to have fun names and bright cocktails without being too sweet or too kitschy," Coughlin says. They also have wine, sake, and more than a dozen beers on tap, mostly local. On the food front, expect all-American boardwalk classics like chicken fingers, curly fries, jalapeno poppers, and tater tots, plus 10-inch pizzas.
The ambiance throughout is colorful and cheerful. "We didn't want to be Chuck E Cheese and we didn't want to be a dark bar," Coughlin says. Follansbee, a former public school art teacher, did most of the design work herself, from mural painting to custom furniture building. With a Chronogrammie for New Bar under their belt, it would seem she nailed the atmosphere, creating a space that is as inviting to 30-something Millennials and young families as it is to sulky teens. "It's been so nice to hear the games on and hear people groan and cheer," says Coughlin. "It's like something from the Before Times."