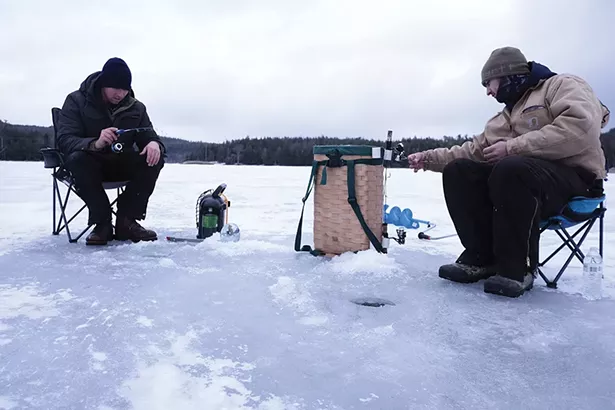 Photo by Roy Gumpel
Kingston natives Brandon (left; he declined to give his last name) and Anthony Jansen fishing on North Lake, where the ice was seven inches thick. They'd been out since 4:30 in the morning, drilling holes and dropping lines as they moved down the shoreline. The two started fishingtogether five years ago, after Anthony began dating Brandon's sister.
One of the primary appeals of fishing is the state of mind it induces: that languorous, meditative communion with nature, a feeling you sink into as the day's hours elongate. The trance is broken only when a fish bites your line, initiating the aggressive dance to reel it in. Participating requires little more than simple equipment and patience.
Photo by Roy Gumpel
A pickerel caught by Sergey, a Moldovan immigrant who was the lone man fishing Rip Van Winkle Lake in Tannersville. Sergey had drilled seven holes in a line stretching 50 yards acrossthe lake. He's been coming to this spot for 17 years. "It's better than sitting at home," he says.
I never understood ice fishing that way, though. For one, you need more gear: an auger or spud bar, tip-ups or jigging rods, ice skimmers, a transport sled, a wind break on particularly blustery days. And who wants to commune with the extreme winter environment?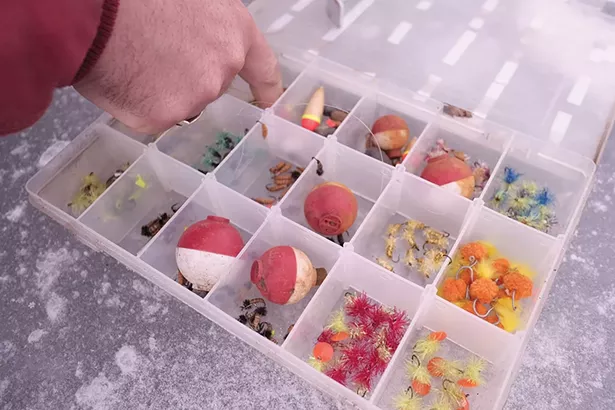 Photo by Roy Gumpel
Saugerties angler Brandon Carney sorts through his jigs and lures at North Lake. Carney doesn'tuse electronic equipment like sonar fish finders. He has a theory: "People have been doing this for generations, very successfully, without electronics. But now fish can sense the sound waves and know where not to feed."
But I had also never been out on the ice with anglers until photographer Roy Gumpel and I headed into the Catskills early on Super Bowl Sunday. Unseasonably mild weather had already forced the postponement or delay of several tournaments, but conditions were finally right on this frigid February morning.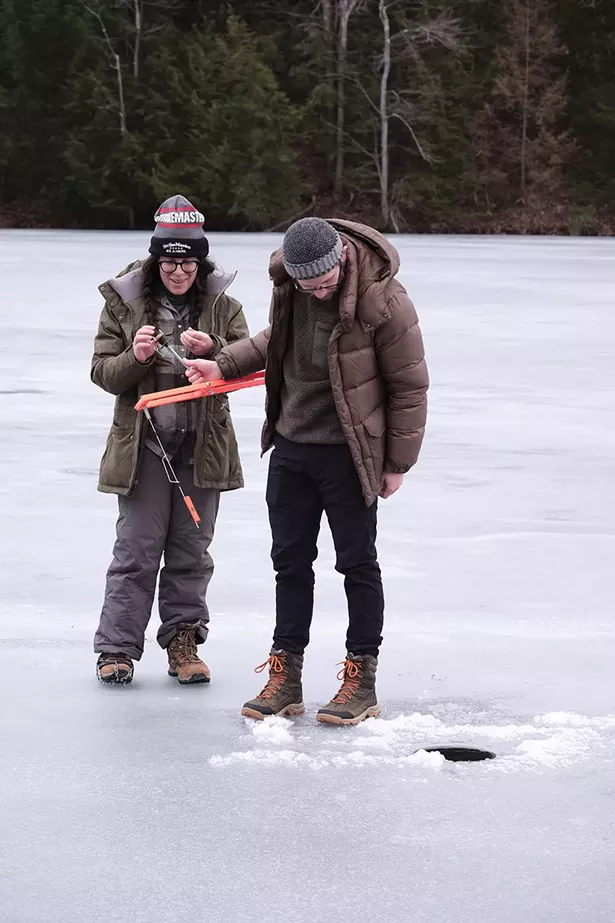 Photo by Roy Gumpel
Olivia and Zach Alder at Onteora Lake. The married couple live in Boiceville and their favorite fishing spot is Big Pond, in the western Catskills, but they were taking advantage of a rare day of good conditions this winter at a lake closer to home.
After spending some time on the water, I got it. Winter creates its own beauty, after all: cold, white, stark, silent. There is no sound in the middle of a frozen lake. Ice fishing forces you to be adaptive to conditions, taking what the season and situation give you. And it's a great angling equalizer, giving everyone access to the entire body of water.
Photo by Roy Gumpel
One of Sergey's tip-ups, the device that sits over a hole in the ice and alerts anglers to a bite. When a fish takes the bait, the orange flag pops up. The angler then pulls in the line by hand. In his first hour on the lake, Sergey had caught four fish.
Ice fishers are a highly social group, perhaps happy for not being homebound. Here is who and what we found.
Photo by Roy Gumpel
Wooden equipment handmade by Brandon Carney.