Alon Koppel
Upstairs at the Avalon Lounge
Roxy Music's 1982 album
Avalon
is one of those records that defines a certain breed of precise, pinpoint cool: glossy, elegant, intoxicating, and sexy as hell. Named for the album is the Avalon Lounge, and its atmospheric aesthetic—sleek mid-century mod meets velvet-brocaded Storyville decadence—is, indeed, exactly the kind of setting you'd expect to see the group's suave frontman, Brian Ferry, luxuriating in (he's not here, but his picture's on the wall). Urban, urbane, and impossibly chic, it has the feel of a hip boite one that might find secreted away down some hidden alley, accessible only to those in the know in Brooklyn or London. But no: It's in, of all places, Catskill, which, as artistic types continue to get priced out of neighboring Hudson, is undergoing a welcome renaissance.
"It was clear that Catskill had a creative element in need of an outlet," says musician and composer Liam Singer, who co-owns the club and restaurant with his wife Laura. The couple opened the venue last August, building on the success of their other venture, the HiLo cafe, which opened on Main Street in 2017. "It happened organically," Singer explains. "We hadn't planned on the HiLo becoming a central place for live music, but that's what ended up happening. There were logistical and volume issues with some of the acts we wanted to bring in, though, so after a year or so we realized we needed another space." When the pair heard that the owners of Doubles, on nearby Church Street, were interested in selling, they pounced. The resulting new establishment blends the energy of a sophisticated young crowd with that of the site's already vibrant original clientele.
Alon Koppel
The live music room has a stage and DJ booth.
"I wouldn't call it 'retro' but it definitely harkens back to a '60s and '70s aesthetic," Singer says about the look of the club. "Classy but trashy—and fun." With its three separate spaces—the front bar/dining area; the 100-capacity SRO (55 seated) live music/DJ room; and the plush upstairs area that plays up the "lounge" part of the business's name and is complete with comfy couches and a pool table—the Avalon is locally unique in that it's one of the few mid-sized area nightspots that's tailor-made for extended chilling; a swank hang where revelers can move from room to room while never getting overly bored of their surroundings.
Lending themselves to the Avalon's built-in temptation to linger are its libations, which include a selection of fine wines ($7-$10 a glass), draft and canned/bottled beers, mixed drinks, sakes, ciders, and nonalcoholic choices. The food is savory homestyle Korean fare like meat or vegetarian bibimbap (mixed rice bowl), pajeaon (scallion pancake), mandu (veggie or ground pork dumplings), veggie or meat kimbap (sushi roll), japchae (vegetarian stir-fry noodles), bulgogi (soy marinated steak or pork butt), soups, and more, all made fresh in the Avalon kitchen by Korean-born house chef Annie.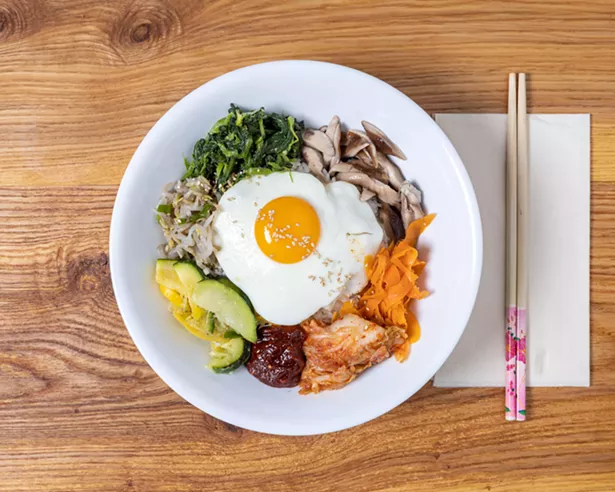 Alon Koppel
Traditional Korean fare is the specialty of resident chef Annie.
And then, of course, there's the music, an eclectic mix of indie rock, alternative folk, experimental, dance/electronica, and jazz. Foremost in the latter genre is local drummer Bobby Previte, who on Sunday nights leads his Art for Now sextet in the upstairs lounge and will appear with saxophonist Jane Ira Bloom on December 14. Third Sundays are ambient nights in the downstairs music room with Invisible Cities; upcoming bookings include "Hark the Horns" with brass bands Brasskill, Pontoon, Brass Queens, and DJ SVB (December 13); singer-songwriters Brett Miller, Dylan Nowik, Alex P Wernquist, and Dante Bardo (December 19); "Not So Silent Night!," a rock 'n' roll holiday benefit for the Catskill Community Center (December 20); and an "Intergalactic Future Funk New Year's Eve" with Telepathic Moon Dance (December 31). (See the website for an updated events schedule.)
"It's the kind of place where you can have a good time and get lost in the different atmospheres," says Singer about Avalon's maze-like location, which is open Wednesdays and Thursdays from 5pm to midnight; Saturdays and Sundays from 5pm to 2am; and Sundays from 5pm to "11ish" (closed on Mondays and Tuesdays). "The music room can be nice and rowdy, but then there's the chill zone upstairs, or the bar room if you're hungry or in the mood to try some new or familiar drinks. Something for everyone."
https://www.theavalonlounge.com/