Photo by T. Charles Erickson
Sean McNall in HVSF's 2022 production of Mr. Burns, A Post-Electric Play
At first glance, a play based on
The Simpsons
might seem an odd choice for the
Hudson Valley Shakespeare Festival
. But with 33 seasons and over 700 episodes in the books, the appeal of the longest-running series on television has a lot more in common with the enduring power of the Bard's plays than one might think.
"'
Mr. Burns'
is a celebration of storytelling and the stories that endure across generations and even centuries," says Davis McCallum, artistic director for the Hudson Valley Shakespeare Festival (HVSF) and director of "
Mr. Burns
," which runs through September 17 at HVSF's open-air tent at its new home in Garrison.


"'What makes a story classic?'; 'Why do we return to the same stories over and over?'; 'What do we get from that tradition?'" McCallum continues. "Those all felt like core questions for a Shakespeare festival."
Photo by T. Charles Erickson
Sean McNall, Merritt Janson, Luis Quintero, Lauren Karaman, Emily Ota, and Zack Fine in HVSF's 2022 production of Mr. Burns, A Post-Electric Play
The show, written by Anne Washburn and which premiered at DC's Woolly Mammoth Theatre in 2012 to critical acclaim, makes a hearty (and hilarious) meal of the meandering path that stories take throughout time, eventually evolving into the mythologies of another era.

For anyone fond of post-apocalyptic fiction, the setting for "Mr. Burns, A Post-Electric Play" will be a familiar one: A not-so-distant future where the grid has failed, society has crumbled, and memories can no longer be stored on hard drives. But the play offers a more hopeful take on what comes after the collapse—a vision that celebrates the human capacity for resilience and rebirth.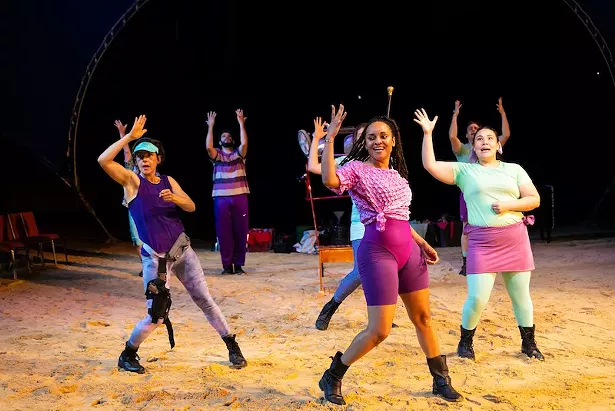 Photo by T. Charles Erickson
Meritt Janson, Luis Quintero, Britney Nicole Simpson, and Emily Ota in HVSF's 2022 production of Mr. Burns, A Post-Electric Play
In the play's first act, a group of survivors come together to recreate their vanished world by firelight. Among the life-affirming stories they regale each other with is the pieced-together plot of a 1993 episode from The Simpsons called "Cape Feare," (itself a take on the 1991 Robert De Niro movie Cape Fear), in which ex-convict Sideshow Bob embarks on an epic, murderous hunt for Bart Simpson.


By the end of the play, which takes place 75 years in the future, "Cape Feare" has developed a mythology all its own—performed on the grand scale of a Greek tragicomedy, accompanied by the "Shades of Springfield Chorus" and original music by the late composer and lyricist Michael Friedman.
Photo by T. Charles Erickson
Lauren Karaman, Zoë Goslin, and Luis Quintero in HVSF's 2022 production of Mr. Burns, A Post-Electric Play
With the worst of a global pandemic barely in the rearview mirror, "Mr. Burns" also offers audience members the kind of communal catharsis that many of us have longed for these past two-and-a-half years. (And considering that Washburn intended for the original location for the play to be somewhere in the Mid-Hudson Valley, complete with a reference to the Indian Point nuclear power plant, it's not difficult for audiences to imagine themselves right in the middle of the action.)

"The show is intensely theatrical and ultimately very moving," says McCallum. "When it was first produced, this kind of societal collapse seemed like it would be borrowed from science fiction. It resonates in a very different way now. We've all experienced a global trauma—this incredible loss—and it has brought up these essential questions of what matters most to us, and how we carry that legacy forward."

Photo by T. Charles Erickson
Meritt Janson in HVSF's 2022 production of Mr. Burns, A Post-Electric Play
"Mr. Burns, A Post-Electric Play" runs through September 17 in rotating repertory with "Romeo & Juliet." Hudson Valley Shakespeare Festival's 2022 summer performances take place on the grounds of their new home in Garrison, NY (2015 U.S. 9, Garrison, NY 10524). Tickets range from $10 to $95. For more information or to purchase tickets, visit Hvshakespeare.org.