Max Bernstein
Becca Blackwell
Hannukah is here in the Hudson Valley, and Santa's just around the corner. Enjoy these specially selected seasonal activities.
Rhinebeck Writers Retreat Hosts Reading | December 16
On December 16 at 7:30pm,
Rhinebeck Writers Retreat
will present a streamed reading of the new musical "TL; DR: Thelma Louise; Dyke Remix." Described as "a fantasy-driven, irreverent, queer, rock musical" remake of the 1991 film Thelma & Louise, the play features a book and lyrics by EllaRose Chary and music and lyrics by Brandon James Gwinn; it's directed by Sherri Eden Barber. The cast includes Hannah Cruz and Sara Porkalob (the Broadway revival of "1776"), downtown artist Becca Blackwell (TV's "High Maintenance" and "Shameless"), Ari Groover ("Tina: The Tina Turner Musical"), Nora Schell ("Jagged Little Pill") and Jen Anaya (Constellation Chor). See website for more information.
"A Very Slambovian Christmas Broadcast" | December 18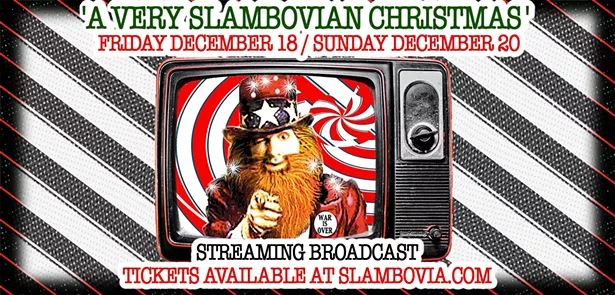 One of the Hudson Valley music scene's long-running holiday traditions is the annual Christmas concert by area psychedelic roots rock band the
Slambovian Circus of Dreams
. Unable to perform this year in a nightclub setting, the undaunted group taped a live set at the Towne Crier in Beacon to be streamed as on December 18 at 8:30pm as "A Very Slambovian Christmas Broadcast." The special promises Christmas songs "with a Slambovian twist" as well as original holiday tunes composed by the band. Tickets are $25.
Comedy Classics on Unison Silent Movie Night | December 18-20
New Paltz's
Unison Arts
offers timeless slapstick laughs from Charlie Chaplin and Buster Keaton with an online showing of the silent classics
The Adventurer
and
The Scarecrow
as part of the ongoing series "The Silent Comedy Watch Party." Hosted by musician and commentator Ben Model from his New York apartment via YouTube, the showings feature live piano accompaniment by Model. The screenings take place December 18-20 at 7pm; the $10 ticket benefits Unison's maintenance costs during the pandemic closure.
Shadowland Stages Presents "Christmas 1953" | December 19-22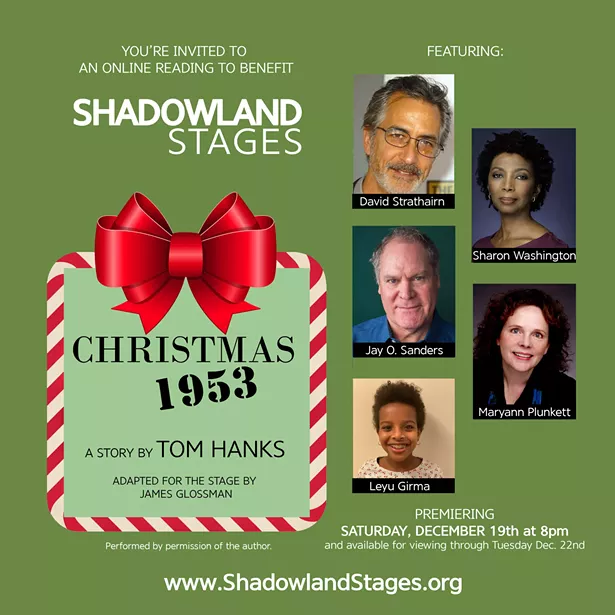 Ellenville's
Shadowland Stages
performing arts center is getting into the online events game with a special, star-studded online benefit reading of "Christmas 1953," a short story written by Tom Hanks and adapted for the stage by Shadowlands' artistic associate James Glossman and starring David Strathairn, Sharon Washington, Maryann Plunkett, Jay O. Sanders, and Leyu Girma. The production will premiere on December 18 at 8pm and remain available for viewing until December 22. Described as "a Yuletide fable of love, loss, redemption and hope," the play tells the touching Christmas story of Virgil Buell and his wife Delores, their kids, and Virgil's old Army buddy, Bud. Tickets to stream the recorded reading help to keep Shadowland operating and are available for a suggested donation of $5 or more.
Holiday Lights at Orange County Fairground | through January 4
Another idea for some socially distant family holiday fun is the Holiday Lights Spectacular at the
Orange County Fairgrounds
in Middletown. The luminescent affair is a multi-media, drive-in lightshow that takes place inside the site's covered arena and allows viewers to order delicious treats from fairgrounds vendors from the comfort of their own cars. The event is open every day through January 3 from 4:30pm to 10pm. Tickets are $25 per car via advance online purchase or $30 at the gate.
Outdoor Holiday Concert with the B2's | December 19
Hudson Valley vocal ensemble the B2's will perform a heartwarming repertoire of holiday songs in the beautiful sculpture garden of
Unison Arts
center in New Paltz on December 19 at 1pm. Led by composer, teacher, arranger, and musician Debbie Lan, the ensemble will sing seasonal chestnuts made famous by the Boswell Sisters, Sweet Honey in the Rock, James Taylor, Susan Werner, and others. Tickets are $10 for adults and $5 for kids and are available online.
Vanaver Caravan and Arm-of-the-Sea Theater Stage "Into the Light" | December 20
Two of the region's top performance organizations, the
Vanaver Caravan
dance company, and Arm-of-the-Sea Theater puppet troupe, have teamed up this year for "Into the Light," a family holiday extravaganza they will present live on December 20 at 6:30pm. "Into the Light" tells the story of a young girl named Lucia who journeys around the world to find light in the darkest time of the year. The show features Arm-of-the-Sea's beloved giant puppets with Kwanzaa, Hanukkah, Christmas, Diwali, Yule, Advent, and Solstice holiday songs, dances, and other traditions. Tickets are $10 and up.
"Rock Wood Paper Scissors" at Lockwood Gallery | through January 24
It's In the Air (2020) by Susan Spencer Crowe
Kingston's
Lockwood Gallery
is currently presenting "Rock Wood Paper Scissors," a virtual exhibition of new works on view until January 24. Artists featured in the show include Peter Allen, Susan Spencer Crowe, Ellen Jouret-Epstein, Joan Ffolloitt, Deborah Freedman, Judy Glasser, Mimi Graminski, Erica Hauser, Laura Moriarty, Stephen Nicolls, Victoria Palermo, Vincent Pidone, Elisa Pritzker, Jon Richert, Susanna Ronner, Conny Goelz Schmitt, and others.
To find out about more upcoming events in the Hudson Valley, subscribe to our weekly newsletter Eat. Play. Stay.